Home Page Family Tree Index Biographies BSD Index
Biography of
Arthur Lennon2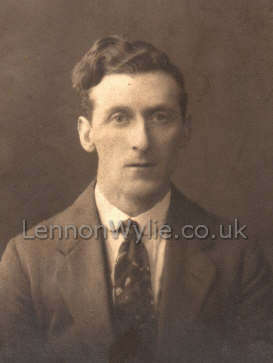 Arthur Lennon2 was born in Northern Ireland 23rd November 1896. He is the son of
Margaret and Arthur Lennon 1. He had three brothers and one sister :
John Lennon 1893 : Ephraim Lennon 1900 : Minnie Lennon 1904 : Albert Edward 1902.
Arthur Lennon 2 married Mary Anne McClelland on Christmas day 1918 at the Mission
Stanhope. In 1920 they were living at 145 Oldpark Road, in the attic above Frank Nevins
fish shop, where he was the manager, this is where my father James Lennon1 was born in1919.
Another son Arthur Linton Lennon born after my father, died at birth, Arthur Linton Lennon
was named after Rev. Dr. Arthur Linton Agnew, a great family friend. I never met my
grandfather as I was born in Canada in 1957 and only came to Ireland in 1966, 4 years
after he died on the 8th May 1962.
This letter was written to my dad from Arthur in February 1962 while he was in hospital, my dad missed his fathers death.
To: Mr. James Lennon, 68 St. Louis Avenue, Beaurepaire, P.Q. Canada
From: Mr. A. Lennon, 145a West Circular Road, Belfast 13, N. Ireland
21st February 1962
Whiteabbey Hospital, Ward 4B
Dear Jim, I have been a long time in answering your letter, every time I start something starts.
Well I am getting a long nicely now after 11 weeks in bed. The are teaching me to walk, I can walk 7 steps now & stand on my feet for a few minutes, also when you when away I was 12 st. now I am 6 st, so they are feeding me up, I am eating better. The only treatment I get now is the Physio Therapath 2 times a day. So when I am a bit better they are going to take my teeth out x ray my throat, so I will be here about another 4 weeks.
So that is all about myself.
About going to Canada, I showed your letter to the doctor & sister and the said they was nothing to stop such a fine offer and it would do me good. I having been talking it over with your mother and I will not make a arrangements of any sort until I get out off here fit and well because you never know what happens. Well tell all the children I would love to see them, by the photo they all look healthy ?
Give them my love one to Kay, your Dad
Arthur at work, Ewing's Fish Shop, Shankill Road, Belfast ? early 1960's?
Arthur Lennon Isle of Man (Arthur Lennon, centre)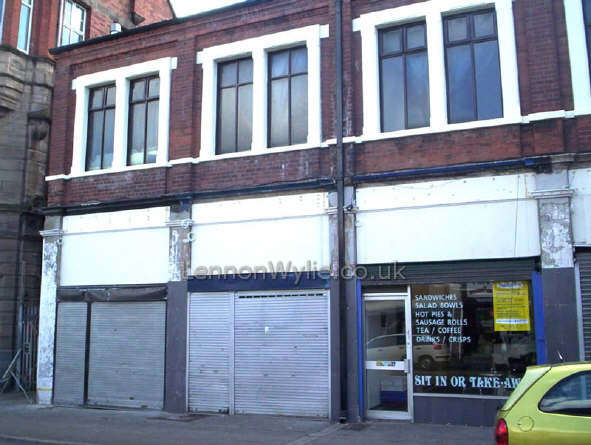 Ewing's Fish Shop, Shankill Road (unfortunately it was closed on the day this photo was taken)
my brother's puke coloured car :o)