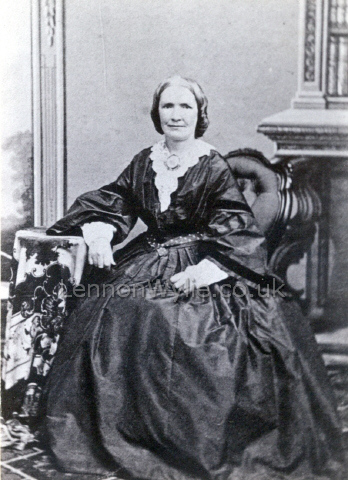 (on back) see note on companion photograph from "Hembley" studio ^^
~~~~~~~~~~~~~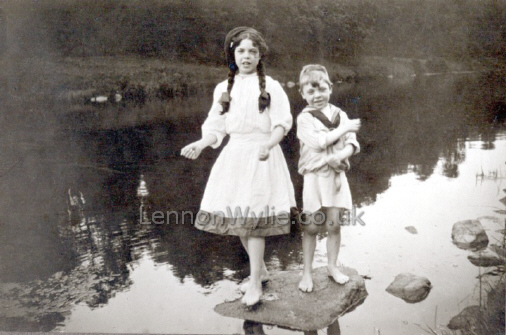 (on back) Sheila and Harry or Henry Humpton?, children of William Browns sister, Milly (Aunt Milly)
(on back but scored out) Commonwood House, home of William and Cissy Allen!
The picture of Commonwood House, Chipperfield in Lost Photos:
One is of William and Cissy Allen of Commonwood House.
William was :
William Edward Allen, of Commonwood House, Chipperfield, co. Hertford whose 1st son, William Edward David Allen, OBE, (d. 18 Sep 1973) mar. 6 Dec 1922 (div. 1933) Lady Phyllis Edith King (b. 19 Mar 1897; d. 3 Dec 1947). She was the 2nd daughter of
Lionel Fortescue [King-Noel later King], 3rd Earl of Lovelace, DSO DL born16 Nov 1865
mar.29 Apr 1895 Lady Edith Anson (d. 8 Oct 1932), 4th dau. of Thomas George [Anson], 2nd Earl of Lichfield, by his wife Lady Harriett Georgiana Louisa Hamilton, 1st dau. of James [Hamilton], 1st Duke of Abercorn.
I have pictures taken at Commonwood House during 1920s or 30s of people (probably family and staff) on my Flickr page:

http://www.flickr.com/photos/jayceen/

My grandmother's sister (who died in 1939) was a nursemaid to the family and had the photos on my Flickr page in her photograph album.
Florence Corbitt, my grandmother's sister was born in 1868 in Doctor's Commons, 38 Carter Lane, City of London.
In Mar 1923 she worked for Mrs. Allen (a Mrs. Griffith's daughter) at 7 Queensgate, Kensington as a governess and laundry maid. I don't think this is the same Allen family as those at Commonwood House.
She appears to have worked for Lady Allen at Commonwood House, near Chipperfield, (Rickmansworth) in Feb and June 1928 and had references from the family.
In 1928 she also worked as a governess and then as housekeeper for a doctor at Charterhouse School, Old St and then in Gomshall, Surrey.
She was a well liked person - not one of our better looking family members but very well thought of by everyone she worked for. She was also an excellent dressmaker and embroideress which was probably why the families she worked for liked employing her.
In Mar 1929 she again worked for Mrs. W E Allen, David Allen & Son Ltd, Allen House, 23 Buckingham Gate, London SW1. This the company may be the one listed in The British Library book lists: David Allen & Son, David Allen: the history of a family firm, 1857-1957. [By] W. E. D. Allen. [With plates]. John Murray, 1957. Shelfmark: 11918.s.46. (Was John Murray the printing firm or publisher?
In about 1933 she was involved in an accident when she got off a tram in Stoke Newington High Street and was struck by a motor cycle. She injured her head and after that was very cantankerous which was quite alien to her normal character.
Thank you to Jean Noble for contacting me with all this great information