Livingston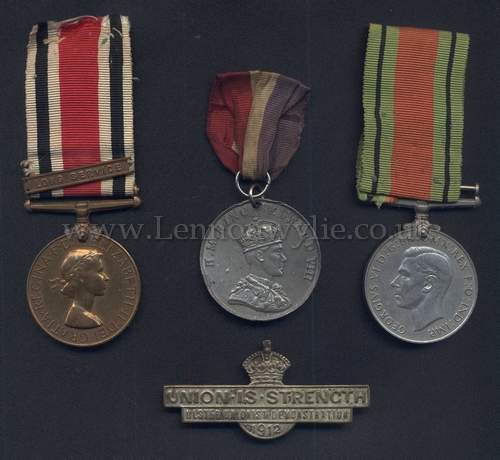 P. Sgt. Robert Livingstone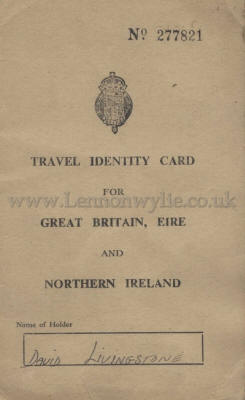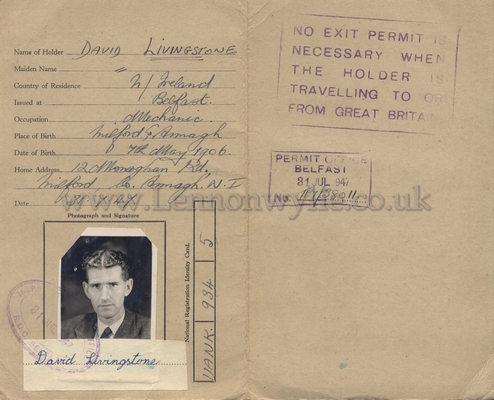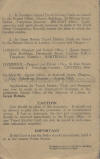 Travel Identity Card for Great Britain, Eire and Northern Ireland
Name of Holder - David Livingstone
Country of Residence - N. Ireland
Issued at - Belfast
Occupation - Mechanic
Place of Birth - Milford, Co. Armagh
Date of Birth - 7th May 1906
Home Address - 12 Monaghan Road, Milford, Co. Armagh, N.I.
Date - 31.7.47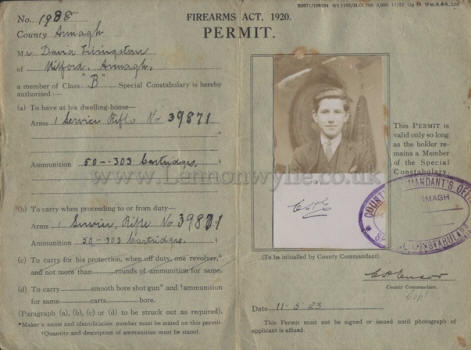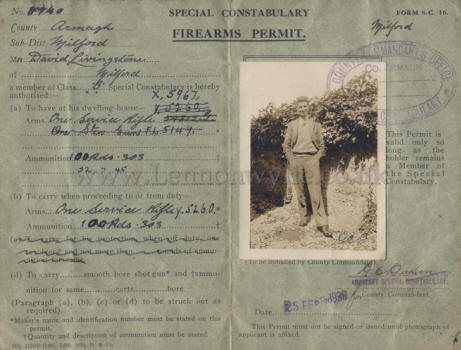 Firearms Act 1920 Permit
No. 1988 County Armagh Mr. David Livingston, Milford, Armagh 11.5.23
Special Constabulary Firearms Permit
No. 8940? County Armagh Sub-District Milford Mr. David Livingstone of Milford 25.2.1936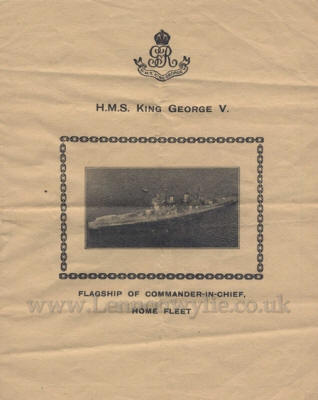 H.M.S. King George V. Flagship of
Commander-in-Chief, Home Fleet - Admiral Sir Neville Syfret, K.C.B., K.B.E.
Chief of Staff to Commander-in-Chief - Commodore C. T. M. Pizey, C.B., D.S.O.
Flag Captain - Captain B. B. Schofield, C.B.E., R.N.
Details of Ship - Standard displacement 35,000 tons. Length 750 feet approximately.
Beam 103 feet. Draught over 30 feet. Speed of 27 knots.
Armament - 10 - 14 inch. Maximum range over 20 miles.
Weight of quadruple turret 1,550 tons approximately.
Twin turret about 900 tons. Shells weigh ¾ ton.
16 - 5.25 inch H.A. L.A. guns, in twin turrets. Each turret weighs about 80 tons.
Numerous smaller calibre guns for A.A. purposes.
Compliment - In wartime, approximately 2,000 Officers and Men. In peacetime, approximately 1,200 Officers and Men.
Brief History - H.M.S King George V was laid down on 1st January, 1937, at Messrs. Vickers Armstrongs Naval Yard, Newcastle-on-Tyne and was launched by H.M. King George VI. in February, 1939. She commissioned in October, 1940. On the ship's maiden voyage, Lord Halifax took passage to the United States. In May, 1941, she took part in the action against the German battleship Bismark (Bismarck). During this action 339 14 inch shells were expended. In October, 1941, she supported a striking force which attacked shipping off Vestfiord and Glomfiord, Norway. In May, 1942, she joined the Mediterranean Fleet and formed part of Force H. She took part in the invasion of Sicily and Italy. On the capitulation of Italy she escorted part of the Italian Fleet from Taranto to Malta and Alexandria. In July, 1943, she bombarded Levanzo Island and the town of Trapani. On leaving the Mediterranean, she rejoined the Home Fleet and provided cover for the North Russian convoys. She left United Kingdom in October, 1944, to join the newly formed British Pacific Fleet, where she wore the Flag of Vice-Admiral Sir Bernard Rawlings. The British Pacific Fleet supported the Okinawa invasion by operations off the Sakashima Group. This was followed by a short refit in Australia. H.M.S. King George V then took part in bombardment of Japanese mainland and was present at final surrender in Tokyo Bay. The ship's company of H.M.S. King George V. were among the first to land and occupy the Japanese Naval Base of Yokosuka. The ship's company also provided a guard for the re-hoisting of the colours over the British Embassy in Tokyo. The drums used by the Royal marine Band were presented by the people of Victoria (Australia) as a token of friendship. Since leaving England in October, 1944, and her return in March, 1946, the ship steamed 98,000 miles and since October, 1940, when first commissioned, over 192,000 miles.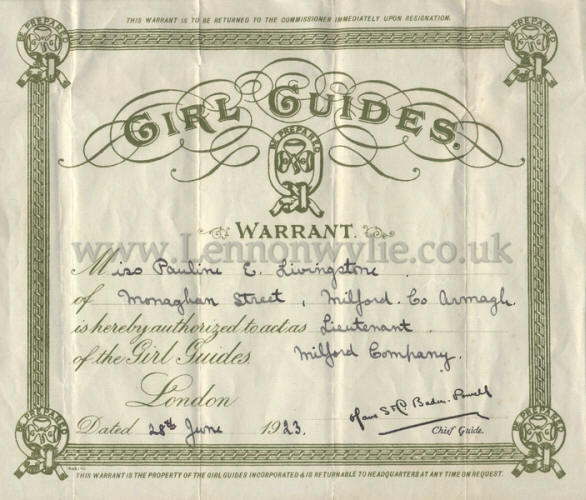 Girl Guides Warrant - Miss Pauline E. Livingstone of Monaghan Street, Milford, Co. Armagh is hereby authorized to act as Lieutenant of the Girl Guides Milford Company. London, Dated 28th June 1923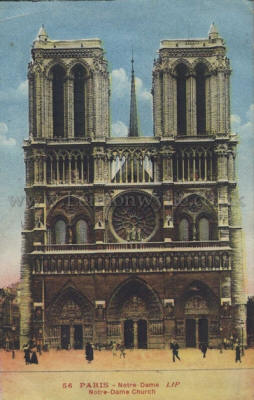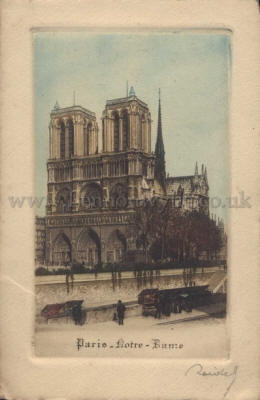 1 2
1) Notre-Dame Church, Paris - 9th September 1929 Postmark Paris to Miss Pauline Livingstone, 12 Monaghan Street, Milford, Armagh, Irlande du Nord - Hotel Exelmans, Boulevard Exelmans, Paris Dear Pauline, Just a line to let you know I arrived safely, had a smooth crossing. I feel as if I had been here a long time already, have done so much no time to write, more soon. Burleigh?
2) Paris - Notre - Dame 12.9.29 Dear Paulie? Hope you have received my two scrappy postcards & have been able to decipher them. It is still very hot here, but we are enjoying ourselves very well. The Cabaret here however are a decided disappointment, the famous Moulin-Rouge would probably be considered as a third-rate dance hall in England. The streets & architecture of Paris are very fine however & it is great fun rushing around in a Paris Taxi at a terrific rate with the knowledge that it is costing you less than 2d per mile. I hope to be back in Armagh on Sunday next, if I survive the Dieppe-Newhaven boat. Am writing this in the Luxembourg Gardens, we are just discussing whether to stay over Friday night, in which case I should not be in Armagh on Sunday. I will add a p.s. to this before I post & let you know. Must close & post, love from Burleigh. p.s. not stopping here over Friday night after all.
the end