THE BLACKSTAFF
(Dedicated, without Permission, to the Belfast Town Council)
Thou filthy Stygian brook,
Flowing on to a filthy sea,
I can no longer 'bide the look,
Nor stand the smell of thee.
Like the stream of the Pagan dead,
You wriggle and stink and flow;
"Facilis descensus averne," said
Old Virgil long ago.
And east and south and north,
Wherever a zephyr blows,
Your horrible stench comes sailing forth
To my sinful suffering nose.
You are neither black nor brown,
You are neither green nor grey;
O river of hell! in a Christian town
Plague-spreading night and day!
O mixture of cats and dogs
And mill-dregs tumbled in,
And hens defunct and measled hogs,
And immature waifs of sin!
By hovel and poor man's cot
You wind with your fetid breath;
And your waters, factory-fed and hot,
Are the breeding den of death.
And the men who have made you so,
To the rich man's suburbs flee;
And build their homes where the breezes blow,
And the air is fresh and free.
And they have their evening pranks,
And make their music play;
But the poor who dwell by the river's banks,
Alas! have the piper to pay.
For "the sinew and bone" of the town
Are dying like dogs in a ditch-
In their huddled homes are smitten down
By the griping greed of the rich,
Who have poisoned the stream for wealth,
They have made it reek for pay;
I ween they are bound to see to the health
Of the suffering town to-day.
The men who have made the slime,
That is sickening me and you,
Are bound to pay for the brick and lime
That will bury it out of view.
By brook and fountain spout,
Where God's own sunbeams shine,
The man whose flax has sickened the trout
Is the man who pays the fine.
And here, in the huddled town,
The men whose factories pour
Their reeking waters seaward down
Are the men who should bridge them o'er.
Oh! owner of wheel and screw,
That whistle and whirr and spin,
Are rivers made for nought but you
To tumble your hot filth in!
Shall fishes be kept by a grasp
That knows not low nor high,
And shall Christian men be left to gasp,
Plague smit, and sicken and die?
Oh" cholera, fierce and grim!
O'er the east wind fell and fleet,
I hear the wings of your cherubim,
And the tread of your blighting feet.
Nay, pity, and pass and spare
The houses of the suffering poor,
But stop and make your ghastly lair
At the great mill-owner's door.
I do not wish him killed,
But scared for a week or two,
And bottles of doctors' medicine spilled
On him as well as the poor.
And soon they will bridge the drains
And roof the fetid air,
When it smites some big Town Councillor's "weans,"
Or his Majesty the Mayor!
Then strike a tax, per poll,
On the owner of wheel and loom,
And the stream no more shall reek and roll
Like the sluggish wave of Doom.
With a Doctor for our Mayor,
And surgeons in every street,
We yet contrive to poison the air
Which God had made so sweet.
O pious and dirty race,
Whose sewers with filth run broad,
Bridge o'er your drains, and chatter less
About sickness sent from God!
J. L. R. Belfast, Sept. 1870
~~~~~~~~~~~~~~~~~~~~
IRISH PILOTS FOR THE FENIAN FLEET - The Cork Herald says:- "It is known that a number of our most skilful and experienced pilots from every part of the Irish seaboard have recently left the country, for the purpose, it is believed, of taking charge of a Fenian expedition, on its arrival off our coast. A few weeks since, a shipmaster, whose knowledge of every nook and cranny of the Irish coast is well known in nautical circles, left Queenstown as a saloon passenger by one of the emigrant steamers for New York, and it is generally believed amongst his friends at this port that he is to pilot one of the Fenian gunboats, whose power, it is said, will be directed against British commerce."
~~~~~~~~~~~~~~~~~~~~
SHOCKING CRUELTY TO CHILDREN - At Lambeth Police Court, on Thursday, James Beard, aged 57, clerk at a station, and Amelia Beard, his wife, aged 41, of 29 Royal Terrace, Kensington park, were finally examined, charged with neglecting and refusing to find and provide for Arthur Beard, an infant of tender years, sufficient food, wearing apparel, and other necessaries. The case was before Mr. Woolrych on the previous Friday, and the defendants were remanded, without bail, for further evidence, which was now produced. The case excited much interest, and Mr. Chester, the vestry-clerk of Newington, appeared to prosecute. Michael Gabb, relieving officer of Newington parish, deposed that from information he received he went on the previous Thursday week to the residence of the prisoners, and knocked at the door several times, but could not obtain admission. He went on another morning about eight o'clock with a bundle of letters in his hand, and gave a postman's knock, which had the desired effect, and the door was opened by the female prisoner. He told her that he wanted to see the children, on which she became much excited, and obstructed his further entrance. He insisted on seeing them, and she said, "You can't come in; you can't see them now." He forced his way into the house, and found the four children, and he brought them to the court. The youngest child, Arthur Beard, two years old, was shockingly neglected and emaciated. The other children were evidently neglected, and pale and thin. The female prisoner was mother-in-law to the children. He found they had slept on two bedsteads with old mattresses, black and dirty, with old rugs, and scarcely any covering. The female prisoner's bedroom was comfortably furnished. On the landing were good feather beds tied up, and she admitted they belonged to her. He had been informed that the child had been tied in a chair for nearly three months, and on examination the infant was found to be covered with sores. Witness went with Edwin Smith, one of the warrant officers of the court, to the place where the male prisoner had been employed for upwards of twenty years, and when he heard the charge he treated it with indifference. He had been in receipt of £1 11s 6d per week. There had been no medical treatment of the children for a long time. They had been placed in a ward by themselves at the workhouse; but it was very doubtful whether the young child Arthur would recover. The male prisoner was at home every evening, and must have seen the children. The additional evidence produced on the present occasion went to show that the children had formerly been healthy, but latterly they were much altered in appearance, apparently from want. A nurse of Newington Workhouse said the child Arthur, two years old, did not weigh quite 12lbs. on its admission. It had been supplied with port wine and beef tea since it had been in the workhouse, and had increased already more than 1lb in weight. It was said that the male prisoner had been married twice before. Mr. Symons, the medical officer to the guardians, stated that he had examined the infant, and found it weak and emaciated. It had a skin disease of the head, which had been produced by neglect, and he thought it would not recover, although it might linger for some time longer. A child might be in that condition from natural causes, but its present appearance had been caused by want of food. On being asked if they had anything to state, the male prisoner reserved his defence, and the woman said the statement made was false. Mr. Woolrych committed them for trial on the charge of ill-treatment to the infant Arthur Beard.
~~~~~~~~~~~~~~~~~~
A ROMANTIC CASE - At Gloucester Assizes, Levi York sued David Rose to recover £360, as the maintenance of his wife for 180 weeks at £2 a-week. The plaintiff is an inn-keeper and engineman, living at Wednesbury, and the defendant is the son of an ironmaster living in the same locality. A daughter of the plaintiff went to live with the defendant's father as cook, about four years ago, at £6 a-year. She will be twenty-four next May; the defendant is not yet quite twenty-one. Soon after the plaintiff's daughter went into Mr. Rose's service, the defendant came home from school, and he appears to have become greatly attached to her. The girl fell ill, and went home to assist her father, who had taken a beer-house, but was persuaded to return to service. Subsequently he agreed to marry the girl, and when he spoke to her mother, she pointed out the disparity in their stations and ages, but he argued her down, and said that his father knew of it. One Monday night, about three years ago, at half-past tem o'clock, the defendant, the young woman, and her brother set out and walked to Birmingham, where they arrived at five next morning. There they took train to Leamington, and thence they went to Kenilworth, and were married in the presence of the registrar. Three or four days afterwards, a warrant having been obtained for the apprehension of the young husband on the ground that he had stolen his brother's boots, his matrimonial elysium was broken in upon, and he was carried off to his friends, by whom, as his letters stated, he was locked up, deprived of clothes, and ultimately sent off to South America. Before he left his wife he told her to return to her father; before he went to America he contrived to see and write to her, and vow eternal fidelity, and he told her to tell her father to keep her like a lady, to keep her from appearing in the beerhouse, and promised to remunerate them. Since his return from South America he had seen her once, but had not contributed to her support. The young woman, her father, and mother were called. The former said she had dedicated her time to education, and had not even made a bed. The claim was for £2 a-week for 180 weeks. Mr. Malteram said it had not been shown that the boy had had a sixpence other than what his father gave him. Was the father to be punished for the indiscretion of his son? The jury gave a verdict for 25s a-week for the whole 180 weeks.
SINGULAR RECOVERY OF A SEVEN YEARS' LOST CHILD
At the Manchester Police Court, on Wednesday, Margaret Smith, a strolling beggar, was charged with having stolen a child, about two years old, named Mary Ann Welsh, belonging to Anne Welsh, a hawker, residing in Milton Street, Liverpool. It appeared that the prosecutrix and the prisoner had known each other previous to the alleged offence, and that one day about seven years ago the prosecutrix, who then as at present resided in Liverpool, went out to make some purchases, taking with her her child, which was about two years old. On her return with some loaves of bread in her apron, she met the prisoner, who complained of hunger and asked her for a piece of bread. The prosecutrix, accompanied by her child and the prisoner, went into a vault close by for the purpose of getting a knife to cut one of the loaves, and while there called for a pint of ale. When she turned away from the counter she found that the prisoner had slipped away, and apparently taken the child, which had also disappeared with her. The poor woman made all the inquiries she could for seven long years, with the view of discovering where the prisoner was, and so regaining her child; but up to a day or two ago, she had been unsuccessful. In June, 1867, a little girl - now identified by the prosecutrix as the one she lost - was taken into custody in Manchester on a charge of having stolen a bottle of scent; and it appeared that, at the time she committed the theft, the prisoner was in the immediate neighbourhood, as if waiting for her. The girl, then seven years old, was sent to the Ardwick Industrial School, where she was several times visited by the prisoner as her child; and, finally, on Christmas Day, 1867, the prisoner obtained leave to take her out for an hour, promising to return with her. She did not bring back the child, however, and the next that is knows of the latter is that in the following March it was found deserted in the Liverpool workhouse, and was taken back to the Ardwick Industrial School, where it has remained up to the present. In the meantime the mother pursued a persevering search for her child. At the time she lost it she kept a stall in one of the Liverpool markets, but she gave that up, and commenced the business of a hawker about the country, in the hope of encountering the prisoner somewhere on her travels. She made the circuit of several counties, going as far as Birmingham, and also making inquiries of any tramps she met as to the whereabouts of the prisoner, the latter being well-known among that class by the soubriquet of "Liverpool Peg." Repeatedly she got information from one or other of these strollers, as to where she might come upon the object of her pursuit; but when she got to the place indicated, the prisoner had gone elsewhere. Finally, she heard that the prisoner was in Manchester, and, hastening to that city, she found her on Saturday in a beer-house in Spear Street. The prisoner, when charged by the prosecutrix, stoutly denied her identity; but the prosecutrix was not to be deceived, and she called in the aid of the police, when the prisoner was taken into custody by Police-Constable 59A. On inquiries being made, the fact was ascertained that a child supposed to belong to her was in the Ardwick Industrial School, and the prosecutrix, on seeing the child, at once claimed it as hers, mentioning, as one of the proofs of her knowledge of it, that there was a mark of a burn on the lower part of its back. The child itself, of course, could give no help in the matter, not being able to recognise a parent from whom it had been parted seven years before, at the age of two years; but the mark of the burn, which really was on its back, evidenced the truth of the mother's claim. The prisoner still claimed the child as hers, and stated that she had been confined with it at the Bridge Street Workhouse, Manchester; but this story, on inquiry, turned out to be false. The prisoner was committed for trial.
EXECUTION OF DENIS DILLANE
Limerick, Monday April 13. - This morning, at twenty minutes to nine o'clock, Denis Dillane, convicted, at the recent Assizes for this county, as an accessory before the fact to the murder of Mr. Francis Fitzgerald, underwent the extreme penalty of the law on the scaffold in front of the county jail. At the time the foul murder was perpetrated - 16th May, 1862 - the atrocity of the brutal deed created a great sensation. In the open day, on a public high road, and in the neighbourhood of the populous town of Milmallock, near to which Mr. Fitzgerald resided, at a place called The Cottage, that young man, in the spring of life, with all the hopes of that life just opening before him, and while walking with his youthful wife, to whom he had not been long united, was shot down by two undisguised assassins. After the arrest of Beckham, who was executed, circumstances transpired which warranted the authorities in also arresting Denis and Matthew Dillane, brothers and respectable farmers, living at Kilmallock, as the conspirators who hired the assassins to perpetrate the murder, owing to Mr. Fitzgerald, from whom they held some land, having served notice to quit upon one of them, Denis Dillane, the unfortunate and misguided man who this day suffered death by hanging as a just punishment for the part he had taken in instigating others to commit a bloody deed from accomplishing which he himself shrunk with dear. James Walsh, a young man in the full flush of life, who was known to be Beckham's accomplice, was "on the run" for some time, notwithstanding that £500 reward was offered by Government for his apprehension, and £300 for information of any person harbouring him. However, being hard pressed, and ascertaining that he was about being betrayed for sake of the reward, he walked himself into a police station and surrendered to justice. The Summer Assizes took place in about a month after. Walsh was tried, identified by Mrs. Fitzgerald as the second who fired at her husband, convicted, and hanged. But this unfortunate young man, who said, when asked if he had anything to say why sentence of death should not be pronounced upon him, merely replied, "I don't know how I was brought into it." On the scaffold he made no observations, but died apparently repentant, and with a full consciousness of the awful position in which he stood. At last Assizes true bills were found by the Grand Jury against Denis and Matthew Dillane as accessories before the fact of murder, and the officers of the Crown (the Solicitor-General and Attorney-general) who attended only deemed it prudent to place Denis Dillane on trial. It was proved in evidence, chiefly circumstantial, that Denis Dillane was an instigator and abettor of the murder, because of Mr. Fitzgerald having threatened to take his farm from him; that on the 8th March, 1862, notice to quit had been served upon him, and documents were found in his (Dillane's) house showing that a correspondence was carried on between him and Mr. Fitzgerald until the 26th of April, which was the date of the last letter from Denis Dillane. Some of the letters contained some expressions rather unfavourable to the prisoner, who was told that he need expect no indulgence, and was otherwise discouraged. There was also a controversy between them in reference to some costs incurred for the preparation of leases. - It was clearly proved on the trial of Beckham that he and Denis Dillane purchased a case of pistols in Limerick, at the shop of Mr. Whittaker, gunmaker, a few days previous to the murder of Mr. Fitzgerald, and for which pistols Dillane paid £1 5s. - In the thatch of the house where Beckham was arrested the identical pistols in question were found, as deposed to by the shop-boy who sold them, and who also identified both parties. Denis Dillane was the person who asked for the pistols upon the first occasion of the visit to Whittaker's, and subsequently bought and handed them to Beckham. Dillane walked from the press room to the scaffold with rather a firm step, accompanied by the Rev. Messrs. O'Sullivan and Conway. He was deeply absorbed in prayer, and seemed to be perfectly resigned and calm, frequently kissing the crucifix, which the Rev. Mr. O'Sullivan placed to his lips. He stood firmly, and frequently raised his eyes towards heaven, invoking mercy. The rope having bee adjusted and the cap placed over his face, the fatal belt was drawn, and he died almost without struggle. Dillane took no breakfast this morning. Freeman's Journal.
~~~~~~~~~~~~~~~~~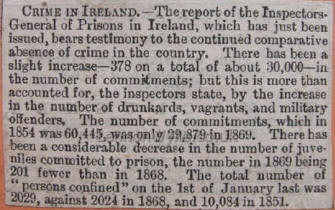 CRIME IN IRELAND - The report of the Inspectors-General of Prisons in Ireland, which has just been issued, bears testimony to the continued comparative absence of crime in the country. There has been a slight increase - 378 on a total of about 30,000 - in the number of commitments; but this is more than accounted for, the inspectors state, by the increase in the number of drunkards, vagrants, and military offenders. The number of commitments, which in 1854 was 60,445, was only 29,879 in 1869. There has been a considerable decrease in the number of juveniles committed to prison, the number in 1869 being 201 fewer than in 1868. The total number of "persons confined" on the 1st of January last was 2029, against 2024 in 1868, and 10,084 in 1851.
~~~~~~~~~~~~~~~~~~~~~~
A rather amusing joke has been played off on a publican residing in the suburbs of Derry by a few waggish young gentlemen. They obtained a donkey, and enveloped it in a bullock's hide. At dusk, one of them called at the public-house, and offered the "bullock" for sale, representing that he had been at the fair of Buncrana, where he did not succeed in disposing of the animal. Both man and beast seemed somewhat fatigued from the distance they should have travelled that day. The owner of the public-house entered at once upon a bargain; and so well did the "dull domestic drudge" appear in its new dress that, notwithstanding the scrutiny that it underwent by the sagacious and astute publican, he failed to detect the trick so artfully played upon him, nor did he entertain the slightest suspicion as to the bonŠ fide nature of the sale. A good price was asked for the quadruped, but after a good deal of negotiation the sum was reduced to £2 10s. the selling price. The publican seemed quite satisfied with his bargain, which was closed, of course, with a social drop and the interchange of friendly sentiments. The animal was placed in the outhouse, and a feed of hay left for it; but in the morning it was found that it had not taken any of the fare. On a closer inspection than that which it underwent on the previous evening, the cause of its fasting was soon discovered. The mouth of the animal was sewed up in the skin, to prevent it from braying, and thus disclosing the genus to which it belonged. On the hide being cut, the ass begun to below lustily through the aperture, and the purchaser had then no difficulty in discovering the trick that had been played upon him. With a rather dejected mien he began to disencumber the donkey of its covering, and, rather than that his simplicity should become known, he declined to follow the parties who had thus duped him. He sold the donkey and the hide in Derry, and sustained a loss of £1 by the transaction.
~~~~~~~~~~~~~~~~~~~~~~~
National Education in Ireland - The report of the Commissioners of National Education for 1867 has been published. There were 6,520 schools in operation, under the board, at the close of 1867, showing an increase of 67 on the previous year. There were 913,198 children on the rolls, and the average daily attendance was 321,683, showing an increase of 2,379 on the rolls, and an increase of 5,458 in the average daily attendance. There are 81 school-houses, comprising 125 separate schoolrooms, in course of erection. Seventy-three schools were struck off the list, and five were suspended during the year. The number of pupils belonging to the Established Church was 66,146; Roman Catholics, 737,267; Presbyterians, 102,768; other denominations, 6,564. Of the 175,478 Protestant pupils, 155,343 are in attendance in mixed schools. Workhouse schools number 145, with 18,774 pupils on the rolls. The number of district and minor model schools is 27. There are 142 convent and monastic schools, the pupils attending these amounting to 73,344. The facts concerning these 142 convent and monastic schools are returned by their managers.
~~~~~~~~~~~~~~~~~~~~~~
BIRTHS, MARRIAGES AND DEATHS
The following is the quarterly return of the marriages, births and deaths registered in the divisions and districts of Ireland:- "General Register Office, Dublin, 19th Dec. 1868.
"This return includes the marriages registered during April, May and June 1868; and the births and deaths registered during July, August and September 1868, in the 724 Registrars' districts of Ireland. These districts are co-extensive with the dispensary districts of the 163 Poor Law Unions; which later form the districts of the Superintendent Registrars.
"Marriages - The number of marriages registered in Ireland during the second quarter of the present year amounted to 5,147, equal to an annul ratio of 1 in every 269, or 371 per cent. of the estimated population.* The number registered in the corresponding period of last year was 5,166. Of the 5,147 marriages registered during the second quarter of this year, 3,208 were between Roman Catholics, representing an annual ratio of 1 marriage in every 351, or 285 per cent. of the Roman Catholic population; and the remaining 1,939 marriages were between Protestants, being equal to an annual ratio of 1 in every 166, or 601 per cent, of the Protestant population.*
"Births - There were 34,362 births registered in Ireland during the quarter ending 30th September last - 17,6900 boys and 16,672 girls - representing an annual ratio of 1 in every 40.3 or 2.48 per cent. of the estimated population; the births registered during the corresponding quarter of last year were 34,248; in the third quarter of 1866 the number was 33,580; in 1865, it was 34,158; and in 1864, 33,892. In only thirteen unions or Superintendent Registrars' districts and the number of births registered during the quarter equal an annual ratio 1 in 33 of the population; they were the following:- Belfast, 1 in 23; Swineford, 1 in 25; Claremorris, 1 in 28; Oughterard, 1 in 31; Castlereagh, Cahireiveen, and Dingle, 1 in 32; and Castleblayney, Lurgan, Dublin North, Newport (Co. Mayo), Wesport, and Glin, 1 in 33. In the following five Superintendent Registrars' districts the number of births registered during the quarter did not equal an annual ration of 1 in 60, viz:- Letterkenny, 1 in 61: Borrisekane, 1 in 64; Ballyshannon, 1 in 65; Parsonstown, 1 in 68: and Delvin, 1 in 69.
"Deaths - The deaths registered in Ireland during the third quarter of the present year amounted to 18,600 - 9,418 males and 9,182 females - affording an annual ratio of 1 in every 74.5, or 1.34 per cent. of the estimated population. The numbers registered during 1867, were 19,259, 18,854, 18,751, and 18,549, respectively. According to the number of deaths registered during the quarter there were only ten unions or Superintendent Registrars' districts in Ireland which had a mortality equal to an annual ration of 1 in 57 of the population:* - Belfast, 1 in 36; Dublin North and Dublin South, 1 in 42; Carrick-on-Suir, 1 in 49; Kinsale, 1 in 51; Balrothery and Celbridge, 1 in 54; Larne, 1 in 55; Fermoy, 1 in 56; and Clonmel, 1 in 57. In the following Superintendent Registrars' districts or Poor Law Unions the deaths registered during the quarter did not reach an annual ration of 1 in 100:- Ardee, Ballina, Ballinrobe, Ballymoney, Ballyshannon, Bantry, Belmullet, Borrisokane, Boyle, Carrickmacross, Carrick-on-Shannon, Castlebar, Castleblayney, Castlederg, Castlereagh, Claremorris, Clifden, Clogheen, Clogher, Clones, Cootehill, Corofin, Delvin, Dingle, Donegal, Dromore West, Glenties, Gort, Kanturk, Kells, Killadysert, Kilrush, Letterkenny, Loughrea, Manorhamilton, Millstreet, Navan, Newcastle, Newport (Co. Mayo), Omagh, Roscommon, Scariff, Skull, Swineford, Tobercurry, Trim, Tuam, Tulla, and Westport.
"Emigration - According to the returns obtained by the enumerators, the number of emigrants who left the ports of Ireland during the quarter ended 30th September last, amounted to 14,259 - 7,744 males, and 6,515 females - being 4,216 less than the number who emigrated during the corresponding quarter of 1867.
"Estimated Increase of the Population - The number of births registered during the quarter ended 30th September last being 34,362; the deaths 18,600; and the number of emigrants 14,259 - (according to the returns obtained by the enumerators at the several seaports) - an increase of 1,503 would, therefore, appear to have taken place in the population of Ireland during that period." *According to the census of 1861
~~~~~~~~~~~~~~~~~~~
THE LATE JOHN FISHER MURRAY
The announcement of the death of John Fisher Murray will be read with regret by his many friends in the North of Ireland. He was the eldest son of Sir James Murray, M.D., and was born in Belfast in 1811. He graduated in the University of Edinburgh in 1832. A series of brilliant sketches of metropolitan life and manners, which he published in Blackwood's Magazine, first attracted attention to his remarkable powers as a writer. These essays were afterwards republished in a collected form, under the title of the "World of London." They are especially characterised by strong powers of observation, a quaint and genial humour, and an overflowing tenderness and compassion for the poor and suffering.
A large work from his poem, entitled, "The Environs of London," was published by Blackwood in 1842. A spirited and vigorous pamphlet, which he wrote on the celebrated case of Lady Flora Hastings, attracted much attention, and had an enormous sale. For some years Mr. Murray was a frequent contributor, both in prose and verse, to several of the leading periodicals. All the recent collections of Irish ballads contain some of his compositions. His lines entitled - "The Lost Wife," "The Furze," his "Monody on the death of Thomas Davis," and the exquisite and touching piece entitled "Dark Margaret," are among the best known of his verses.
During the last years of his life, Mr. Murray wrote little. Always a passionate lover of Nature, he devoted much time to the study of natural science, and lived in comparative retirement. By his friends he will be remembered as a man of great and varied powers, gifted with a rare and original humour, and possessed of a sterling integrity of character. His nature was singularly kindly and unselfish, and his charities numerous and unostentatious. The following beautiful lines, which are now for the first time published, were composed by him a few weeks ago, when in apparently perfect health. They possess an unusual interest, as they might be supposed to have been to have been inspired by a presentiment of his approaching death:-
THE CLOSING SCENE
When fading fast from all we see,
We contemplate life's closing scene,
Dreaming no more of what may be,
Remembering sadly what hath been.
What now shall cheer this dreadful day-
What now irradiate the gloom;
Accompany in death's dark way-
Contented lead us to the tomb.
Some cruel word best left unsaid,
Some vengeance, better left undone;
Some message, from thy dying bed,
Of mercy to an erring one.
A simple life, an honest heart,
A cheerful hospitable grace;
Courage to act a manly part-
Spirit to feel for human race.
An honourable life hard pressed
By sore temptation, yet maintained,
The conscious virtue of the breast,
The narrow thorny path retained.
Alert to serve at need a friend,
To aid, or, harder, to reprove;
The dead or absent to defend,
The living to believe and love.
These are thy treasures; this thy store
Will only serve where they are gone
Who are not dead, but gone before,
And whom thou soon shalt look upon.
These, fading fast from all we see,
Contemplating life's closing scene,
Shall give thee hope of what shall be
In recollecting what hath been.
THE MASSACRE AT TIENTSIN.
A HUNDRED CHILDREN BURNT ALIVE.
We have been favoured with the following private letter, dated Choo-Foo, June 30, 1870:- On Tuesday, the 21st June, a Chinese mob, with the obvious connivance of the mandarins, and especially of Chung How, the Governor of Tientsin, simultaneously attacked the French Consulate, the Catholic Church Mission, and the hospital of the Sisters of Mercy. It was at two o'clock that the assault commenced. The French Consul, M. Fontanier, seeing himself menaced, and his windows broken by stones, left the Consulate in uniform, and insisted on being accompanied by a petty mandarin, who was looking on at the mob without impeding them, to the Yamen of Chung How, and there he demanded protection for the Consulate, the persons who were resident, and for himself. He also asked Chung How to protect the Sisters of Mercy and their hospital, as he had by that time heard they were in danger. Chung How told him that he could not protect any of the persons whom he had names. Some remonstrances took place, and as the French Consul had a revolver in his hand that he had brought for his own defence, Chung How got frightened, and left the room. The French Consul then addressed his demand for protection to another Mandarin, and he was answered that nothing could be done to help him. Some altercation took place, when one of the soldiers of the Yamen stabbed the French Consul with a spear in the thigh, and in that wounded state, with the blood having reddened the whole side of his white linen trousers, the Consul went to the door of the Yamen and holding up the French flag, asked leave to pass the soldiers, and the mob seemed awed for a moment, but it was for a moment only. They fell upon the unfortunate Consul, pierced him with spears and swords, and after mutilating him, threw his corpse into the river. M. Courtraix also witnessed the Consul advance in a bleeding state to the Yamen's door, and also saw the first of the brutal murder of M. Fontanier. Meanwhile the mob, after allowing the French Consul to go towards the Yamen, immediately broke open the Consulate and murdered Mons. and Madame Thomassin and the Abbe Chevrier, and another Catholic priest. It is reported that in the terrible moment of impending death M. Thomassin killed several Chinese in order to defend himself and wife. The mob, led on by soldiers, then set fire to the Consulate and the church of the Catholic Mission, and burned all the other inmates who could not escape. Simultaneously with the assault on the French Consulate the mob and soldiery surrounded the hospital of the French Sisters of Mercy. Having set fire to a portion of the building, they entered the gates and dragged all the Sisters of Charity into the street. There they stripped them naked, exposed them to the public gaze, plucked out their eyes, cut off their breasts, ripped them open, dragged out their hearts, deliberately cut them to pieces, and divided portions of their flesh amongst the infuriated mob. No European witnessed these outrages on humanity save the poor victims, who, in presence of each other, passed through the terrible ordeal and perished without hope of release, and without any support in their extreme hour of misery and torment save their confidence in a merciful God, whose behests they had endeavoured to fulfill at the peril of their lives. Chinese spectators of the bloody scene relate other horrors perpetrated on these innocent ladies that cannot be mentioned. The lady superior of the hospital was cut in twain while yet alive. God alone and the Sisters know what they endured of agony and bodily suffering. No sooner had the mob and the soldiers glutted their thirst for human blood on the unfortunate Sisters, than they burned the entire hospital. Nearly a hundred orphan children who had been received into the orphanage attached to the hospital, perished in the flames. The mutilated members of the dead Sisters were thrown into the burning ruins, and thus, together with the little children they were charitably nurturing, was the holocaust completed.
~~~~~~~~~~~~~~~~~~~~
One of the prettiest Christmas customs is the Norwegian practice of giving, on Christmas Day, a dinner to the birds. On Christmas morning, every gable, gateway, or barn door is decorated with a sheaf of corn fixed on the top of a tall pole, where from it is intended that the birds shall make their Christmas dinner. Even the peasants will contrive to have a handful set by for this purpose, and what the birds do not eat on Christmas day remains for them to finish as their leisure through the Winter.
~~~~~~~~~~~~~~~~~~~
Waste not, Want not - A gentleman who had put aside two bottles of capital ale, to recreate some friends, discovered, just before dinner, that his servant, a country bumpkin, had emptied them both. "Scoundrel!" said his master, "what do you mean by this?" "Why, Sir, I saw plain enough by the clouds that it were going to thunder, so I drank up the yale at once, lest it should turn sour, for there is nothing I do abominate like waste."
~~~~~~~~~~~~~~~~~~~
How to prevent garden thieves - A fruit grower over in Jersey being much annoyed by depredators, obtained a human leg from a hospital, and putting it in a large steel trap in his grapery, began to make inquiries in a disturbed and melancholy manner for the owner of the limb; neighbours flocked in to see it; the cunning fruit grower was berated for his cruelty; reports were circulated that the "horrid wretch" had filled his grounds with traps, and his fruit was no more stolen.
~~~~~~~~~~~~~~~~~~
I do not love an angry frown where pleasant smiles should be,
Nor yet a weak and foolish act, Nor aught unkind to see.
Nor meanest thing that God hath made, I would not treat with scorn,
And oft I sigh to think that men should make each other mourn.
I do not love a babbling tongue whose words are full of guile,
Nor yet the proud and polish'd knave who wears a cunning smile;
I would have men do what is right from brother unto brother,
And learn the golden plan of life - Be kind unto each other.
I do not love the sordid elf who grasps and toils for gain,
Nor yet the idle reprobate who spends his time in vain;
From each alike I turn away to things of higher worth,
And love the pride of honour more than that of rank or birth.
I do not love the coward slave who bends unto the rod,
Nor yet the frail misguided man who turns his heart from God,
Ah, no! I look for greater things - A better, nobler plan,
And form a higher estimate of nature and of man.
I do not love mere outward show that hides dark fruits within,
Nor yet the fawning hypocrite who favours seeks to win;
Man's mission surely is more great, more virtuous and more just,
Than trampling Heaven's fairest gifts and grovelling in the dust.
I do not love full many things I cannot even name,
That make this world a darker world, and fill the mind with shame,
And yet how happy all might be - Each lone and suffering brother -
Did men but so that which is right and love and aid each other.

The Present Style of Railroad Traveling
S
M
Tu
W
Th
F
S
S
M
Tu
W
Th
F
S
S
M
Tu
W
Th
F
S
S
M
Tu
W
Th
F
S
S
M
Tu

W
Th
F
S
S
M
Tu
W

Th
F
S
S
M
Tu
W
Th
F
S
S
M
Tu
W
Th
F
S
S
M
Tu
W
Th
F
S
S
M
Tu
W
Th
F
S
S
M
Tu
W
Th
F
S
S
M
Tu
W
Th
F
S
S
M
Tu

W
Th
F
S
S
M
Tu
W
Th
F
S
S
M
Tu
W

Th
F
S

S
M
Tu
W
Th
F
S
S
M
Tu
W
Th
F
S
S
M
Tu
W
Th
F
S
S
M
Tu
W
Th
F
S
S
M
Tu
W
Th
F

S
S
M
Tu
W
Th
F
S
S
M
Tu
W
Th
F
S
S
M
Tu
W
Th
F
S
S
M
Tu
W
Th
F
S

S
M
Tu
W

Th
F
S
S
M
Tu
W
Th
F
1
2
3
4
5
6
7
8
9
10
11
12
13
14
15
16
17
18
19
20
21
22
23
24
25
26
27
28
29
30
31

1
2
3
4
5
6
7
8

9
10
11
12
13
14
15
16
17
18
19
20
21
22
23
24
25
26
27
28
1
2
3
4
5
6
7
8
9
10
11
12
13
14
15
16
17
18
19
20
21
22
23
24
25
26
27
28

29
30
31
1
2
3
4
5
6
7
8
9
10
11
12

13
14
15

16
17
18
19
20
21
22
23
24
25
26
27
28
29
30
1
2
3
4
5
6
7
8
9
10
11
12
13
14
15
16
17
18
19

20
21
22
23
24
25
26
27
28
29
30
31
1
2
3
4
5
6
7
8
9
10
11
12
13
14
15
16
17

18
19
20
21

22
23
24
25
26
27
28
29
30
JANUARY
First Municipal Act obtained for Belfast, 1800
Gracehill Poisoning Case, 1863
John Mitchel admitted an Attorney, 1839
Formation of Lough Neagh Steam Ferry, 1839
First Deposit Meeting of Belfast Savings Bank, 1816
First Night Refuge proposed for Belfast, 1841
Burning of Queen's Island Conservatory, 1864
Rifle Brigade attend Church with 59 rounds ball cartridge, 1825
First Election of Poor Law Guardians for Belfast, 1839
Commencement of Penny Postage, 1840
Snow 8 to 10 ft. deep on Newtownards and Bangor Roads, 1814
First Steam Vessel on the Clyde, 1812
Duffield's Provision Store, in James's Street, burned, 1842
Belfast Athenaeum, Castle Place, Opened, 1867
British Museum Opened, 1759
Disgraceful Outrage on the Ulster Railway, 1847
The Hartley Colliery Disaster, 1862
Visit of the Repeal Delegates & O'Connell to Belfast, 1841
First English Parliament, 1265
O'Connell's Address from Balcony of Royal Hotel, 1841
Riots at Newtownards to oppose Export of Potatoes, 1839
Railway to Larne first projected, 1846
Passenger Boats plied all day in High Street, 1796
1st Protestant Meeting for Public Worship in Madrid, 1869
The Burns Centenary Celebration in Belfast, 1859
Launch of a Vessel at Lisburn, 1839
Cowan's Mill, Whiteabbey, destroyed by Fire, 1848
250 Donaghadee Yeomen cutting through the Snow, 1814
Shocking Murder of her Child by Jane Wright, 1854
The Belfast Town Council placed in Chancery, 1855
Dissenters debarred from holding situations as clerks in the Bank of .....Ireland, 1784
FEBRUARY
Surrender of Kells Priory by Murtagh McAnullowe, 1542
Arrest of Arthur O'Connor in Frederick Street, 1797
Northern Star Office taken possession of by Military, 1797
Belfast Philharmonic Society established, 1854
Sir Robert Peel born, 1788
3 Men and a Horse lost in a Snow-wreath at Killead, 1794
Charles Dickens born, 1812
Banquet to Earl Spencer by Lord Mayor of Dublin, Card. Cullen .....present, 1869
Great Demonstration in honour of Mr. McClure, M.P., 1869
Queen Victoria Married, 1840
600 Protestant Fugitives Massacred at Ballymoney, 1642
Death of last Earl O'Neill, 1855 (Earldom since revived)
Fuad Pasha died at Nice, 1869
Monte de Piete Established in Church Street, Belfast, 1839
Termination of Black Frost, which lasted 2 months, 1740
First Hearing of the Town Council Chancery Suit, 1855
Michael Angelo died, 1564
Martin Luther died, 1546
The Yelverton Trial commenced in Dublin, 1861
Lying-in Hospital first opened, in Donegall Street, 1793
First Rising of the Fenians in Limerick, 1867
Execution of Five of the "Flowery Land" Pirates, 1864
French Revolution broke out, 1848
George Washington born, 1732
Sir Christopher Wren died, 1723
Verdict in the case of Saurin v. Starr, damages £500, 1869
Burning of the Irish Parliament House, Dublin, 1792
Capture of Thurot's Fleet and Death of Thurot, 1760
MARCH
The Irish Church Bill brought in by Mr. Gladstone, 1869
First Sanitary Committee formed in Belfast, 1848
Rejection of Mr. Fawcett's Election Expenses Bill, 1869
General Grant Installed President of United States, 1869
Bishop Crolly Consecrated R. C. Primate of Ireland, 1845
Murder of Rev. Mr. Morrell by the Hearts of Oak, 1772
Princess of Wales entered London, 1863
Death of King William III., aged 512, 1702
Four Persons Murdered by a Maniac near Ballymena, 1840
Prince of Wales Married, 1863
Strike of Cotton Operatives at Preston commenced, 1869
Chelsea Hospital Founded by Charles II., 1682
Alarming Movements of the United Irishmen, 1797
County Down proclaimed in insurrection, 1797
Juvenile Band established by Belfast Charitable Society, 1849
Resignation of Mr. Getty as M.P. for Belfast, 1868
Fatal Party Riot at Crossgar and Castlewellan, 1849
Princess Louise (Marchioness of Lorne) born, 1848
Mdme. Rachel committed to Newgate, her bail withdrawn, 1869
Foundation Stone of Porter Brewery laid in Belfast, 1787
Belfast Mechanics' Institute first proposed, 1825
Meeting to represent Belfast at Exhibition of '51, 1850
Execution and Dissection of 3 Murderers at Toome, 1810
Formation of the Royal Flax Society, 1824
Meeting at Lisburn to Petition against Distillation, 1812
Opening of the Wesleyan Church, Falls Road, 1854
Gold Chain pres. to Corporation by Marq. Donegall, 1787
Shops in Belfast Closed on Recal of the Lord Lieutenant, Earl .....Fitzwilliam, 1795
Wreck of H.M. Brig Ferret off Dover Pier, 1869
Death of Lord Chesterfield (Lord Lieutenant), 1773
Haydn born, 1732
APRIL
Mr. Dargan commenced the New Channel at Belfast, 1839
Death of Richard Cobden, 1865
Kitchen for Dressing Rice for the Poor opened in Lisburn, 1812
Government Inspection of Ballymena Railway, 1848
First Opera in Belfast, 1824
Death of Primate Crolly, 1849
The "Young Ireland" Disturbances in Arthur Square, 1848
Reduction of 1d in Income-tax, Mr. Lowe's Budget, 1869
Life Peerages Bill introduced by Earl Russell, 1869
Meeting to Establish Soup Kitchens in Belfast, 1846
The Old Castle, Castle Place, cleared away, 1841
Conservative Members meet at Lord Redesdale's to oppose Irish .....Church Bill, 1869
U. S. Senate Reject Alabama Claims Treaty by 54 to 1, 1869
Arrest of Dalton, the Phoenix Informer, in Lagan Street, 1859
Carrickfergus Jail broken open by 29th Regt., and a Soldier under .....Sentence of Death carried off, 1763
Rosemary Street Church (now Mr. Macnaughtan's) re-opened, 1846
Troops at Aldershot inspected by the Queen, 1869
Death of Benjamin Franklin, 1790
Lord Byron died at Misselonghi, 1824
Not a single Prisoner in Carrickfergus County Jail, 1760
Death of Sir Robert Bateson, 1863
Belfast Pawnbrokers Suspended Business, Great Distress, 1832
Meeting of Irish Harpers at Donegall Arms Hotel, 1792
Mr. Bradshaw shot dead at his own door in Tipperary, 1869
Death by burning of 3 daughters of Earl Chichester, 1708
Montagu Talbot, lessee of Theatre for 31 years, died, 1831
Charter granted to Belfast by James the First, 1613
Building of the Belfast Linen Hall commenced, 1783
Railway between Derry, Belfast & Dublin projected, 1835
Great Ulster Meeting in Theatre Royal, Belfast, 1840
MAY
Consecration of Dr. Crolly to the See of Down, 1825
Railway to Holywood projected, 1836
Rev. Dr. Knox installed Bishop of Down, 1849
Foundation Belfast Museum laid by Marq. Donegall, 1830
Meeting in Belfast to Commemorate Polish Revolution, 1892
Hon. Edward O'Neill returned M.P. for Co. Antrim, 1863
Irish Church Bill passed through Committee, 1869
Death from Drenching at Yng Irlnd Mtg, Arthur Square, 1848
Desperate Affray with yeomanry at Seaforde, 1814
Delegates from 72 Associations Untd Irishmen meet, 1795
Spencer Percival assassinated in House of Commons, 1812
The Permissive Bill Defeated, by 193 to 87, 1869
The Fuchsia Plant Introduced into Belfast, 1789
Vaccination Established by Jenner, 1796
Shane's Castle Destroyed by Fire, 1816
Death of Daniel O'Connell, 1847
Suppression of a Revolutionary Meeting in Theatre, 1848
Trial by Jury Established, 970
Visit of Lord Lieutenant and Lady Spencer to Workmen's Exhibition, in .....Ulster Hall, 1870
Railway Proposed to Ballymena, 1844
The Siege of Acre, 1799
Fras. Ritchie Appointed Contractor for Queen's Bridge, 1840
Resignation of Bishop Denvir, 1865
Boat Accident in the Lough, four persons drowned, 1846
Remonstrant Synod of Ulster Formed, 1830
The "Derby" won by Mr. Johnston's "Pretender", 1869
First Annual Mtng. of Clinical & Pathological Society, 1854
Ld. O'Hagar distributes Prizes at Workmen's Exhibition, 1870
Fatal Affray at Belfast between Two Military Regts., 1795
Total Eclipse of the Sun, seen at Belfast, 1844
The Irish Ch. Bill Read a 3rd Time, by 360 to 247, 1869
JUNE
Battle of Drumclog, 1679
Public Dinner to Mr. Maurice Cross in Belfast, 1828
Baths and Wash-houses First Advocated by Mr. Ross, 1848
Closing of Belfast Workmen's Exhibition, 1870
Formation of Belfast Natural History Society, 1821
Mrs. Siddons appears in "Venice Preserved," in Belfast Theatre, 1785
First Balloon Ascent from Belfast Barracks, 1824
The Ascot Gold Vase won by "Thorwalsden," 1869
John Wesley Preached in a Room in Corn Market, 1787
First Presbytery in Ireland met at Carrickfergus, 1642
Madame Wharton's Walhalla Exhibition visits Belfast, 1849
Great Co. Meeting at Manchester against Irish Ch. Bill, 1869
Ships in Belfast Harbour Stripped by Press Gangs, 1797
Debate on 2nd Rdng. Irish Ch. Bill commenced in Lords, 1869
Great Distress in Belfast, Town meetings, etc., 1837
St. George's Church opened, 1816
Death of Earl O'Neill from Pike Wounds received at the Battle of .....Antrim, 1898
Death of William Cobbett, 1835
Shanghai taken by Sir Henry Pottinger, 1842
Death of King William, IV., 1837
Field Day at Aldershot - Collision between 2 Squadrons of Cavalry, .....1869
People's Reading Rooms, Donegall Street, opened, 1846
Eleven Naval Volunteers Drowned in Belfast Lough, 1859
The Gillespie Monument opened in Comber, 1845
Trial and acquittal of Dr. Drennan in Court of King's Bench, 1894
Death of King George IV., 1830
First House Agency in Belfast Established, 1832
Rev. Geo. Hay, Derry, elected Mod. of Gen. Assembly, 1814
Dr. Cooke elected Moderator of Synod of Ulster, 1824
William III. Wounded the day before the Battle of the Boyne, 1690
S
S
M

Tu
W
Th
F
S
S
M
Tu
W
Th
F
S
S
M
Tu
W
Th
F
S
S
M
Tu
W
Th
F
S

S
M
Tu
W
Th
F
S
S
M
Tu
W
Th
F
S
S
M
Tu
W
Th
F
S
S
M
Tu
W
Th
F
S
S
M
Tu
W
Th
F
S
S
M

Tu
W
Th
F
S
S
M
Tu
W
Th
F
S

S
M
Tu
W
Th
F
S
S
M
Tu
W
Th
F
S
S
M
Tu
W
Th
F

S
S
M
Tu
W
Th
F
S
S
M
Tu
W
Th
F
S
S
M
Tu
W
Th
F
S
S
M
Tu
W
Th
F
S
S
M
Tu
W
Th
F
S
S
M
Tu
W
Th
F
S
S
M

Tu
W
Th
F
S
S
M
Tu
W
Th

F
S
S
M
T
W
Th
F
S
S
M
Tu
W
Th
F
S
S
M
Tu
W
Th
F
S
S
M
Tu
W

Th
F
S
S
1
2
3

4
5
6
7
8
9
10
11
12
13
14
15
16
17
18
19
20
21
22
23
24
25
26
27
28
29

30
31
1
2
3
4
5
6
7
8
9
10
11
12
13
14
15
16
17
18
19
20
21
22
23
24
25
26
27
28
29
30
31
1
2
3
4

5
6
7
8
9
10
11
12
13
14
15
16

17
18
19
20
21
22
23
24
25
26
27
28
29
30
1
2
3
4
5
6

7
8
9
10
11
12
13
14
15
16
17
18
19
20
21
22
23
24
25
26
27
28
29
30
31
1
2
3
4
5
6
7
8
9
10
11
12
13
14
15
16
17
18
19
20

21
22
23
24
25
26
27
28
29
30




1
2
3
4
5
6
7
8
9
10
11
12
13
14
15
16
17
18
19
20
21
22
23
24
25
26
27
28

29
30
31
JULY
Archd. Hamilton Rowan pleads for pardon in person, 1805
Sir Robert Peel died, 1850
Court of Queen's Bench rules that defaulting Sec. of Trades Society .....could not be prosecuted, 1869
Declaration of American Independence, 1776
The "Thirteen Stripes" first seen in Belfast Harbour after Peace, 1883
Seventy "Pilgrims" drowned in Lough Derg, 1795
Arrest of Henry Joy McCracken, for High Treason, 1798
Earl Russell's Life Peerage Bill rejected by 106 to 77, 1869
First Meeting of the Ulster Railway Company, 1836
Union of the Two Synods of Ulster, 1840
Captain Lambert Shot at his own house, in Galway, 1869
Capture of Briggs in Canada by Stewart McWilliams, 1845
Corpl. Angus Cameron won Queen's prize at Wimbledon, 1869
Public Funeral of Bishop Denvir, 1865
The Lords' Amendments to Irish Ch. Bill rejected by Commons, 1869
Trial & Execution of Henry J. McCracken at Corn-market, 1898
First meeting to start Sailor's Home, £3,000 subscribed, 1854
Death of Robert Burns, 1796
High Sheriff of Queen's Co., Mr. Warburton, shot, 1869
Abolition of Prelacy in Scotland, 1789
Death of Lord Dufferin, on Board the Reindeer steamer, 1841
Union of England and Scotland, 1706
The Compromise on Irish Church Bill accepted by Commons, 1869
First Steamer sails from Belfast for France, 1838
Lord Lieut. (Camden) and Suite visit Maze Races, 1795
The Royal Assent given to the Irish Church Bill, 1869
Priest McCary fined £500 for marrying 2 Protestants, 1825
The Yelverton Case in the House of Lords closed, 1864
David Butle, Sovereign of Belfast, stripped of Office for being a .....Dissenter, 1704
Death of William Penn, 1718
Completion of Christ Church, Durham Street, 1833
AUGUST
Bangor first Lighted with gas, 1855
Union Bill passed terminating the Irish parliament, 1800
Belfast Assembly Room Floor fell in, several deaths, 1837
Death of George Canning, 1827
Execution of the Clarkes for double murder at Ballylesson, 1831
Establishment of Roman Catholic Gun Club, in Belfast, 1857
Visit of Mr. and Mrs. S. C. Hall to Belfast, 1841
Foundation of O'Connell Monument laid in Dublin, 1864
Terrible Thunderstorm and Loss of Life in Belfast, 1846
Procession of Distressed Cotton Operatives to Earl Hillsboro', 1785
Destructive Earthquake at Belfast, 1786
Murder of Hanna by McAlister, on the Lagan Bank, 1841
Jeremy Taylor, Bishop of Down, died at Lisburn, 1667
Invention of Printing at Strasburg, 1437
Cromwell landed at Dublin, 1649
Railway Guard Burned at Barnet through a collision, 1869
Filling up of May's Dock commenced, 1841
Introduction of Glass Staining into Belfast, 1841
Dr. Dorrian consecrated R. C. Bishop of Down, 1860
Murder of Capt. Brown by O'Neill, at Belfast Barracks, 1853
Bread in Belfast risen to nearly double price, 1838
Court of Inquiry for purchase of Ballymacarrett slob lands, 1854
Inauguration of Belfast Sailors' Home, 1859
Belfast Ship "Providence" burned off Cove, by a Privateer, 1795
Munificent Donation to Gen. Hospital by the Queen, 1849
Death of Rev. John Edgar, D.D., 1866
The Great Fire in Waring Street, 1831
Capture in Belfast of a Notorious Gang of Burglars, 1846
Garibaldi made Prisoner, 1862
Belfast first lighted with Gas, 1823
Death of John Bunyan, 1688
SEPTEMBER

Extraordinary Trial for Ghost Raising in North Street, 1841
Great Fire of London, 1666
First Exhibition of the Horticultural Society in Belfast, 1829
Execution of 3 Weavers in Castle Place, for the Johnston Outrage in Peter's Hill, 1816
Death of the Marquis of Donegall, 1844
"Street Preaching" Riots in Belfast Commenced, 1857
Triumphal Entry of Garibaldi into Naples, 1860
Completion of the Cavehill Railway, 1840
Sebastopol taken, 1855
Tea first imported into Britain, 1391
Rejoicings in Belfast on Fall of Sebastopol, 1855
James Emerson (Tennent) accredited to Greece, 1824
Brutal Murder of John Bell, near Ballynahinch, 1795
First Split of Old and Young Irelanders in Belfast, 1846
Rev. Dr. Spratt Administers the "Pledge" in Belfast, 1846
16 to 21 - Engagement between "Peep O'Day Boys" and "Defenders" .....at Portadown, 17 lives lost, 1795
Carrickfergus first Lighted with Gas, 1855
Reception of present Marquis of Donegall in Belfast, 1844
John Cowden, Princes Street, advertises runaway Negro Slave, 1765
Bodies of Madame Kinck and Five Children found, 1869
Sir Walter Scott died, 1832
The Great Britain run ashore in Dundrum Bay, 1846
Daily steam com. Belfast & Glasgow first projected, 1839
Public Dinner given to Mr. D. R. Ross, 1847
Great Strike in the Belfast Factories, 1844
Thousands visit Islandmagee to see a Mermaid ashore, 1814
Depression of Trade in Belfast Factories, 1846
Dr. Wiseman elected Cardinal Westminster, 1850
Great Reform Demonstration in Belfast, 1831
Jury Disagree in Barrett's case for shooting Capt. Lambert, 1869
OCTOBER
Seven Persons Burned to Death at Bayswater, 1869
The Celebrated "Wandering Piper" in Belfast, 1838
Murder of Mr. Boyd & Maria Death at Wood Green, 1869
Lloyd Garrison in the music Hall, Stormy Meeting, 1846
Ribbon Arrests on the Falls Road, 1839
Board for the Promotion of Flax Manufacture appointed by Queen Anne, 1711
The Lord Lieut. (Cirnwallis) in Belfast, 1799
Death of Denis Murphy from Extraction of a Tooth, 1851
Burning of Boomer & Campbell's Mill, Falls Road, 1838
50,000 persons at Fenian Amnesty Mtng. in Dublin, 1869
The United Irishmen confer with Tone in Belfast, 1791
First Dissenters' Relief Bill moved, 1779
Carrickfergus Jail broken open by Convicts, 1838
Farewell Benefit of Mrs. Watkins Burroughs in Theatre, 1840
Completion of Ulster Club House, Castle Place, 1863
Lord Palmerston Died, 1865
Death of the Father of Tenant0right, W. S. Crawford, 1861
Burning of a Large Factory near Carrickfergus, 1846
Russell Executed at Downpatrick for High Treason, 1803
Formation of first Belfast Coal Company, 1836
Royal Terrace completed by Mr. Peter Lundy, 1847
Steam Communication with Derry commenced, 1839
Mr. Gladstone's letter refusing to release Fenian prisoners, 1869
Mulholland's Mill, Francis Street, burned, 1845
First Municipal Election in Belfast, 1842
First Appearance of Cholera in England, 1831
Mr. John Rea Suspended for Three Years, 1849
Robbery of Gunpowder from King's store, Calender Street, 1896
Broadhead's farewell address in Sheffield Music Hall, 1869
Hillsborough Protestant Demonstration, 1867
Mysterious "Ghost Raising" in North Street, 1840
NOVEMBER
Linen Hall News-room Opened, 1815
Loss of a Pilot and Three Boys in Belfast Lough, 1842
10 men killed by explosion of the gunboat Thistle, 1869
Death of Mr. Peabody in London, aged 75, 1869
Discovery of the Gunpowder Plot, 1605
The Queen opened Blackfriars Bridge and Holborn Viaduct, 1869
Belfast Queen's College opened, 1849
Death of John Milton, 1674
Murder of Alex. McCullough, a farmer, at Toome, 1809
Martin Luther born, 1483
Six Persons killed at Swansea Colliery Explosion, 1869
Alarming Street Robberies in Belfast, 1838
Hillsborough Distillery destroyed by fire, 1849
Confession and Execution of Muller, 1864
Stormy Meeting in Academical Institution, 1838
The "Young Ireland" Leaders in Belfast, 1847
Mr. W. Gladstone re-elected for Whitby, 1869
Rooney Burned to Death in Macartney's Store, 1839
Justice Hayes seized with paralysis in Westminster Hall, 1869
Public Dinner and Freedom of Belfast Corporation given to Hon. .....Major-General Stewart (Lord Londonderry), 1812
The Princess Royal of England born, 1840
Premises in Police Square taken for Police Office, 1832
Letter of Dr. Livingstone, May, '69 recd. in London, 1869
Death of Mr. Justice Hayes, 1869
O'Donovan Rossa returned M.P. for Tipperary, 1869
Tenant Right Meeting at Dundalk broken up by Fenians, 1869
Great Storm in Belfast and Northern Coast, 1838
The Times Newspaper first printed by Steam, 1814
Opening of the great Greek Controversy in Belfast, 1847
Public Funeral of Hugh Bell, bayoneted by the Military, in Bridge Street, on 1sr November, 1793

DECEMBER

Four men killed off a scaffold in Queen Street, 1835
Rev. C. Voysey charged with heresy, 1869
Abdication of James the Second, 1688
Outbreak of Cholera in Belfast Workhouse, 1848
Death of the Lord Lieutenant, Lord Carlisle, 1864
Convict Outbreak at Portland Prison, 1864
Trial of the Kingstown Bible Burners, 1855
Lord Claud J. Hamilton elected M.P. for Lynn, 1869
Prosecution of Directors of Barned's Bank Abandoned, 1869
Earl de Grey and Lord Redcliffe invested with Garter, 1869
Mr. Peabody's Remains transferred on board Monarch, 1869
Small Pox Epidemic in Belfast, 1859
Discovery of Coal at Ballynahinch, 1859
Chief Secretary Cardwell in Belfast, 1859
Embodiment of the Antrim Rifles, 1854
Great Quantity of Stolen Jewellery recovered in Belfast, 1813
The "Welsh Fasting Girl" died, 1869
Fatal Explosion at Curtis & Harvey's Powder Mills, 1869
The body of an Orangeman thrown out of Friar's Bush, 1813
Overend & Gurney's Directors acquitted after 9 days' trial, 1869
Convent on Crumlin Road commenced, 1851
Dreadful Boiler Explosion at York Street Mills, 1859
First Attempt at Steam Navigation, 1736
Death of Thackeray, 1863
CHRISTMAS DAY
Recorder of Belfast Sworn into Office by Ald. Mullan, 1866
18 persons crushed to death at the Bristol Theatre, 1869
Armagh County Magistrates meet to denounce the "barbarous .....attacks" on Roman Catholics, 1795
Uproarious Meeting at Deaf and Dumb Institution, 1849
Traupmann, the French Murderer, condemned, 1869
Murder of Lieut. Seacole, of Belfast Coastguards, 1839
THE KILLARNEY BOAT SONG
(Suggested by visiting Dr. Corry's Diorama of Ireland)
Smoothly the boat o'er the water is gliding,
Lightly the zephyrs are floating along,
Easing the oars while the light skiff is riding,
Rest while the boatmen prepare for a song.
The sun has approached the West,
Over the eagle's nest -
Send up the bugle notes, mellow and lively strain,
Spreading the echoes wide
Over the mountain side,
Dying so gently, then swelling, revive again.
Bright is the Summer sky, beaming tranquility,
Calmly the islets repose in the lakes,
Charming the solitude, cheering the scenery,
As Nature from rest, to the melody wakes,
Again does the bugle sound
Through the enchanted ground,
Summon the marvels of music to life again,
Spreading the echoes wide
Over the mountain side,
Dying so gently, then swelling, revive again.
At ease in the leafy glade, safe in their ambuscade,
The red deer repose in their shady retreat;
Arbutus and holly tree, forming their canopy,
The fern for a lair, and the rocks for their feet -
Suddenly starting when
Far up the rugged glen -
Loudly the bugleman peals forth a lively strain,
Spreading the echoes wide
Over the mountain side,
In tremulous cadency, to die, and revive again.
The boatmen, refreshed, cheery, bend to the oars anew;
The guide, full of humour, loquacious and free,
In legends, connecting the fame of O'Donohoe
With nooks which they pass, and the caves that you see,
At length the oars rest again,
Silence is pressed again,
Slowly the bugle's expanding and lively strain,
Spreading the echoes wide
Over the mountain side,
In dying pulsations, now sinking, revive again.
Then come to the green-mantled Isle of the ocean,
"The flower of the earth, and the gem of the sea,"
Come where the people, with lively emotion,
Are brave and intelligent, faithful and free;
Come to Killarney then,
And in the rugged glen,
List to the bugleman's joyous and lively strain,
Join in the chorus, and
Shout in this glorious land,
Soon may the shamrock, long drooping, revive again.
Beverley, Yorkshire, J.A.
~~~~~~~~~~~~~~~~~
Mr. J. M. Johnston Scott, student of the Queen's University, who left Belfast a few days ago to join the French military hospitals, has been appointed assistant surgeon to the Anglo-American Ambulance, which left Paris on Saturday for the front. This is the ambulance to which Dr. MacCormac was appointed surgeon-in-chief.
~~~~~~~~~~~~~~~~~
The Holywood Steamer, Lady of the Lake - We understand that this favourite little steamer, which formerly plied between Belfast and Holywood, and which for some time back has been chartered as a pleasure steamer in Blackpool, will shortly again resume her station between Belfast and Holywood.
~~~~~~~~~~~~~~~~~
POLICE COURT
Before Samuel McCausland, Esq., J.P. and J. C. O'Donnell, Esq., R.M.
Alleged Stealing of a Horse - Falkiner Beatty was brought up charged by Charles O'Neill, Little Patrick Street, with having stolen from out his stable a horse, value £15. It appeared the prisoner was in the employment of Mr. Torbitt, North Street, and complainant had given him an order to the amount of £4 2s 6d for goods which had been supplied. Complainant afterwards went to Scotland. The horse was taken away in his absense in lieu of the amount of goods so obtained and not paid for. Mr. Rea took exception to the arrest, and said the horse would be handed over to complainant on his paying the £4 2s 6d. Mr. O'Donnell considered the complainant was very much to blame in contracting debts and then leaving the country. He had no hesitation in discharging the prisoner.
A Poor Looking Mortal - Mary Kelly, who appeared in the dock with a young child in her arms, presenting a melancholy appearance, was charged by Sub-Constable George Halliday with having been drunk and disorderly, and shouting that where she lived "they were a parcel of Papist bitches." Prisoner was fined 40s and costs, or a fortnight's imprisonment.
Disorderly Conduct - James McManus and George Macaulay were put forward, charged by Sub-Constable Keely with being disorderly; and Macaulay was also charged with assaulting a man named John Mairs. Macaulay was fined 10s and costs for the assault, and 10s and costs for the disorderly conduct; or, in default, one month's imprisonment. The other prisoner was fined in 5s and costs. or one week in jail.
Drunk in Charge of a Horse and Cart - Thomas Woods was charged by Sub-Constable Dowall with having been drunk in charge of a horse and cart the previous day in Ballymacarrett. The prisoner was fined in 20s and costs.
A Disorderly Farmer - James McClenaghan, a farmer from County Antrim, was charged with having been drunk whilst in charge of a horse and cart, he was also charged with having done damage to a car driven by a man names William Lindsay, who stated that on the previous day he was driving three ladies on a car through Ballymacarrett. He called to the prisoner to get out of the way, but instead of that he deliberately seized the reins of his horse, struck it, at the same time saying he would "knock the thrapple out of him." (Laughter) The result was that one of the ladies' legs was injured. Prisoner was very disorderly, and appeared quite reckless as to his conduct. The Bench ordered the prisoner to pay a fine of 15s as compensation to Lindsay for his loss of time and damage sustained; and 20s and costs for being drunk in charge of his horse and cart.
POLICE COURT
Before J. C. O'Donnell, Esq., R.M.; Philip Johnston, Esq., J.P.; and John Hamill, Esq., J.P.
Larceny - Jane Campbell was charged with stealing a piece of soap from Eliza Tuite, grocer, Ballymacarrett. A further larceny was charged against the prisoner for that she stole a piece of muslin from a man named Devlin. The prisoner was sent to jail for seven days.
Drunk and Disorderly - William Martin, who also had the felicity of rejoicing in the sobriquet of Allen, was charged with being drunk and disorderly in North Queen Street. He was not content with conducting himself against all notions of decency, but when a policeman presented himself he pitched into him also. The constable deposed that when he saw the prisoner he took him into custody for being drunk and for making a row, and when he did so the prisoner said he was a 'bloody old Presbyterian' - an offence in a policeman that ought not to be tolerated. As the defender of the public peace was so miscalled and public decency was so outraged, the prisoner was sent to jail for three months.
Anywhere Out of the World - Anne Quigley, who seemed to be tired of her life, was brought up in custody, charged with attempting to commit suicide. Fortunately for her existence, a young man, who had heard her threatening to drown herself, followed her, and when she attempted to throw herself off the edge of Donegall Quay he caught hold of her and prevented the rash act. These facts being proved the magistrates remanded the prisoner for a week.
A False Pretender - Daniel Close, a young fellow, was charged with obtaining a cost from Mr. McLaren, of Rosemary Street, under false pretences. It appeared that he went to the premises of the prosecutor and got a coat fitted upon him, telling that his father would pay for it, but his father denied giving any authority, and as he was old enough to be responsible for his own actions he was committed for trial.
More Disorderlies - Hugh Jordan and Edward McHenry were charged by Sub-Constable Kennedy with fighting on Donegall Quay. No end of riot occurred in consequence of the conduct of the prisoners; but as Jordan was the worst, he was fined 10s, and the other man was ordered to pay 5s and costs.
Why Don't Policemen Shave? - Alexander Collins was charged with assaulting Sub Constable Adam Picket. The officer saw the prisoner conducting himself in a disorderly manner and took him into custody, but that interference with the liberty of the subject was indignantly resisted, and as the custodian had a hirsuit appendage to his face of considerable "graspability" it was seized by the prisoner to the punishment of the policeman, and thereby an assault was committed. Two months imprisonment was the penalty; but the question yet remains, why should policemen adorn themselves with such temptations for disorderly persons to take advantage of them.
THE BELFAST NEWS-LETTER
Belfast Thursday, March 2, 1865
One of the most remarkable events of the age is the receipt from India yesterday afternoon of telegrams dated only the previous day. The wonders of science, after all, are ever new. We are all aware that in theory a girdle can be put about the globe in a few minutes; but when we have a practical matter-of-fact message from India within eight hours and a-half we are still disposed to look on it as little short of miraculous. The messages received hitherto have been principally by private houses; but the fact tat messages have been received within so short a time cannot but be extremely satisfactory.
~~~~~~~~~~~~~
1st September 1870 - The Albert Memorial - To-day, two of the four lamp-posts to be erected at each corner of the kerb of the footways at the Clock Tower, were put into position. The lamps are already finished and ready for erection. The design harmonises with the general appearance of the tower, while the castings, handwrought iron, and copper-work are careful and ingenious. The central column is of cast-iron, having, in four niches around the pediment, twisted dwarf pillars, with capitals and well-modelled lions supporting brass shield, with monogram embossed. Around the shafts are fitted wrought-iron vertical straps or pilasters. The capital consists of richly foliated hammered copper. The neck of the column is ornamented with copper leaves and rosettes, and from it also spring the wrought-iron scroll arms, which have accommodation for supporting a ladder for lighting and cleaning purposes. The lamps, which are surmounted with foliated copper crown, are all of stout copper, and spherically glazed in eight longitudinal panes, having ventilating zone and crown ventilators. The work is painted a handsome bronze green, and the copper capitals and crown and other foliations will be suitably gilt after erection. The design was by one of the draughtsmen of the Messrs. Riddel & Co., Donegall Place, under the instructions of Mr. Montgomery, Borough Surveyor.
1st September 1870 - Caution to Parents - Death by Drowning - To-day an inquest was held by the Coroner and a respectable jury on the body of a young lad names James Morrison, whose parents reside in Mayne Street, who had met his death the previous evening. While playing with a number of other children in the neighbourhood of a brickpit in Tea Lane, he accidentally fell into the water. Mr. John Boyd, undermanager of the Linfield Mill, who happened to witness the accident, in the most praiseworthy manner jumped into the pit, and having dived, caught hold of the lad and brought him to the surface. All attempts, however, of Dr. Brady, who was in immediate attendance, to restore animation were unavailing. A verdict of "Accidental Death" was returned.
TO THE SMOKING WORLD
Learn to smoke slow. The other grace is,
To keep your smoke from people's faces.
SONG OF THE ORGAN GRINDER
I roam and wander o'er the town,
And where I see the straw put down
I take my stand, and grind away,
For there my music's sure to pay.
Forth comes a servant from the door,
Which I pick out to play before,
And gives me sixpence to move on,
And get myself and music gone.
He says his mistress is a-bed,
And that the least noise splits her head,
Or master's near his latest breath,
And wants to die a quiet death.
So off I walk, repeat the trick,
On some one else that's lying sick,
And thus my pockets often fill
By plaguing people who are ill.
The times are getting so hard that people can't pay attention.
Which side of a horse invariably has the most hair on? - the outside
LITTLE ALLIE
The day was gloomy and chill. At the freshly-opened grave stood a little delicate girl of five years, the only mourner for the silent heart beneath. Friendless, hopeless, homeless, she had wept till she had no more tears to shed; and now she stood, with her scanty clothing fluttering in the chill wind, pressing her little hands tightly over her heart, as if to still its beating. "It's no use fretting," said the rough man, as he stamped the last shovelful of earth over all the child had left to love. "Fretting won't bring dead folks to life. Pity you hadn't for no cousins somewheres to take you. It's a tough world, this 'ere, I tell ye. I don't see how ye're going to weather it. But I'll take ye round to Miss Fetherbee's; she's got a power of children, and wants a hand to help her, so come along. If you cry enough to float the ark, it won't do you no good."
Allis obeyed him mechanically, turning her head every few minutes to take another look where her mother lay buried. The morning sun shone in upon an underground kitchen in the crowded city. Mrs. Fetherbee, attired in a gay-coloured cotton dress, with any quantity of tinsel jewellery, sat sewing some showy lace on a cheap pocket handkerchief. A boy of five years was disputing with a little girl of three about an apple; from big words they had come to hard blows; and peace was finally declared at the price of an orange a-piece and a stick of candy - each combatant "putting in" for the biggest.
Poor Allie, with pale cheeks and swollen eyelids was staggering up and down the floor under the weight of a mammoth baby, who was amusing himself by pulling out at intervals little handfuls of her hair. "Quiet that child, can't ye?" said Mrs. Fetherbee, in no very gentle tone. "I don't wonder the darling is cross to see such a solemn face. You must get a little life into you somehow, or you won't earn the salt to your porridge here. There, I declare you've half put his eyes out with those long curls dangling round. Come here, and have 'em cut off; they don't look proper for a charity child," and she glanced at the short stubby crops on the heads of the little Fetherbees.
Allie's lip quivered as she said, "Mother used to love to brush them smooth every morning. She said they were like little dead sister's' please don't," said she beseechingly. "But I tell you I do please to cut 'em off; so there's an end of that!" said she, as the severed ringlets fell in a shining heap, on the kitchen floor. "And do, for creation's sake, stop talking about 'dead folks' and now eat your breakfast if you want it; I forgot you hadn't had any. There's some of the children's left; if you're hungry, it will go down; and if you ain't you can go without."
"Poor Allie! The daintiest morsel wouldn't have "gone down." Her eyes filled with tears that wouldn't be forced back; and she sobbed out. "I must cry, if you beat me for it, my heart pains me so bad." "H-i-t-y, t-i-t-y! What's all this," said a broad faced rosy milkman as he set his shinning can down on the kitchen table. "What's all this, Miss Fetherbee. I'd as lief eat pins and needles as hear a child cry. Who is she," he asked, pointing at Allie, "and what's the matter with her."
"why, the long and the short of it is, she's a poor pauper that we've taken in out of charity, and she's crying at her good luck, that's all," said the lady, with a vexed toss of her head. "That's the way benevolence is always rewarded. Nothing on earth to do here but tend the baby and amuse the children, and run to the door, and wash the dishes, and dust the furniture, and tidy the kitchen, and go of a few errands. Ungrateful little baggage."
Jemmy's heart was as big as his farm, and that covered considerable ground. Glancing pitifully at the little weeper, he said skillfully, "That child's going to be sick, Miss Fetherbee, and then what are you going to do with her. Besides, she's too young to be of much use to you. You'd better let me take her." "Well, I shouldn't wonder if you was half right," said the frightened woman. "She's been trouble enough already. I'll give her a 'quit claim.'" "Will you go with me, little maid," said Jemmy, with a bright good-natured smile. "If you please," said Allie, laying her little hand confidently in his rough palm.
"Sit up closer," said Jemmy, as he put one arm round her to steady her fragile figure as they rattled over the stony pavement. "We shall soon be out of this smoky old city. Consarn it! I always feel as if I was poisoned every time I come into town. And then we'll see what sweet hay-fields, and new milk, and clover blossoms, and kind hearts will do for you, you poor little plucked chicken! Where did you come from when you came to live with that old Jezebel?" "From my mother's grave!" replied Allie. "Poor thing! poor thing!" said Jemmy, wiping away a tear with his coat sleeve. "Well never mind. I wish I hadn't asked you. I'm always running my head agin' a beam. Do you like to feed chickens, hey? Did you ever milk a cow, or ride on top a hay-cart, or go a-berrying? Do you love bouncing red apples, and plums as big as your fist? It shall go hard if you don't have 'em all. What's come of your hair, child. Have you had your head shaved?"
"Mrs. Fetherbee cut it off," said Allie "The old vixen! I wish I'd come in a little quicker. Was it your curls them young 'uns was playing with? Well, never mind," said he, looking admiringly at the sweet face before him; "you don't need 'em! and they might get you to look in the glass oftener than was good for you." "Well, here we are, I declare; and there stands my old woman in the doorway, shading her eyes from the sun. I dare say she wonders where I found you."
"Look here, Betsy; do you see this child? The earth is fresh on her mother's grave! She has neither kith nor kin. I've brought her from that old skinflint of a Fetherbee's, and here she is. If you like her it's well and good; and if you don't, she'll stay here just the same. But I know you will!" said he, coaxingly, as he passed his brawny arm round her capacious waist. "And now get her something that will bring the colour to her cheeks; for mind you, I'll have no white slaves on my farm."
How sweetly Allie's little tired limbs rested in the fragrant lavendered sheets. A tear lingered on her cheek, but its birth was not of sorrow. Jemmy pointed it out to his wife as they stood looking at her before retiring to rest. "Never forget it, Betsy," said he, "Harsh words ain't for the motherless. May Heaven forget me, if she ever hears one from my lips!"
~~~~~~~~~~~~~~~~~~~~
OCTOBER 16, 1863
THE IRISH CHIEF SECRETARY
From the Daily Telegraph
Sir Robert Peel is incorrigible, and it is not our wish to waste more words upon him. For the sake of the name he bears, the title he owns, and the position he occupies, we should have been glad to see him amend his ways. But this, it appears, is not to be. It is not the first time that a great father has had a foolish son, or that a name which one generation loved and honored has become a synonym for eccentricity in the next. Two wise men and a fool - such is said to be the proverbial series of the house of Peel; and it seems that the present baronet's next two successors are likely to be men of remarkable discretion. With this reflection we can contrive to console ourselves not unsuccessfully. There is no accounting for tastes, and if Sir Robert aspires to hold a similar position in the political world to that acquired by Mr. Windham in social life, we have nothing to say against it. Whether position, prospects, and good repute are worth sacrificing for the sake of being talked about and laughed at, is a question each man must decide for himself. The process of interdiction is happily unknown in England; and our prodigals may waste their substance, pecuniary, social, or political, without risk of interference. We have, however, a right to ask that the public interest should not be sacrificed to private absurdities. If the member for Tamworth likes to make a buffoon of himself, well and good. He and his constituents must settle the matter between them; if they choose to send a political mountebank to Parliament, that, we admit again, is their concern, not ours. But when a Minister of the Crown, a holder of one of the most important offices, degrades by his conduct the Government to which he belongs, the office which he fills, and the country which he serves, then we feel bound to protest openly, and without mincing words. Sir Robert Peel is Chief Secretary for Ireland. It is his duty, placed as he is in the midst of a disorderly and discontented population, to show an example of respect for law, of orderly behaviour, and temperate fairness. On the other side of St. George's Channel, he is the most prominent, if not the most important, representative of the English Government. That his appointment would prove so unfortunate as it has done could hardly have been expected. Nobody gave the Irish Secretary credit for wisdom or caution; but still, everybody supposed that if he did no good he would do little harm, and that, at any rate, he would not lower the character of an office which was more than he could reasonably have hoped for. Their expectation, moderate as it was, has not been fulfilled. Ever since Sir Robert has formed part of the Ministry he has devoted his undoubted energies to convincing the public of his unfitness for any responsible post whatever; and it is strange if his colleagues have not learned by this time to share the opinion of the public. Even the most loyal attachment for the son of an old friend and fellow labourer cannot stand proof against such an exhibition as that which disgraced the polling day at Tamworth. When we read the account of the proceedings in which the right honorable baronet took the leading part, it is difficult to believe that the scene of such a riot lay in Staffordshire, not in Donegal or Kerry - at an English borough, and not at Tralee or Lisburn. We have no wish to repeat an unpleasant story. Fancy an English gentleman bandying abuse with a drunken mob, an English member of Parliament having a hand-to-hand tussle is public with one of his own constituents, and an English Minister hallooing on a crowd to "bonnet" an elector who had voted against his favourite candidate. Fancy all this, and you will have a sufficiently clear impression of the scene at Tamworth. Let us, however, do Sir Robert justice. The man who swam ashore in perfect coolness from the sinking Ercolana, and who walked alone the other day through the streets of Tamworth with a yelling mob dogging his heels, is not devoid of that wild pluck which all Englishmen admire at heart, however much they may disapprove of its manifestation. In a more congenial sphere we have no doubt the present baronet would have shown himself worthy to be the brother of "Balaclava" Peel; but daredevil courage is not the one essential requisite for a Minister of State. There is no disguising the fact that the seat of Tamworth has been lost by Sir Robert's want of temper, wisdom, and good taste. Had he taken no part in the contest, Mr. Cowper would probably have won an easy victory; this gentleman owes his failure simply and solely to the fact that he was regarded as the nominee of the most unpopular person in Tamworth. Now, a man who gives such offence to his candidate for his own borough, is not fit to conciliate the goodwill of a disaffected province. Whatever else may be the merits of the member for Tamworth, they are not those of a Secretary for Ireland. Our object, indeed, in making these remarks, is to point out how much mischief is done to the cause of Government in the sister kingdom by such conduct as that recently displayed by the Chief Secretary. In out happier land, respect for law, order, and fairness is too firmly established to suffer much injury from the eccentricities of half-a-hundred Sir Robert Peels. On the other side of the Irish Channel this is not the case. We believe that much of the turbulence and disorder which have impeded the progress of Ireland are due to the example - or rather the absence of example - set by men high in power and position. How can a cottier or peasant be expected to respect the majesty of the law or the dignity of the Government when he sees that the very men appointed to uphold the honor of the Crown are ready to sacrifice their duty to the gratification of any personal caprice or prejudice? But the other day an occurrence took place which serves to show how very little Irish magnates comprehend the responsibilities of their position. Now, we cannot hope to give wisdom to Irish peers, or a sense of decency to Hibernian grandees; but we can reasonably expect that English officials, appointed to manage Irish affairs, should be possessed of an average amount of good sense and temper. In a country where Earls of Leitrim are the rule, Sir Robert Peels ought to be the rare exception. In this valedictory address to the ungrateful electors of Tamworth, the Secretary for Ireland uttered one sentiment which we can endorse readily. "It was most objectionable," he considers, "that two of the name of Peel should be returned for the borough." We cordially agree with him, though which of the two Peels should be eliminated from the representation it is not for us to say. As a corollary, we beg to suggest, for his delicate appreciation, an opinion that it had become even more objectionable to have two Peels in the Ministry.
BIRTHS, MARRIAGES AND DEATHS
1st September 1870
Births
Boyle - On the 2nd inst., at Armagh, the wife of Hugh Boyle, Esq., of a son.
Chichester - On the 1st inst., at the Grange, Bright, Downpatrick, the wife of the Rev. Robert Chichester, of a daughter.
Higinbotham - On the 1st inst., at Ballymoney, the wife of G. Higinbotham, of a daughter.
Marriages
McIntosh - Milligan - On the 2nd inst., at St. Anne's Church, Mr. Robert McIntosh, to Miss Margaret Milligan, both of Belfast.
Taylor - Stokesberry - On the 3rd inst., at Woodburn Church, Upper Falls, by the Rev. Samuel Anderson, Mr. Samuel Taylor, to Mary, eldest daughter of Mr. William Stokesberry, both of Belfast.
Deaths
Archer - On the 3rd inst., at Tully House, the residence of his brother-in-law, John H. Archer, C.E., ex. sch. T.C.D.
Close - On the 5th inst., at the residence of her father-in-law, 1 Corn Market, Susannah, the wife of John Close, aged 23 years.
Smyth - On the 4th inst., at the residence of her son, William Smyth, Dromore, Mary, relict of the late William Smyth, Maze.
O'Halloran - On the 4th inst., at his father's residence, 19 Upper Townsend Street, Michael O'Halloran, aged 18 years.
Honour to a Lisburn Man - We copy the following from the Overland China Mail:- Mr. R. Hart, Inspector-General of Chinese Customs, has received from the Austrian Government the Grand Cross and Star of the Order of Francis Joseph, for services rendered to the Austrian Embassy, in the framing and passing of the Austro-Hungarian Treaty with China. This is the fourth foreign order of knighthood which has been conferred on the Inspector-General of Customs during the year. Mr. Hart is son of Henry Hart, Esq., Ravareiette House, Lisburn
Inquest - Yesterday, an inquest was held on the body of a young man names Daniel Boyd, who met with his death by becoming entangled in the machinery of a brick manufactory on the Ormeau Road. From the evidence, it appeared that the occurrence was quite accidental, and a verdict in accordance with the facts was returned.
1st September 1870
Fire in Great Patrick Street - About five minutes to one o'clock this morning a fire broke out in Mr. McCarter's cabinet warehouse, Great Patrick Street, which at one time threatened to become serious in its results. Mr. Reilly and the fire brigade were promptly on the spot, and succeeded in preventing the mischief that seemed imminent. The supply of water being plentiful, the fire was in the course of three-quarters of an hour completely mastered. Mr. Vance, Salvage Inspector, was present, and there was also a large attendance of the Constabulary.
Funeral of an Orangeman - Yesterday, at four o'clock, the remains of Mr. John W. Williams, of the Boyne Tavern, were removed from his late residence, Sandy Row, for interment in the Shankhill Burying-ground. The deceased was a young man, and had served her Majesty in the Royal Artillery, in which he occupied the position of a non commissioned officer. He had taken part in the Crimea at the siege of Sebastopol, for his services at which he obtained the English and Turkish medals. For the last few years he occupied a high position in the Orange Institution, being Deputy-Master of L.O.L. Schomberg, No. 486. Some time ago, in conjunction with the Worshipful Master, he was the recipient of a most expressive token of esteem from the members of the lodge. He was connected with the Masonic Fraternity, and was also an Apprentice Boy of Derry. The coffin was carried on the shoulders of several of the brethren, and was followed by an immense concourse of people. Mr. John Reid, W.M., headed the cortege, which consisted of the chief officers of the Orange Institution in Belfast. The melancholy cause of death was an accident, received on the 1st March last, by endeavouring to stop a runaway horse and drag.
BIRTHS - Eames, August 28, at the Asylum, Letterkenny, the wife of James Alexander eames, Esq., M.D., Resident Physician, of a daughter.
Wilson, August 26, at 4 Pottinger's Terrace, Mountpottinger, Co. Down, the wife of Mr. Richard Wilson, of a son.
MARRIAGES - Robinson - Phillips, on the 31st ult., at Malone Presbyterian Church, by the Rev. George Shaw, Mr. James Robinson, to Miss Mary Phillips, both of Belfast
Frackleton - Boyds, August 30, at Magherahamlet Church, Ballynahinch, by the Rev. H. Murphy, Rector, of Dromara, Samuel Scott Frackelton, A.M., Vicar of Magherahamlet, to Bessie, youngest daughter of the late James Boyde, Esq., Moybrick, Dromara.
DEATHS - Alexander, August 31, qt her father's residence, Hawhill, Mrs. Jane Alexander
Dunn, August 31 at the residence of her father, No. 33 Granville Street, Belfast, Eliza Matilda, the beloved daughter of Jas. Dunn, aged 6 years and 8 months.
McDowell, August 31, at 116? York Street, Jane, infant daughter of Mr. John McDowell
Belfast Telegraph - September 1st, 1870 - Belfast Town Council
Shortly after twelve o'clock this day, the usual monthly meeting of this body was held in the Connell Chamber, Town Hall, the Mayor (Dr. Browne, R.N.) in the Chair.
Mr. Gaffikin moved that the reports of the several committees presented to the Council be taken as read.
Mr. Lee seconded the motion, which was adopted.
THE TOWN IMPROVEMENT COMMITTEE
This committee reported that the average weekly payment of wages to paviors, labourers, etc., for the past month, have been £173 15s 1d (estimated at £185). For cartage, £87 18s 3d (estimated at £55). Plans approved :- 6 houses in Limestone Road, for Mr. James Cobain; 4 in Posnett Street, for Mr. Samuel Beggs; 1 in Leeson Street, for Mr. Archibald Creswell; 2 in Lawther Street, for Mr. Boyle; 2 in new street off the Avenue, for Mr. R. W. Corry, as amended; 4 in Vernon Street, Mr. J. Thompson; 9 in Hurst Street, for Mr. Jas. Hughes, as amended; a street on south side of Elm Street, for Mr. John Browne; a store in Lonsdale Street, for Messrs. Moorehead & Morrow; 14 houses in Vernon Street, for Messrs. Cooke; 3 streets in College Park, for Mr. Wm. Sherrie and others, so far as streets L.N. and E.M. are concerned; alterations to shop front in Donegall Place, for Mr. Adam Craig; 4 streets in Clifton Park, for Messrs. Thomas Dixon & Sons, as amended; 10 houses in proposed street off Elm Street, for Messrs. J. & J. Guiler; 3 in Botanic Avenue, for Mr. Archibald McCallum; amended plan of 12 houses in Kinnaird Street, for Mr. Samuel Keith; 1 house in Pilot Street, for Mr. John Gill; shop and house at corner of Clifton Street Road and Carrick Hill, for Mr. John Taylor. Street plans disapproved :- 1 house for Mr. William Wright, in Matilda Street; 3 in Howard Street South, for Mr. Wm. Johnstone; 14 in course of erection in Byron Street, and new street of same, for Mr. James McNea; 8 at corner of University Road and University Square, for Messrs. Moreland, Brothers; a plan for converting one house into two in a court off Bogan Street, for Mr. James McGuickan.
On the report of this committee being brought up, a brief conversation took place on the subject. The Mayor assured the Council that proper diligence would be exhibited in extending sanitary arrangements in the borough. On the motion of Mr. Gaffikin, seconded by Mr. T. H. Browne, the report was adopted.
The following reports were also adopted, after which the Council adjourned :-
MARKET COMMITTEE
This Committee reported that the memorial of certain ratepayers in Smithfield and the neighbourhood, praying for the establishment of a market for the sale of hay, straw, etc., convenient to Shankhill or Falls Road, referred by the Council to a Joint Meeting of this and the Improvement Committee, was carefully considered, but before doing so the Committee thought it right to have a report from the Clerk of the Markets (Mr. Woods) on the subject generally.
The substance of his report is contained in the following paragraph :-
"Belfast, 13th August, 1870.
"I am of opinion that the opening of District Markets would be of no advantage to memorialists, unless the present established markets were closed. A divided market in a town the size of Belfast would not be desirable, nor would it work as well as all together, for several reasons. Prices are almost entirely governed by demand and supply, and if markets for the sale of the same commodities were being held in different places, there would not likely be the same confidence felt either by buyers or sellers. In the one market there might be a large supply, whereas the other might be very small, and parties would not have the opportunity of knowing at the time; consequently, some one market would take the lead and the other be left wholly unsupplied. Memorialists say that farmers have just cause for complaint for having to cart their produce so far through the town. I have never heard many of such complaints. I know farmers are very anxious to make the most they possibly can out of their goods, and if driving them half a mile would gain them 1d per cwt., they would gladly do it. The markets are no further away than formerly; and although the town has extended considerably, it us quite as easy driving along a good street as on a country road. Memorialists also complain of having so far to go to market to make their purchases. The opening of district market would not be any means insure the attendance of sellers, who would no
doubt continue to go to the present established markets, consequently the new market would be left unsupplied, and buyers would just find themselves in the same position as formerly. The quantity of hay brought to market having in a few years been doubled, there is not sufficient space in Smithfield square for its accommodation, consequently the removal of the market to some other place has become necessary. The place already proposed is the property of the Corporation; it is in the same district as the other markets, and would be the most suitable place, so long as the markets are kept in that locality, for various reasons. In the first place, it would be often more convenient for the seller. Most people who sell hay and straw sell other farm produce, and it frequently happens that they would wish to attend two or three markets on the same day, a thing easily done if the markets are convenient to each other, but quite impossible if at a distance. In the second place, the buyers would find the same advantage. Most of our export merchants trade in a variety of farm produce. I have often known them to buy pigs, grain, potatoes, hay and straw, etc., all on the same day. Dairy men want cows, hay, turnips, potatoes, and grain. The owners of horses require hay, straw, oats, carrots, etc.; and when all the different sorts of produce can be obtained within two minutes' walk of each other, it must clearly be a benefit to the purchasers as a rule. In conclusion, I have only to say, having carefully studied the entire subject, that I have no hesitation in recommending, as much as possible, the concentration of the markets, as being the best principle to adopt, both as regards convenience and finance.
The Market Committee then report thus :- The report from your Officer, who has had an experience of 8 years in the working of the Markets, and who previously was well acquainted with the requirements of farmers, etc., in the neighbourhood, is worthy of consideration, and after receiving and giving particular consideration to its contents, the committees resolved - "That the committees are of opinion that the report of the Market Committee, adopted on the 1st July, ought to be carried into effect as proposed. The want of a covered market in Smithfield has engaged the attention of your Committee, and they recommend the Council to authorise them to ascertain and report what it would cost to convert the inside of Smithfield Square into a covered market."
THE SANITARY COMMITTEE
This committee reported that the health of the town continues very good. Sanitary regulations continue to be strictly enforced. Orders have been made in the past month by the magistrates for closing up 80 houses which were unfit for human habitation. Two of these are in Kent Street, 11 in Lagan Court, 17 in Factory Row, Blackstaff Road. The workshops are regularly inspected; most of the owners are complying with the law. 27 cases of fever were reported to your inspector during the month; 19 of these were removed to hospital. Also, three cases of English cholera.
THE POLICE COMMITTEE
This committee reported the payments, salaries, etc., to be made, amounting to £2,756 17s 4d. The report also contained the following paragraph :- Mr. John Wallace having applied for liberty to start the Crumlin Road and Hollywood Railway omnibus from the corner of the new street opposite the Scottish Widows' Fund Buildings, in High Street, instead of from the Commercial Buildings, the committee considered the proposal change would be desirable, and have approved of same.
THE PUBLIC PARKS COMMITTEE
This committee reported that since possession of Ormeau was obtained, the surveyor, by their directions, had prepared plans for a new approach. They have also directed the old farm buildings to be taken down, and the materials stored, as they will be very valuable for the formation of roads, walls, and other works. Wire fencing is being erected along the avenue. These works are proceeding satisfactorily. The amount received for grazing, up to the present date, is £193 9s; the outlay for wages has amounted to £31 8s.