Various Irish Entertainment Leaflets?
refs. Irish News - O'Flaherty - Brady



NEWS Here Come The Greenbeats
November 6th., (I think this is around 1964) is D-Day for a chart invasion by a phenomenal foursome from Ireland known as the Greenbeats. That's the release date for their first disc on the Pye label. "If this world were mine" an original composition by the group's singing piano-man John Keogh. The Greenbeats are a phenomenon in Ireland, because the pop scene there is dominated by 7 and 8 - piece showbands who play a wide range of popular music and change their style to suit current trends. The Dublin group was in existence for two years (they then called themselves "The Caravelles") before the beat boom broke out and their wild brand of highly polished rock suddenly gained a widespread following. The Greenbeats, still a part-time group found themselves stepping out of the wilderness of unfashionability and into the full focus of public adulation, with a Beatle-size fan following in their "home-ground" on the South side of Dublin. One of their first big breaks came when they backed the Springfields on a tour of Ireland, and Dusty Springfield told them "with a sound like that you just can't miss". Early this year the Greenbeats took a trip to Liverpool, where they made a big impression with several appearances in the Cavern and Iron Door clubs. So outstanding is this group's talent that they were given a resident star spot on Irish television's weekly "Showband Show", which until then was the sole preserve of the country's Showbands. They are now one of the Show's top attractions. No less than three major record companies dangled tempting offers and the boys finally signed for Pye. Then they had a problem - how to get their exciting stage sound onto wax. After a few unsuccessful attempts, the boys travelled to London where they cut a disc under the direction of John Paul Jones in association with Tempe Productions, Dublin. On the scene was Rolling Stones co-manager Andrew Oldham, who flipped when he heard the finished product. Talking of flips, the 'B' side of the Greenbeat's disc is a stomping Andrew Oldham composition, "You must be the one" and there was much discussion about which number should go on the top side. Both numbers, though contrasting in tempo and feeling, were almost equal in ear-appeal - quite a pleasant predicament for the Greenbeats! However, the record comes out on Friday, November 6th., with John Keogh's delicately tuneful, atmosphere-charged ballad on the top side, and the Oldham rocker running a close second. It's on the Pye label, Catalogue No. 7N 15718. The Greenbeats line up as follows:-
PIANO: John Keogh, who stands while he plays and sings, constantly amazes eyewitnesses with his ability to sing like Jerry Lee Lewis, Ray Charles, Chuck Berry, Little Richard, Elvis, etc., etc., while he keeps up a tremendous, driving piano-backing. He is equally at home on tearaway "ravers and moody soul" numbers. Personal Points: John is 21, 5ft. 7in. in height, brown-haired and blue-eyed, a gifted musician, vocalist, composer and comedian, with a slant towards Goonery. He is managing director of a music publishing company, Joke music. He describes his tastes in music as "anything that swings and/or sounds nice," and his top singers are Elvis P. and Cleo Laine, among others. His favourite composers are a mixed lot, Gershwin, Lennon-McCartney - and Handel! His ambitions are to be an actor and to have a No. 1 hit. He likes "groppel-hunting" (a mysterious pursuit exclusive to the group and an elite circle of acquaintances)! He dislikes: Girls who wear curlers - and tripe and onions.
BASS GUITAR: Brian Lynch (21), one of the groups' "intellectuals" who has studied science at University College, Dublin. He contributes a swinging bass backing to the Greenbeats' sound, sings a few songs and joins in on their harmony arrangements. Brian is 5ft. 8in. tall, has a shock of brown hair that refuses to lie down, and green eyes. Besides bass, he is also a competent self-taught pianist and guitarist. His favourite singers are Frank Sinatra, and Brook Benton, while his tastes in music take in great jazz names like Erroll Garner, Oscar Peterson, Quincy Jones and Ray Charles. He likes "Groppel-Hunting", playing music science, He dislikes: Bad-mannered people and badly written books.
RHYTHM/LEAD GUITAR: Paul Arnold McArdle Williams (21) is tall, lean, fair-haired and blue-eyed. He founded the Caravelles, from which the Greenbeats evolved. He has studied Zoology at U.C.D. and intends to be an entomologist someday. Among his favourite artists are Ray Charles, the Lambert, Hendricks, and Ross trio. the Beatles and Sounds Incorporated and his tastes cover Modern Jazz, rhythm 'n' blues and old rock. Paul also likes insects (he keeps them as pets)! sunshine, girls, people who like him, and "Groppel-Hunting". He does not like underdone fried eggs, jeans on girls and inconsiderate people.
DRUMS: "Mog", whose full name is Maurice Ahern, is recognised as one of Irelands top drummers and, besides laying down a fantastic beat, he shares the vocals with John, performing solo songs and blending with the rest of the group in outstanding harmony numbers. "Mog" is 21, tall, widely built (very) has studied Commerce at University College, Dublin. A man of wide interests, he likes records, reading, photography, tenpin bowling, girls, Ray Charles, Andy Williams, Carmen McRae, Paul Newman, girls, steak, Marlon Brando, onions, square clothes, Lee Rimick, Duke Ellington, the Beatles, girls, etc. Mog also likes (strangely enough) "Groppel-Hunting", flying, arguing, writing letters and getting them. He numbers among his pets, eleven peacocks, eight dogs and 450 pigs. His few dislikes include getting up, shaving, insincere people and "thick or slick" girls.
For further information apply: Eanna Brophy, Esq., Publicity Dept., Tempo Productions, Ltd.
Tempo Productions Ltd., Phone 70800 - 29-30 Dame Street, Dublin 2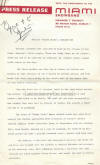 Press Release - With the Compliments of the MIAMI Showband. Manager T. Doherty, 305 Navan Road, Dublin 7.
Miami's "Candy Store" A Certain Hit
Unusual circumstances combined to hold up the release of the Miami Showband's third single, "From the Candy Store on the Corner", which was due to be marketed on September 23. Advance orders topped 2,000 copies in ten days. The first problem was that Pye's factory in Britain was working at full pressure on new releases by several groups, and this meant that there was a delay in the manufacture of the master disc for the band's recording. When the first set of stampers (used in the complicated mastering process to press the final record) was completed, they were tested ... and found to be faulty. The next set was made successfully, but somehow they were lost in transit to Dublin. The result? A third set had to be produced. The story of "Candy Store" began several weeks ago, when Miami manager Tom Doherty approached Fred O'Donovan of Dublin's Eamonn Andrews Studios. After exhaustive hours of discussion with his brother, Bill, Fred finally decided on a plan of campaign. It would be an all-Irish production with a genuine showband sound - easier said than done. Jim Doherty, a brilliant and resourceful musician who leads his own trio, was brought into the picture as musical director and arranger. On the technical side, Bill O'Donovan lined-up a recording team that included ace sound engineer Tommy Warren, and sought the best facilities available. Commented an extremely satisfied Bill: "We were all very pleased by the end product. I know I'll always recall it as one of the high points in my career, and I believe the public will acclaim it, too." "Candy Store", which was composed by Bob Hilliard, the noted U.S. hit writer, is coupled with Dickie's brisk reading of "Twenty Flight Rock" - in sharp contrast to the tender and moody "A" side. The Miami Showband made its debut as recently as Easter Sunday, 1962. At the time, the eight musicians were quite unknown outside Dublin, where they enjoyed an immediate popularity not unlike that of The Beatles in Liverpool during their early days. Today, thanks largely to their obvious talent, initiative and close teamwork with astute manager Tom Doherty, who first noticed their appeal, they are household names throughout Ireland. Their list of honours is formidable, including such landmarks as appearance on Telefis Eireann's "Showband Show" (twice), I.T.V.'s "Thank Your Lucky Stars", and playing at the celebrated Rose of Tralee Ball in Kerry. Last March, Fennessy's, the well known shoe firm, sponsored them in a Radio Eireann series, which added still further to their enormous stature. In Dublin recently, they smashed a 3,400 attendance record at one of the city's largest ballrooms. They also have a thriving English fan club, in addition to the well established and much published Irish one. On the recording front, their debut, "There's Always Me", which was released last December, remained in the Top Ten for 11 weeks, five of these at No. 1. Their subsequent single, "I'm Yours", scored a similar hit. Both titles were internationally issued and fared particularly well in the Philippines - an unlikely, but lucrative market - and the U.S. "Candy Store" is sure to emulate these achievements in a very short time.

Paul Russell, who first introduced the famous Clancy Bros. and Tommy Makem to Irish Ballrooms now presents for a 4-week tour commencing Nov. 1st. - the group who are currently taking the States by storm -
THE IRISH RAMBLERS
The Irish Ramblers are three brothers, Pat, Eugene and Brendan Clancy. Born in a little village, Charlemont, situated on the banks of the River Blackwater on the border of Counties Armagh and Tyrone in Ireland. They are from a family of nine children, and began to take an interest in folk music at an early age, as the surrounding counties of Armagh and Tyrone are particularly steeped in the folk tradition. As the boys grew older, the Clancy home became a "ceiling" house for singers and musicians for miles around, and often the singing and playing would last till the early hours of the morning. During this period, the boys played in many well-known Ceili (Irish Country Music) bands and did various broadcasts on Radio Eireann and the B.B.C. Eventually in 1958 they formed their own group, and began to play at Ceili dances all over Ireland. Unlike most Ceili bands, they were not content with sticking to the instrumental side, but they began to sing the old songs as well. It was this group within a group that gave birth to the present trio. Of course, the boys at this period were only semi-professional and as is the case in most groups of this stature, they had as much fun on-stage, or perhaps even more than their audience. This state of affairs continued until February 1963, when one night they were playing at a Ceili on the Irish Club in Dublin, they were seen by Irish impressario Bill Fuller. He liked what they were doing and inquired if the three would like to go back to the United States with him. At a family conference the future course was soon decided. Brendan, the youngest (24), quit his school teaching job, Eugene (25) gave up his job as a storeman in a garage and Pat (28) quit the insurance job he worked at. Within a couple of months the boys were in America playing at Irish clubs and dance halls. Following that they began to play the coffee house, night club circuit, and to date among other places, have appeared at Chicago's "Gate of Horn," New York's "Folk City," "Bitter End," Boston's "Unicorn Club" and "The Second Fret" in Philadelphia, as well as three concerts in New York's Carnegie Hall. The Irish Ramblers have appeared on the Arthur Godfrey Show and on TV in Boston, Canada, Philadelphia, San Francisco and Chicago. Their Elektra Record album entitled "The Patriot Game" has an enthusiasm and irresistible sparkle which will take them right to the top. The coming year will find the hearty Irish Ramblers appearing on a college concert tour and many leading night clubs and TV shows from coast to coast.
Sole Representation in Ireland: Paul Russell Ltd., 2 Lower Hatch Street - International Talent Associates, 75 East 55 Street, New York, N.Y.10022
"Rambling Boy" - new Pye release!!!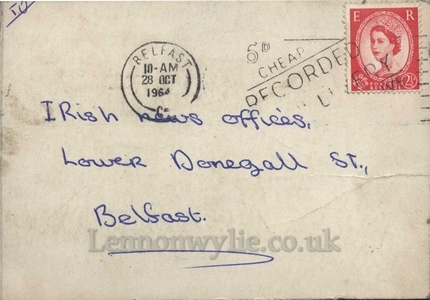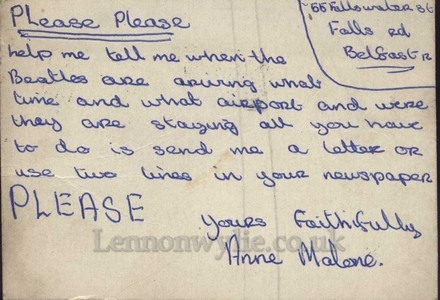 28th October 1964 Postmark Belfast to Irish News Offices, Lower Donegall Street, Belfast
Fallswater Street (number withheld), Falls Road, Belfast 12 - Please Please help me tell me when the Beatles are arriving what time and what airport and were they are staying all you have to do is send me a letter or use two lines in your newspaper. PLEASE yours faithfully Anne Malone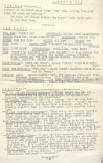 Johnnie Ray - Bernard Delfont Agency Ltd.
"The Little White Cloud That Cried" "Just Walkin' In The Rain" "Please, Mr. Sun" "Walkin' My Baby Back Home"
"Broken Hearted" "Glad Rag Doll" "Tell The Lady I Said Goodbye" "With These Hands" "If You Believe"
"100 Years From Today" "Look Homeward Angel" "Whiskey and Gin" "Cry" "Little White Cloud That Cried"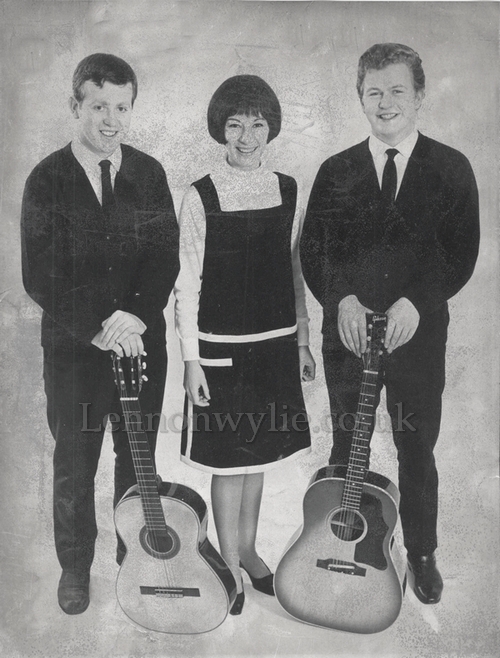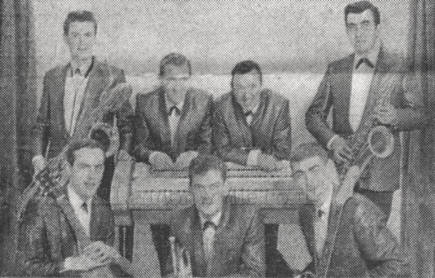 The S-K-Y-R-O-C-K-E-T-S Show Band
20 Wellington Place, Enniskillen - Manager J. B. McGandy
Formed in 1958 Enniskillen's fast rising Skyrockets Showband are really hitting the headlines right now. At present the Boys are full up with dates. In July they played 28 nights and this month they go one better with 29 nights. During the week I spoke to Manager, John Hynes and he told me that while playing in the International Ballroom Bray on Saturday night last (8th August) a well known Dublin agent popped in to listen to the Boys and he was so impressed that he offered them a 5 week period in The Star Club in Hamburg starting on Saturday 3rd October and finishing on Sunday 8th November. Manager Hynes said that at the moment he was undecided whether or not he would go. He said At present here at home we are booked five nights per week till the end of the year and at the same time we would not like to be away from our Irish friends for so long. Should we not be able to make the trip in October we will definitely be going in March next year. As well as this they have been offered a number of Weekends in England during the year.
DANCING WITH PAUL JONES - Showband Twins
It isn't often - indeed I am of the opinion that it is unique - that one discovers a set of twins playing in an Irish showband. Such, however, is the case with the Skyrockets, a pleasant and highly successful group from Enniskillen. The Skyrockets are led by Cecil Keltyles, former orchestra leader, who switched from piano to electric organ when he decided to move into the showband business in 1958, and has been doing very well ever since. And the twins? They are the McGandy brothers - Brian (baritone, sax, alto sax and clarinet) and Leo (trumpet) - who have been playing with Cecil for the past nine years, and form a most integral part of the band. As I say, I don't really know if the McGandy twins can claim a history-making first; but they do deserve their places in this first class line-up, and if you really want a treat, well, listen to Leo's version of "My Boy Lollipop". The Skyrockets will be in the International Hotel in Bray tonight, and if you like vocals with your music then this is the place to get it, because each and every one of the eight-man outfit is a singer in his own right. Formed in 1958 the line-up of the Skyrockets has undergone a number of changes in the interim; in fact it was only at Easter of this year that Gerry McGowan, the drummer, returned from the States, where he had been doing extremely well. Ivan McBride, tenor sax, is another newcomer, but he is rated as one of the best in his field at the moment and, though Adrian Barton, at 19, is the youngest member of the band, it does not show in his playing of the lead guitar. Des McKeown is the lead vocalist, and a more accomplished singer it would be hard to find. I have heard them ... I liked them and I feel that you will too.
UP AND UP GO THE SKYROCKETS
Yet another Irish showband which is doing its utmost to keep pace with a welcome list of dates is the Skyrockets from Enniskillen. As many readers already know, their new sound partly originates from the fact that one of the most valuable and useful pieces of equipment in the band is an electric organ, presided over by the renowned Cecil Kettyles. Last month, for instance, the "Rockets" played 28 dates and this month they go one better. This in itself is sure proof of their popularity. I was told during the week that their plans are almost complete for cutting their first record, due for release in the autumn, The title of the song which will adorn one side of the disc has already been decided and the Enniskillen boys are currently searching for suitable material for the flip-side. The line-up is Cecil on organ (and he's the leader, too); Brian McGandy (baritone and alto sax and clar); Leo McGandy (trumpet); Garry McGowan (drums); Ivan McBride (tenor sax); Adrian Barton (lead guitar) and Des McKeown (lead vocalist). Their dates this week are included in my Dance Diary on the opposite page.

THE FONTANA SHOWBAND
Playing in St. Mary's Hall, Portadown Sunday 2nd August
The band was formed about two years ago and started playing one or two dates per week. The patrons liked the band and soon bookings were coming in fast and now we are booked up until the end of 1965. The band has played in most of the big halls north and south of the border, including a tour of Reynold's ballrooms. The Personell of the band are as follows :-
Gerald McLean, Manager and band leader, plays trumpet and is a very talented vocalist being reckoned as Irelands answer to Jim Reeves. Lead vocalist Malachy Kearns is hailed as Irelands best, his numbers range from beat to heart rendering ballads and his outstanding personality has the girls screaming for more and more. Bass playing and ballad singing Jo Jo Rankin is known and loved all over the country for his outstanding rendering of such numbers as "The Swallow" and "The Wedding", also sings Country and Western numbers and has recorded a number which will be released shortly. Rhythm Guitarist George Dillon another outstanding vocalist is best known for his rendering of beat numbers and the fans never tire of his rendering of the Liverpool numbers. Lead Guitarist Ivan Owens who joined the band just a year ago is one of the bands greatest assets being able to play anything from slow numbers to the raging Merseyside sound and is also an accomplished pianist and helps with the arrangements. Mick Conway is without doubt Irelands No1 Saxophone and Clarinet player having played with a number of bands before settling with the "Fontana", he now does most of the arranging, he also has recorded a saxophone solo due for release next month. Rory Reilly tenor sax is the comedian of the band and his slapstick comedy has stopped dancers time and time again. Drums are aptly played by Kevin McLean brother of "The Boss" and his handling of the rhythm sticks has made him the mainstay of the band throughout its rapid climb to the top. The eight boys held together by their love of the music and the fans who love them, have reached the top by giving the people what they like, and by their happy approach and are assured of a long reign as one of Irelands leading showbands. Mr. F. O'Flaherty

JIM FARLEY BAND SHOW
PRESS RELEASE
The Jim Farley Bandshow!! You've heard of it - Who hasn't? It received tremendous press attention at its birth last year. As a matter of fact, many believe that this publicity very nearly put paid to the Farley combination before it had got well under way. Publicity (too much of it) can do that sort of thing you know. People come to expect too much from reading headlines and never understand that a baby has to walk before it can run. But the Farley Bandshow sure is running now. Right at the top gear at that, with the thunder of applause and the star quality ovation always as an obligate to their one night stand travelling. Strangely enough and it doesn't happen often, big Jim Farley has lived up to the promise of the screaming headlines. Music with a subtle difference, the beat of Basie; the lift of Loss, the swinging Mersey of Manfred Mann. It strikes me that there are people who feel that a big band cannot fulfil the yearnings of the hep happy teen beats; that it is a too solid, too musical thing. My answer, - Go listen to Jim Farley. Nothing stolid there; No sitting one-two-three, quick, quick, slow Sylvester routine. As I said, go listen; Farley is becoming a rage, a trend setter, a stylist with sound, a magician with music and a saxist with swing, swing and swing. Twist, blue beat, rock, mersey, mainstream and trad all reel smoothly off his magnificent musical conveyor belt, the brain-child of the tall talented Dubliner. With such names as Joe McIntyre, Terry Mahon and Tony Woods in his line-up, how could he possibly fail. I know there is no need for me to acquaint you with Joe McIntyre's achievements; undoubtedly he is Ireland's best trumpeter and if you don't believe me, ask Harry Gold, Terry Lightfoot, Vic Lewis, Mel Torme, Frankie Laine, Bill Haley, Sid Phillips, Tony Coe, George Chisholm, Ronnie Scott, Kenny Ball, all of whom he played with. His name is on hundreds of records and both the B.B.C. and R.E. vie for his time and talents. But there is no need to go on. Who in Ireland doesn't know of little Joe with the big sound. Tony Woods you know also. Svelte, soft voiced and six foot of all man, he has sung his way from a Derry choir to the top most rung of the ladder. Terry Mahon, to say the least, has made a sensational impact since her first appearance with the Farley group. Her good looks, excellent voice, exciting tonal timbre and stage presence have put bells tingling in more than one heart. She is also of star quality and has emerged from the foothills of obscurity to the peak of success. Danny Pearse, of course, is there too and seven more on saxs, trumpets, trombones and guitars and what an excellent set of guitarists these boys are. Anything the groups can do, they can do better. The wind of change prophesised for Farley wasn't an idle boast after all. More heads and hearts are turning now towards his musical message; more people twist and rock or emote to his music, more and more fans and patrons bow low before Farley, the high priest of all that is best in Irish sound. Nelius O'Connell, Manager

JOAN TURNER
Comedienne/singer/impressionist 25 Eglinton Street
Joan Turner, known as 'the girl with a thousand voices,' has a personality to match this description for she can be, in turn, a singer, with a 4½ octave voice, a comedienne, an impressionist and a disc jockey. All this in addition to being a housewife and mother of two daughters. This bubbling, lovely, lively performer can switch from television or radio, stage or cabaret, with infinite ease. And just to prove her versatility she has even recorded a number - 'The Girl From Ipanema' - in the cool jazz idiom. Her impressions range from the 4½ octave voice of Yma Sumac to a killing cod of Eartha Kitt and when she isn't doing her good-tempered mickey-taking, she will plunge into an aria in the pure, rining tones of a prima donna who wouldn't be out of character on the stage at Covent Gardens. Small wonder then that she's been labelled: "Gracie Fields' successor"; "Joan Turner, that wacky warbler with the four octave voice"; "She has talent so wide and so versatile that a single record would not show her ability to advantage." And what of the future? Joan Turner is making a determined onslaught on all fronts - her second record series began on the Light Programme in July, 1964; her first LP was released in the summer of 1964; she is appearing regularly in variety and cabaret and on television; she has her eye on a musical comedy part and she is to make a film in 1965.
The Life Of Joan Turner
Although she is still a young woman, Joan Turner has been on the stage for more than 20 years. In fact, she was still at school when she won a talent competition at a Peckham cinema. She was born, however, in Belfast, but moved to London with her parents. Joan has a sister, Helen, who is also a singer and her brother, Leonard, is a Roman Catholic priest. Leonard is intensely interested in Joan's career and has written much of her comedy material. She admits that she had never been able to take things seriously and even at school she was always in trouble for mimicking the teachers. Her earliest ambition was to be a dancer, but at dancing school she was too busy impersonating others to pay attention to her lessons. Joan was only 14 when she made her professional debut at a London music hall and then, for a year, she toured in a revue called 'Hot From Hollywood'. Her salary was 32/6d. a week! But at the end of the run, she found herself out of a job and so began working in a sweet shop in the Old Kent Road. This didn't last long, however, when Joan found that she was expected to scrub the floors as well as serve behind the counter! She next took a job with a firm of chemical manufacturers filling packets of henna. The other girls dyed their hair so Joan took a packet of henna home one night and appeared at work next morning with hair so red - 'It's a wonder they didn't call out the fire brigade!' She has been a red-head ever since, but now she leaves the tinting to a professional stylist. The urge for the stage was too strong, however, so Joan joined a touring revue. Then came a long period of work with the late Ernie Lotinga when she was seen by a well-known agent who signed her up. Joan candidly admits that she was somewhat temperamental when she began her career. In fact, the jobs she did after her first theatrical tour were because she objected to being paid out on the stage along with other members of the cast. But with experience came a mature understanding of the theatre and with her first variety tour as a fully-fledged single act, even greater recognition. She made her television debut and then, slipped unannounced into the Crazy Gang Show at Victoria Palace, and stopped the show. During this time her act consisted mainly of impressions plus an operatic aria such as 'One Fine Day' - "I sang it until I looked like Madame Butterfly." It was while entertaining troops in Austria that she really decided the future of her act. She sang an aria, then announced that she would sing another one. soldiers shifted uneasily in their seats, but the next minute roared with laughter as she lapsed into 'I've Got A Luvverly Bunch Of Cokernuts.' Since then, Joan Turner has sung and joked her way to the top. She has starred in a West End show, appeared in the Royal Variety Show, toured South Africa and appeared in cabaret not only in the West End but in New York, too. Now, happily married to Pye Records executive Leslie Cocks, with two young daughters, Anne and Joanna, Joan divides her time between the pleasant domesticity of her lovely house set amid pine trees in the Surrey hills and pursuing her whirl wind career.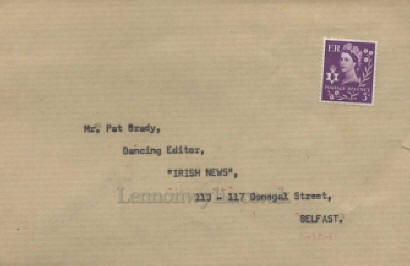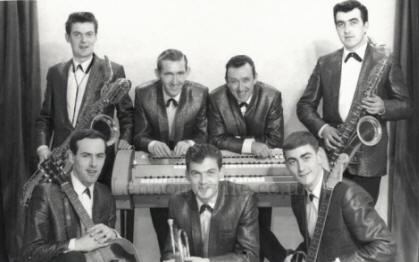 Mr. Pat Brady, Dancing Editor, "Irish News" 113-117 Donegal Street, Belfast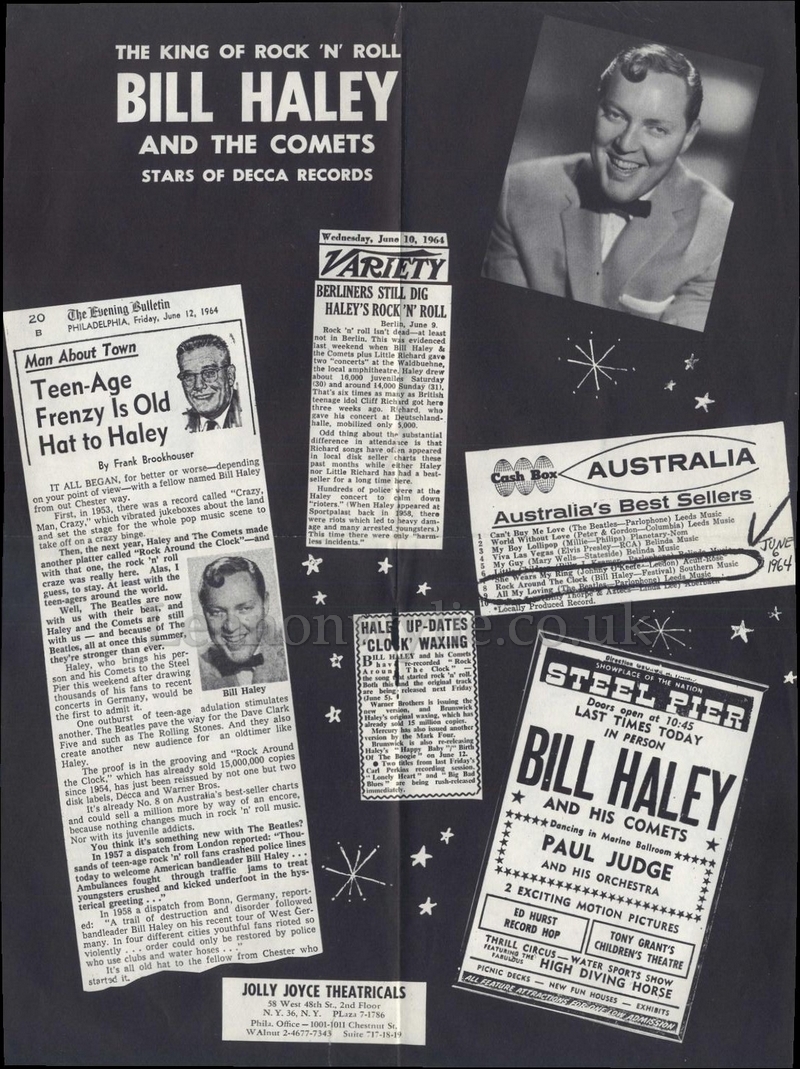 Bill Haley and the Comets



Carrera Ballroom, Ballyclare
Big Night Out at the Carrera
Manager: J. McGlinchey, 45 Monagh Drive, Belfast
Freshmen, Ohio, Hilton, Big Four Stellas, The Grenadiers, Bo Birch, Junior Skillen