Just a small collection of books and drawings that belonged to the
Rev. John Lyle Donaghy


My Cathedral A Vision of Friendship - Alexander Irvine
One of a number of Books given to Rev. John Lyle Donaghy by The late Mrs. John Patton, Larne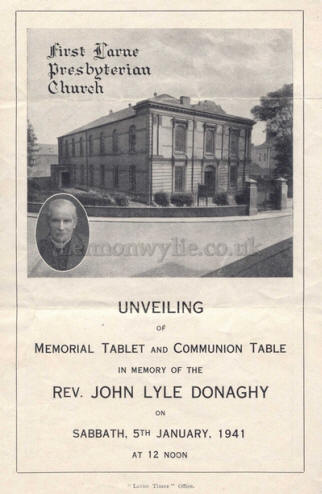 First Larne Presbyterian Church unveiling of Memorial Tablet and Communion Table
in Memory of the Rev. John Lyle Donaghy 1887 - 1938
on Sabbath, 5th January 1941 at 12 noon
Order of Service
The Moderator of Carrickfergus Presbytery (Rev. Ernest McConnell, M.A.)
Members of Memorial Committee:- Messrs, W. T. Armstrong, J. A. Caskey, B.E., B.A.; Thomas Gregg, John Gribbon, B.A.; Thomas Mayne, J.P.; A. S. Patton, Thomas Weatherup and J. M. O'Brien (convener).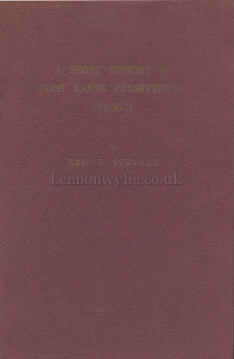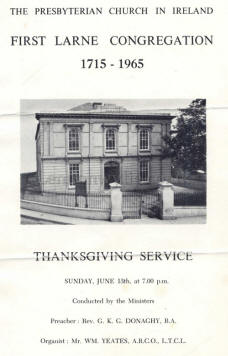 1 2 3
A Short History of First Larne Presbyterian Church
Eric V. Stewart
1) Session: J. Wallace, W. Rea, R. Blair, J. Docherty, D. Ross, C. Culbert, P. Arnold, S. McMahon, R. McCluggage, J. McCormack, Rev. W. S. W. Poole, Rev. E. V. Stewart, D. Hawthorne, J. Campbell, J. Millar, S. Snoddy
Missing from this photograph Dr. T. King, Mr. Wm. Lilley, Mr. A. Duffin, Mr. T. Gregg and Mr. Wm. Armstrong
2) Choir: S. McNally, S. Beggs W. Dick, E. Ramsey, R. Magee
J. McAuley, J. McCormack, R. Beggs, A. Millar, E. Robinson, N. Carmichael
N. Magee, J. Wallace, V. McDowell, J. McNally, E. Aiken, R. Millar, J. McCormack, M. Lilley, R. Dick, J. Moore
M. McCartney, H. McCartney, J. Burns M. A. Ballantine, S. Lloyd
K. McCluggage, J. Marcus, E. McCartney, M. Crawford, M. Burns, M. Carmichael
M. Davison, A. Robinson M. McCormack, M. Witherspoon, E. Douris
W. J. Yeates, A.R.C.O.
3) The Presbyterian Church in Ireland - First Larne Congregation 1715-1965
Thanksgiving Service, Sunday June 13th at 7.00p.m.
Conducted by the Ministers. Preacher: Rev. G. K. G. Donaghy, B.A.
Organist: Mr. Wm. Yeates, A.R.C.O., L.T.C.L.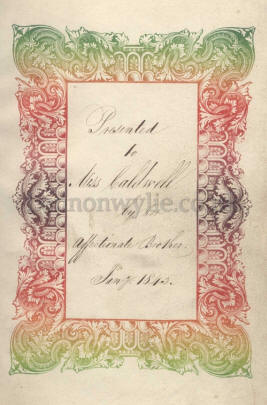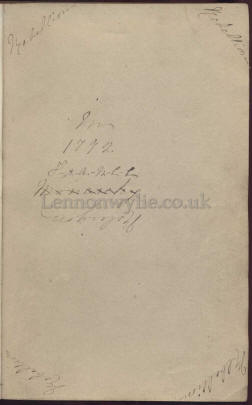 1 2 3
1) First Dunboe - An Historical Sketch by the Rev. James Mark, B.A. (The Present Minister)
2) Presented to Miss Caldwell by her affectionate Brother Jany. 1845
3) Rebellion In 1792 France Monarchy Religion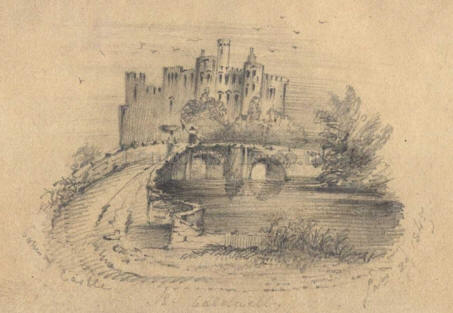 E. L. Cox June 12th 1845 ? Castle ? ? Caldwell Jany? 20 1845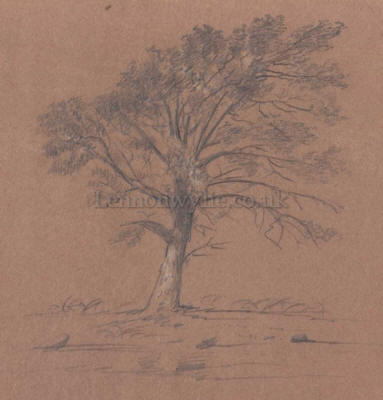 M. B. April 18th 1849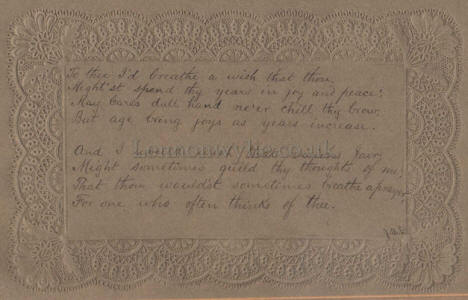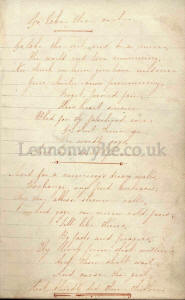 1 2 3
1) To thee I'd breathe a wish that thou, Might'st spend thy years in joy and peace; May care's dull hand ne'er chill thy brow, But age bring joys as years increase. And I would wish that visions fair, Might sometimes guild thy thoughts of me, That thou would'st sometimes breathe a prayer, For one who often thinks of thee. J. A. L.
2) First, I would bid thee cherish Truth, As leading link in virtues chain; Folly may pass, nor tarnish youth, But Falsehood leaves a poison stain. Keep watch nor let the burning tide, Of Impulse, break from all control; The best of hearts needs pilot guide, To steer it clear from Error's shoal. Slight not the one of honest worth, Because no star adorns his breast; The lark soars highest from the earth, Yet ever leaves the lowest nest. Be not too ready to condemn, The wrong thy brother may have done; Ere you too harshly censure him, For human faults, ask - have I none? Live that thy young & glowing life, Can think of death without a sigh; And be assured that life is best, Which finds us least afraid to die. J. A. Long 15th November 1874
3) Go take the wish? I can't make it out, help yourself :)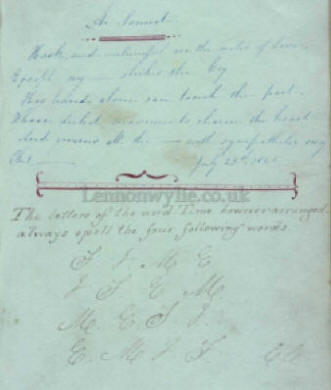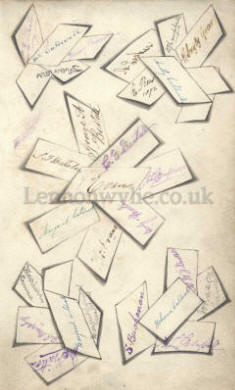 1 2 3 4
1) Meeting. Gliding o'er the silent waves by night, Leaves the bark its trace of silver light, Thus thy prisoned? left its silver trace, Gleaming in my life? dark ocean space. That fair ray that rests upon the wave, In the coming tide shall find a grave, But the lovely beam that lights the soul, Ne'er will fade while life's dark billow? rolls.
2) A Sonnet. (hard to make out) July 25th 1843 - The letters of the word Time however arranged always spell the four following words. T.I.M.E. I.T.E.M. M.E.T.I. E.M.I.T. C. C.
3) C. E. Bestall? - Jas. Caldwell - Jenny Trimble - Marion - N. Parker - W. J. Campbell - R. Smyly Greer - Audly Caldwell - E. Rees 1872 - George A. Bestall - C. E. Bestall - ? T. ?????? - J. Evans - H. Campbell - Margaret Caldwell - M? J. Martin - ? ? Erwin? - Marion Gunn - J. C. Murphy - Margaret Caldwell - Margaret Caldwell Campbell - M. A.? Britton - S. Buchanan - Rebecca Caldwell - Johnson Campbell - ? L. Campbell - A. W. J. Bestall
4) Bible owned by J. Lyle Donaghy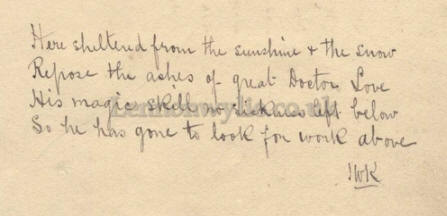 1 2
1) Some asked me love, how many times I think of you a day, I frankly answer only once, and mean just what I say, You seem perplexed & somewhat hurt, But wait and hear the rhyme, Pray how can one do more than once, What one does all the time? Chris? Chip?
2) Here sheltered from the sunshine & the snow, Repose the ashes of great Doctor Love, His magic skill no sickness left below, So he has gone to look for work above. I. W. K.?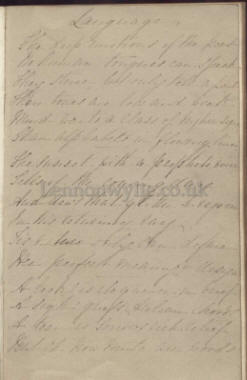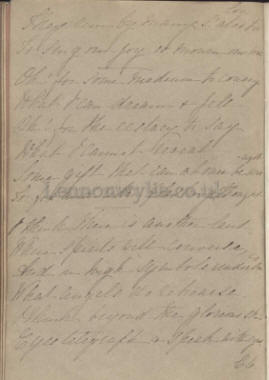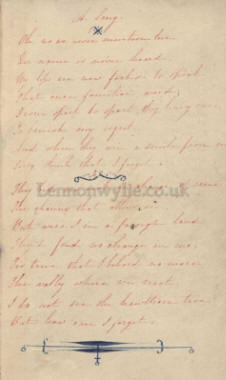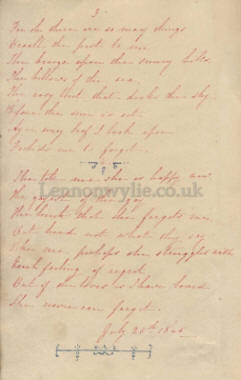 1 2 3 4
1) Language. The deep emotions of the heart, No human tongues can speak, They strive, but only tell a part, Then tones are low and weak, Mind wants a class of higher signs, Than alphabets in flowing lines, The ? with a prophets voice, Tells of the coming day. And dews? that glitter & rejoice, In his returning day, Its nature only can define, Her perfect meaning & design. A look! is eloquence in brief, A sigh! griefs ? chords, A tear! is sorrows rich relief, But oh! how mute are words.
2) They ??????????????????, To sing our joy, or mourn our lose. Oh! for some medium to convey, What I can dream & fell? Oh! for the ecstacy to say, What I cannot reveal, Some gift that can at once be w/o light, So fix and utter flashing thought, I think ? is another land, Where spirits will converse, And in high symbols understand, What angels do rehearse, I think beyond the glorious ?, Eyes telegraph & speak with ? C. C.
3) A Song. Oh no we never mention her, Her name is never heard, My lips are now forbid to speak, That once familiar word; From ? to ? they hurry? ?, To banish my regret, and when they win a smile from me, They think that I forget. They bid me luck in change of scene, The chains that others see, But were I in a foreign land, They'd find no change in me; Tis time that I behold no more, The valley where we met, I do not see the hawthorn tree, But how can I forget.
4) For oh there are so many things, Recall the past to me, The breeze upon the sunny hills, The billows of the sea, The easy tint that decks the sky, Before the sun is set, Aye, every leaf I look upon, Forbids me to forget. They tell me she is happy now, The gayest of the gay, They think that she forgets me, But heed not what they say. Like me perhaps she struggles with, Each feeling of regret, But if she loves as I have loved, she never can forget. July 25th 1845
at back of this book it says - Birthday 12th June