Belfast, Co. Antrim
all things Belfast
click to go to a panorama of the pupils of BELFAST ROYAL ACADEMY 1926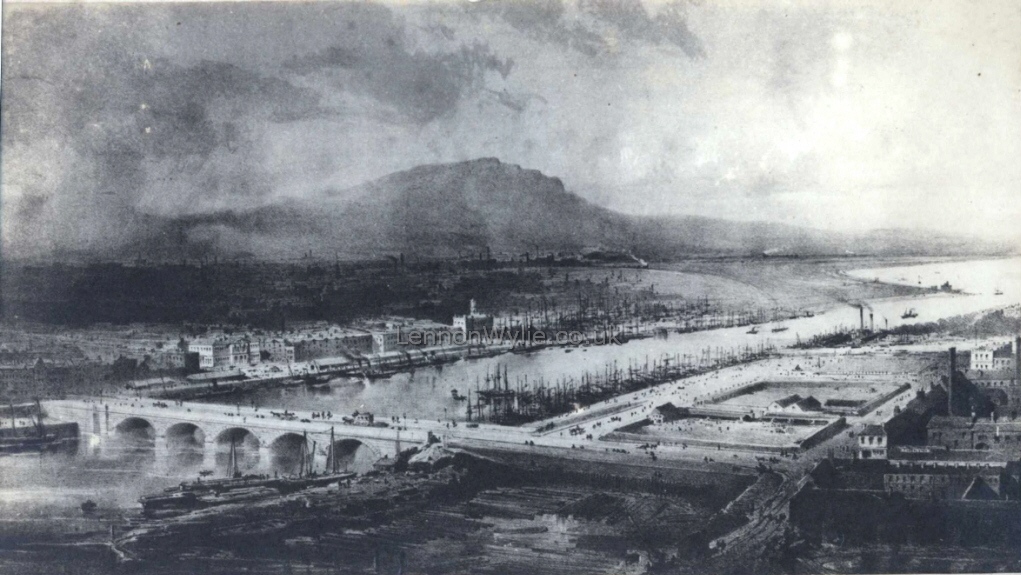 Nelson's Nose
~~~~~~~~~~~~~~~~~~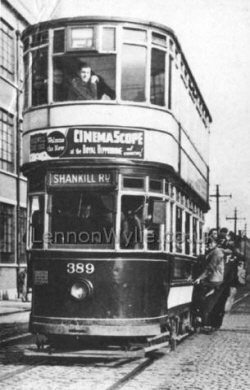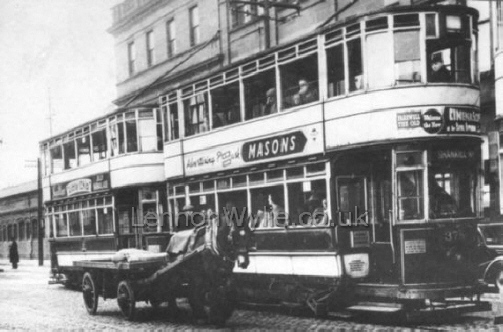 In Memory of the Belfast Electric Tramcars,
Last Tramcars leaving Harland & Wolff Shipyard, Queens Island,
27th February 1954
~~~~~~~~~~~~~~~~~~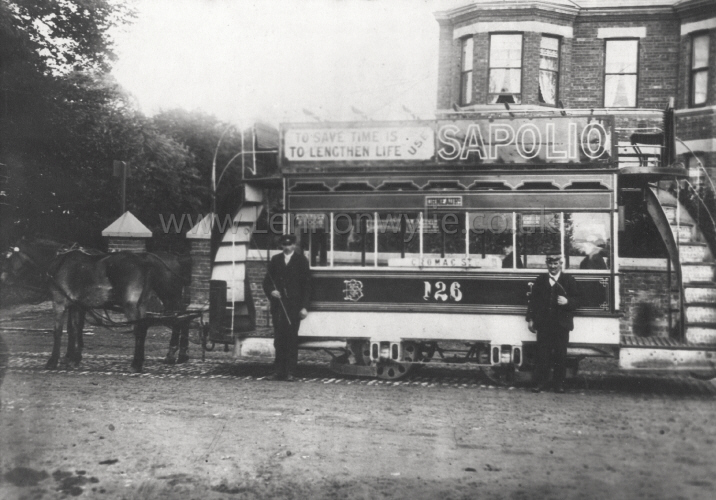 Ormeau Road Tram, Cromac Street
~~~~~~~~~~~~~~~~~~


Chichester Park, Antrim? Road, via Queen's Bridge
~~~~~~~~~~~~~~~~~~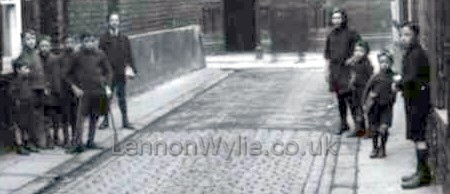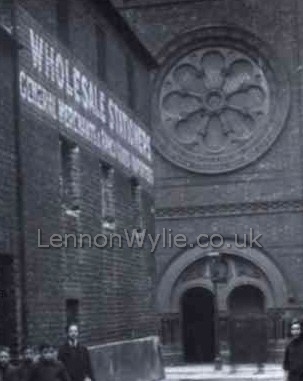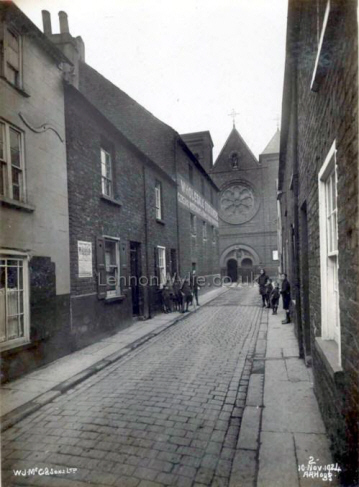 RECOGNISE THIS STREET? - Thanks to Joe Graham of Rushlight I now know where this photo was taken - this is Bank Street and that's St. Mary's Chapel at the bottom, it's in Chapel Lane - Find out more in the September issue of "Rushlight"
W. J. McC. or G. & Sons Ltd. - 2' 10. Nov. 1924, A R Hogg - A. R. Hogg, Photographic Specialist, 81 High Street, Belfast
~~~~~~~~~~~~~~~~~~


Saml. Crookshank, Belfast Commercial Hotel Belfast - Silver Pot
~~~~~~~~~~~~~~~~~~


Northern Whig and Belfast Post June 1927
Group of Four Families and other emigrants on the "Robins" on their way to Canada by the C.P.R. Liner Montclare
~~~~~~~~~~~~~~~~~~


High Street, Belfast shops showing (left hand side) Erskine number 8 - Moat Brothers, Rubber Stamp Makers number 12 - West of England, Cloth Merchants - ?tch ?use Scutch/Dutch House? - Lipt? Liptons? number 6 is on the right hand side
Theatre Royal, Belfast 1894
~~~~~~~~~~~~~~~~~~


The Shaughraun, Dion Boucicault's Powerful Irish Drama - Captain Molyneaux (a Young English Officer) - Mr. G. H. Hazlehurst
Robert Ffolliot (a Young Irish Gentleman, under sentence as a Fenian) - Mr. Leonard Yorke - Father Doolan (Parish Priest at Sullabeg) - Mr. H. Sainsbury - Corry Kinchella (a Squire) - Mr. E. W. Bretton - Harvey Duff (a Police Spy) - Mr. Frank Dalton
Sergeant Jones - Mr. Edward Ranier - Reilly, Sullivan, Mangan, Boyle (Blackguards) - J. B. Creedon, J. Byrne, S. Green, F. Franks - Conn (the Shaughraun, the soul of every fair, the 1 fe of every funeral, the first fiddle of every pattern) -Mr. C. Guilfoyle Seymour
Clare Ffolliot (a Sligo Lady) - Miss Bessie Hazlewood - Arte O'Neil - Miss Mary Hardacre - Mrs. O'Kelly (Conn's mother) - Miss Clara Dillon - Bridget Madigan (a Keener) - Miss Edith Gautier - Nancy Malone - Miss N. Brewster - Moya (Father Doolan's Niece, in love with Conn) - Mrs. Charles Sullivan - On Monday Next, September 3rd 1894, First Time in Belfast, the Great Military Drama - The Indian Mutiny - Miss Clare Howard & Mr. George Daventry in their original characters "Ghuz-na" & "Nebu Singh"
Men join the bargain trail
Belfast's bargain hunters hit the sale-trail again to-day. On this, the third day of the winter sales season the city stores were attracting men as well as women hunting for those bargains. Most people seemed to be looking for clothes. Mrs. Hilda McCabe, of Waveney Park, Belfast, came out of one Royal Avenue store delighted with a new winter coat - a bargain at £15. "I really only went in to look but I'm delighted with the coat," she said. "There was £3 knocked off it." For Mrs. Gertrude McKee, of Tudor Oaks, Holywood, the goal was a new pair of boots to keep out the winter cold. The sales are a "beanfeast" for the students, especially 18-year old Miss Christine Long, of Victoria Road, Larne. "I'm going to get a pair of trousers," she said, "I only intend to pay £2 for them so I expect I'll have to have a good look to get them. But I'm not paying any more." She and her friend Miss Judith McKinler (19), of Bay Road, Larne, were spending some of their college holidays combing the sales for "best buys." The boys were bargain hunting too, Mr. Terry Black (24), of Sea - unfortunately there is no more
~~~~~~~~~~~~~~~~~~


2nd June 1953 Connswater Street, Belfast TINKER BELL CLUB
Northern Whig, Bridge Street, Belfast
~~~~~~~~~~~~~~~~~~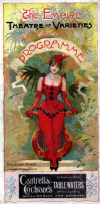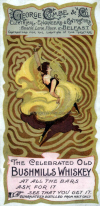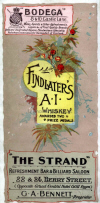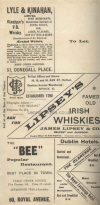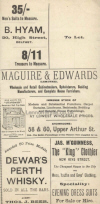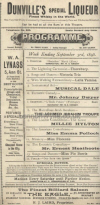 PROGRAMME
General Manager Mr. Frank Allen, Acting Manager Mr. Con Salmon
Week ending September 3rd 1898
1. Overture
2. The Lightening Cartoonist - Thornbury
3. Songs and Dances - Victoria Trio
4. Wire Walking Extraordinary - Lalla Yamina
5. Instrumental Act - Musical Dale
6. Eccentric Comedy - Mr. Johnny Dwyer
7. Selection - "L'Etoile Polaire" (Waldteufel) Band Conductor - Mr. H. A. Knight
8. The Marvellous Arab Acrobats - The Achmed Abrahim Troupe
9. The London Comedienne - The Great Millie Hylton
10. The American Comedienne - Miss Emma Pollock
11. Mimicry - Miss Florence
12. The Eccentric Comedian - Mr. Ernest Heathcote
13. Songs and Dances - Miss Flo Burris
14. Finale - "God Save The Queen" Band
~~~~~~~~~~~~~~~~~~


Queen's College, Belfast Belfast Bank


Custom House and Public Offices, Belfast High Street, Belfast (from Corn Market)


Belfast Court House, Belfast


Donegall Place, Belfast Lisburn
~~~~~~~~~~~~~~~~~~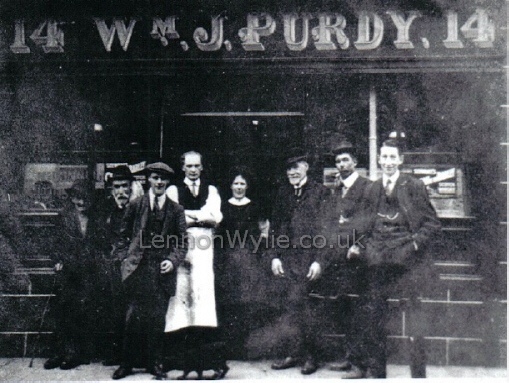 1 2
1) looking up Donegall Place from the gates of the White Linen Hall , now the site of the City Hall , the house on the left was the house of Lord Donegall, it later became a hotel pre 1888
Thank you Joe Graham of Rushlight Magazine for identifying this photo
2) great photograph of Wm. J. Purdy's bar in Church Street, Belfast 1910, sent to me by his grandson Ian Taylor, that's Wm. Purdy on the far right
~~~~~~~~~~~~~~~~~~


Robinson & Cleavers 1889 Marcus Ward & Co. Ltd.


~~~~~~~~~~~~~~~~~~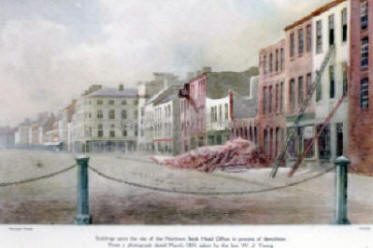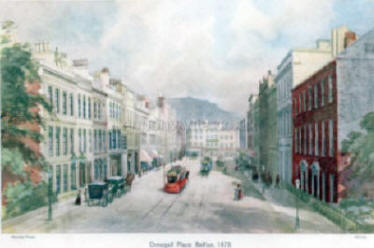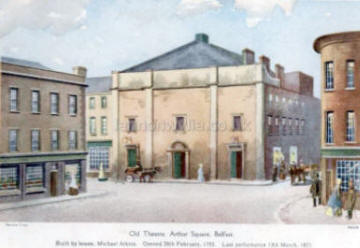 Buildings upon the site of the Northern Bank Head office in process of demolition. From a photograph dated March 1854, taken by the late W. J. Young
Donegall Place, Belfast 1870
Old Theatre, Arthur Square, Belfast, Built by lessee, Michael Atkins. Opened 26th February 1793. Last performance 13th March 1871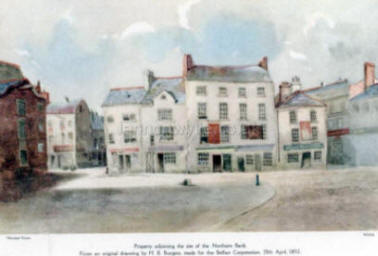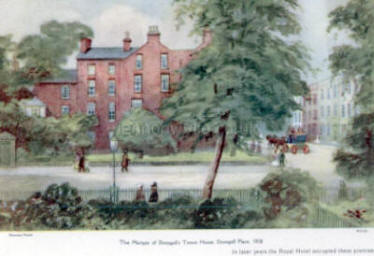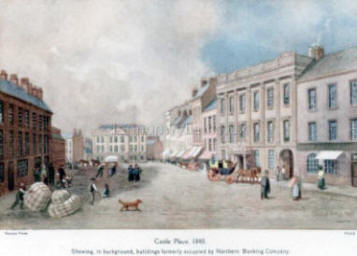 Property adjoining the side of the Northern Bank. From an original drawing by H. B. Burgess, made for the Belfast Corporation 28th April 1852
The Marquis of Donegall's Town House, Donegall Place, 1808. In later years the Royal Hotel occupied these premises.
Castle Place 1840. Shewing, in background, buildings formerly occupied by Northern Banking Company.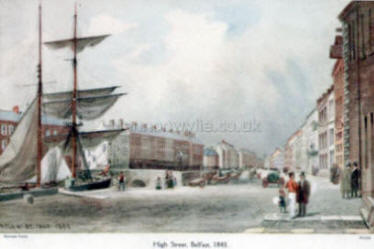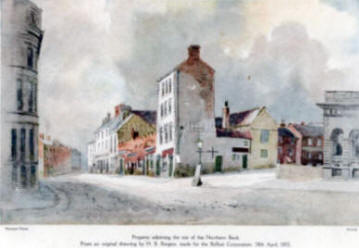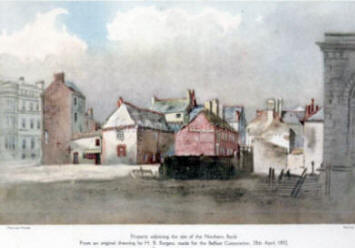 High Street, Belfast, 1840
Property adjoining the site of the Northern Bank. From an original drawing by H. B. Burgess, made for the Belfast Corporation, 28th April 1852
Property adjoining the site of the Northern Bank. From an original drawing by H. B. Burgess, made for the Belfast Corporation, 28th April 1852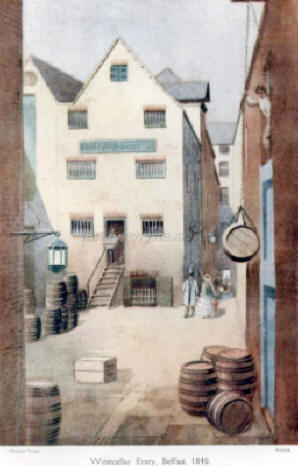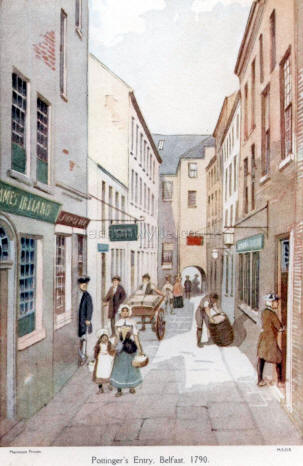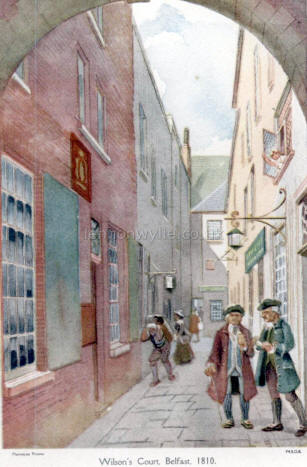 Winecellar Entry, Belfast, 1840
Pottinger's Entry, Belfast, 1790
Wilson's Court, Belfast, 1810
~~~~~~~~~~~~~~~~~~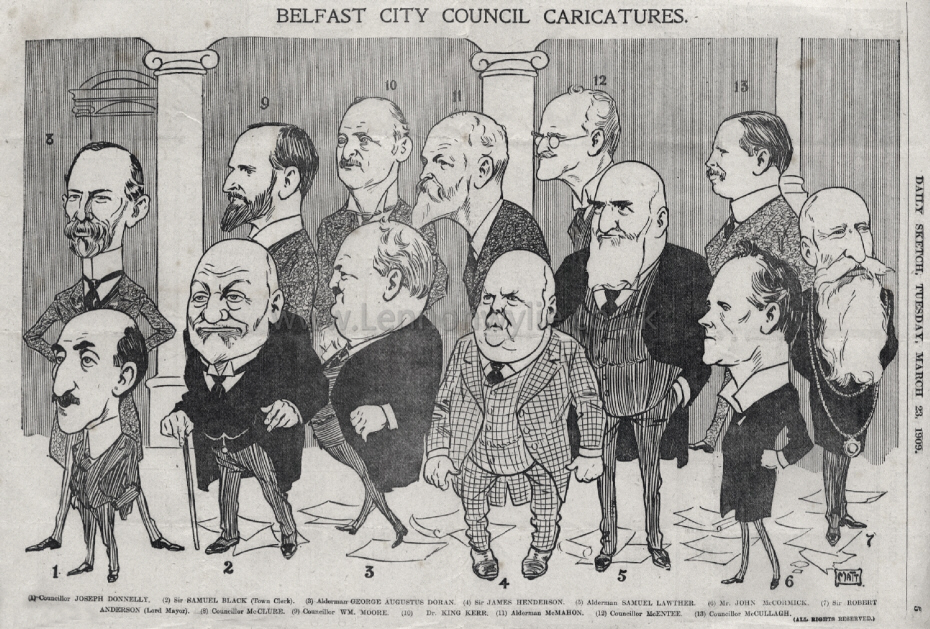 Belfast City Council Caricatures - Daily Sketch, Tuesday, March 23rd 1909
(1) Councillor Joseph Donnelly (2) Sir Samuel Black (Town Clerk) (3) Alderman George Augustus Doran (4) Sir James Henderson
(5) Alderman Samuel Lawther (6) Mr. John McCormick (7) Sir Robert Anderson (Lord Mayor) (8) Councillor McClure
(9) Councillor Wm. Moore (10) Dr. King Kerr (11) Alderman McMahon (12) Councillor McEntee (13) Councillor McCullagh
~~~~~~~~~~~~~~~~~~