Lost Photos - WW1
including Pre.-War & Post-War
with information
back to photo Index
John Campbell - Francis Dunbar - Edith Cavell - Falls Road Methodist Memorial
Mesnil-Martinsart R.I.R. Memorial - Private Peter McCourt - R. D. Richardson
James A. Campbell - Private Von Boden - Sgt. Edward M. Parson - Paul Gilchrist Pollock
Christopher William Kitchen and George Merry Johnston - Andrew Shaw - Samuel Russell
Francis Bird - Thomas Dowdall - Mackie WW1 Uniform - Moorhead RA - G. W. Maynard
James McKee - Pte. Edwin Parker -
********************
update April 2011 ~ I have been contacted by direct descendants of John Campbell, John's niece May is still alive aged 87 and was absolutely thrilled to see a picture of her uncle John, he is now being remembered by a whole new generation of his family and has been added to the family information on Ancestry.co.uk ~ thank you to his great grand nephew and name-sake John Campbell for sending the photo of John Campbell's headstone - Mary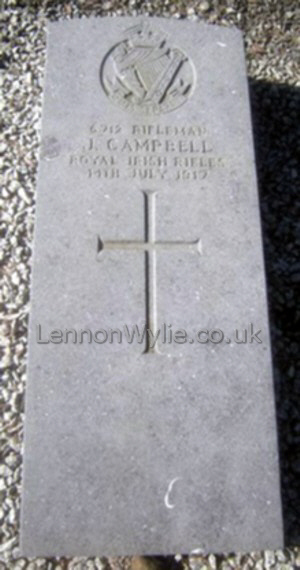 In Sad and Loving Memory of my Dear Husband
(6712) Rifleman John Campbell, 14th R.I.R., Y.C.V's,
Who died at Richmond Hospital, Dublin, on the 14th day of July, 1917, of wounds received in action at the Battle of Messines.
Not dead to me, I loved him dear,
Not lost, but gone before,
He lives with me in memory still,
And will for evermore.
Sadly missed by his loving Wife and little Son - Norah and Wellington Campbell
33½ William Street, Newtownards
********************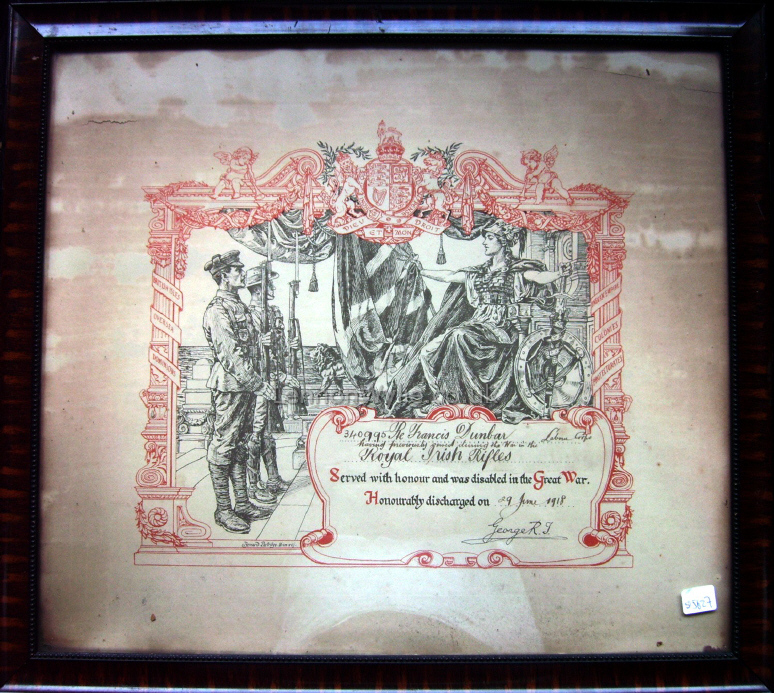 FRANCIS DUNBAR
340995 Pte. Francis Dunbar - Labour Corps
having previously served during the War in the Royal Irish Rifles
Served with honour and was disabled in the Great War
Honourably discharged on 29th June 1918
signed - George R. J.
Medals Index Card - http://tinyurl.com/3g7uzv
Royal Irish Rifles - 7260 - Private
Labour Corps - 340995 - Private
********************


CLICK to enlarge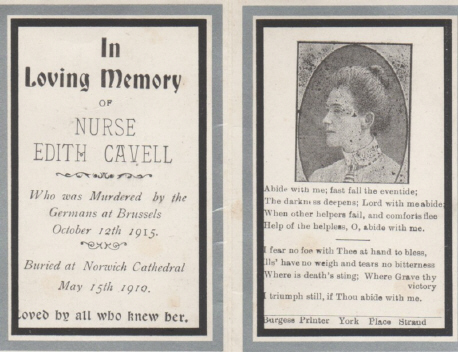 In loving Memory of Nurse Edith Cavell - May 15th 1919


CLICK to enlarge
********************
MEMORIALS TO WW1 & WW2
FALLS ROAD METHODIST CHURCH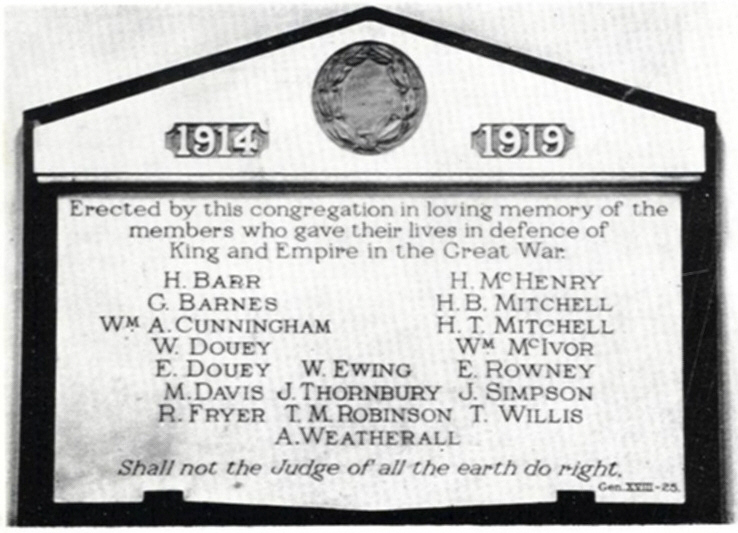 1914 - 1919

Erected by this congregation in loving memory of the members who gave their lives in defence of King and Empire in the Great War

H. Barr
G. Barnes
Wm. A. Cunningham
W. Douey
E. Douey
M. Davis
W. Ewing
R. Fryer
H. McHenry
Wm. McIvor
H. B. Mitchell
H. T. Mitchell
E. Rowney
T. M. Robinson
J. Simpson
J. Thornberry
A. Weatherall
T. Willis
Shall not the Judge of all the earth do right Gen. XVIII - 25
THOSE WHO SERVED
1939 1945
THOSE WHO SERVED
James Bell
John Cameron
John Henry Clarke
Nathaniel Cush
Alexander Douglas
Helen Douglas
Robert Ewing
Fred Ewing
Sadie Glass
Jean Hamilton
Edward Horner
Rev. Gerald G. Myles
ERECTED BY THE CONGREGATION IN HONOURED AND CHERISHED MEMORY OF THE MEN AND WOMEN OF THIS CHURCH WHO SERVED IN HIS MAJESTY'S FORCES DURING THE WAR 1939 - 1945

THOSE WHO MADE THE SUPREME SACRIFICE

Samuel Glass - Dawson Patterson
Sidney McIlroy - John Murdie

At the going down of the sun and in the morning, we will remember them

Roy Hewitt
Thomas Higginson
Robert Kirkwood
Samuel Larmour
Winnie Lockhart
Robert Moore
Norman Nelson
Robert Nesbitt
Mima Rowntree
Willie Rowntree
Lily White
"NEITHER SHALL THEY LEARN WAR ANY MORE"
********************
Memorial in Mesnil-Martinsart village to the 14 R.I.R. soldiers buried at Martinsart, killed by a stray shell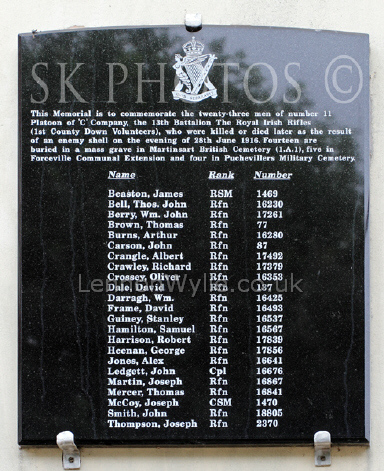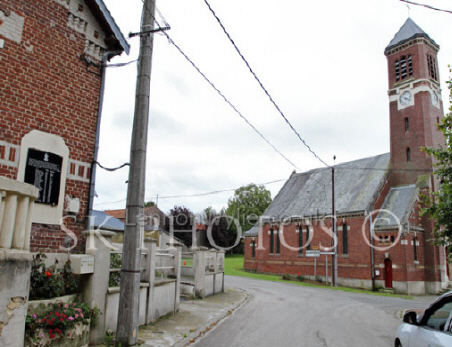 This Memorial is to commemorate the twenty-three men of number 11 Platoon of 'C' Company, the 13th battalion The Royal Irish Rifles (1st County Down Volunteers), who were killed or died later as the result of an enemy shell on the evening of 28th June 1916. Fourteen are buried in a mass grave in Martinsart British Cemetery (1.a.1.), five in Forceville Communal Extension and four in Puchevillers Military Cemetery
Beaston, James (Beatson)
Bell, Thos. John
Berry, Wm. John
Brown, Thomas
Burns, Arthur
Carson, John
Crangle, Albert
Crawley, Richard
Crossey, Oliver
Dale, David
Darragh, Wm.
Frame, David
Guiney, Stanley
Hamilton, Samuel
Harrison, Robert
Heenan, George
Jones, Alex.
Ledgett, John
Martin, Joseph
Mercer, Thomas
McCoy, Joseph
Smith, John
Thompson, Joseph
RSM
Rfn
Rfn
Rfn
Rfn
Rfn
Rfn
Rfn
Rfn
Rfn
Rfn
Rfn
Rfn
Rfn
Rfn
Rfn
Rfn
Rfn
Rfn
Cpl
CSM
Rfn
Rfn
1469
16230
17261
77
16280
87
17492
17379
16353
137
16425
16493
16537
16567
17839
17856
16641
16676
16867
16841
1470
18805
2370
********************


Private Peter McCourt
In Memory of
Private P. McCOURT
27532, 7th/8th Bn., Royal Inniskilling Fusiliers
who died age 38 on 29 March 1918
Son of John and Elizabeth McCourt, of Belfast;
husband of Rose Ann McCourt, of 9, Hardinge St., North Queen St., Belfast.
(Mrs. Rosa McCourt, 29 Grosvenor Place - on back of 1 photo)
(Rose McCourt, 18 Ormond Street on another)
Remembered with honour
NAMPS-AU-VAL BRITISH CEMETERY Medals Index Card
********************


Medal Index Card
********************


1915 - 1917 BEF - Ypres Somme Arras
Wishing you a very happy Christmas & the best of luck in the new year
From: R. D. Richardson, G.S.M. 7th Northumberland Fusiliers
in the field, Christmas 1917
********************


I'm not sure what this is, a swagger stick, a Lambeg Cane, I've heard many suggestions, I think its the first though
'Honi soit qui mal y pense' is on the top - http://www.en.wikipedia.org/wiki/Honi_soit_qui_mal_y_pense
and a tag attached says this belonged to someone called 'Weir'
Thank you to Steve for all this information, amazing :o) CLICK HERE
********************


The Royal Life Saving Society
Patron: His Most Gracious Majesty The King - President: The Right Hon. Lord. Desborough, K.C.V.O.
Certificate awarded to James A. Campbell, Wellington A.S.C. December 1917 for knowledge of Rescue, Releasing ones-self from the Clutch of the Drowning, also ability to render aid in Resuscitating the Apparently Drowned.
Chairman: Sydney J. Monks, Chairman - William Henry, Secretary

********************

This is a silver lid off something, I removed the knob to get it in the scanner, it says...1914, S.V.P.A., Internationals 2nd Teams Won by English, 1. R. G. Rawson, 2. C. R. Fox, 3. A. W. Harrison, and 4. F. Pullen

********************

on back it says: Edward grave in France April 15
1st/6thBn. Gloucester Regiment, 15th April 1915 Serjeant E. M. Parsons, Service No. 2766, son of Mr. and Mrs. J. Parsons, of Avonmouth, husband of C. C. Parsons, of Severn House, The Docks, Avonmouth CWGC Medals Index Card (I know he is not from Ireland but this photo was found at auction and I just wanted to give him a home.)
********************
Private Von Boden (Bugler)


Can anyone make out who this card is from?
came with a note translated by Mike -
(back)
In the field 3/7 16 Field Postcard
Best wished to you and our fat medical orderly, sent from the field by your (illegible name)
To bugle player Private Von Boden, Hamburg 22, Apenstraße 3 III
(front)
Some of the pictures shot on the way have arrived. Would you want some? I am very well here and do not yet long for death (word difficult to decipher) at all.
1st Company Field Fortification Batallion 93
37th Infantry Division Osten
********************
Paul Gilchrist Pollock


(after a few months outside during the summer it whitens up lovely)
In loving memory of Paul Gilchrist Pollock, 14th Royal Irish Rifles (Y.C.V.)
son of rev. Dr. Pollock
Killed at the Somme 1st July 1916, aged 20 years.
"But no man knoweth of his sepulchre unto this day"
http://www.instgreatwar.com/page24.htm
http://www.census.nationalarchives.ie/pages/1911/Antrim/Duncairn/Antrim_Road/139339/
http://www.census.nationalarchives.ie/pages/1901/Antrim/Duncairn_Ward/Antrim_Road/956812/

newspaper clipping from Nigel Henderson :)
Elsie Alexander Pollock, Sister U.V.F. Hospital, Belfast, Daughter of Rev. John Pollock, Belfast
http://freepages.genealogy.rootsweb.ancestry.com/~econnolly/rohpci/rohdaughters.html
1910
Antrim Road
Glandore Park
441. Pollock, Rev. Jno. (minister of St. Enoch's Presbyterian Church)

1918
Carlisle Circus
Clifton Street to Crumlin Road
..........Clifton Street intersects
St. Enoch's Presbyterian Church - Minister, Rev. John Pollock, 7 Glandore Park

This is what the Memorial Stone looked like before it was cleaned, it is grey marble so it is still badly stained by the fire at St. Enoch's Church, it was to be scrapped except for the badge which was cut out of it, I assume the corner broke when it was thrown out. Thanks to Alan Curragh of the Great War Forum and the Inst in the Great War site Paul is now included on the Commonwealth War Graves Commission site.

********************

Christopher William Kitchen (Canadian) and George Merry Johnston
the names are on the back of this water colour painting, its unframed and it says (Canadian) beside Kitchen's name,
it also says Gilt Frame, Hair Brown and Eyes (illegible) and a name which looks like Miss or Mrs. M ?????

:o) and we have a family for these gentlemen:- Hi, I found your page after searching for my uncle Christopher Kitchen Johnston. His father was George Merry Johnston, as in the painting. It's a very good likeness of him. Christopher William Kitchen was married to my great aunt Mary, known in the family as Minnie. Minnie was George's sister and as far as I can tell she was widowed in the first world war and never married again, not only were they "Brothers in Arms" but Brothers in Law as well. From what I've been given to understand about Christopher William Kitchen, he was an aviator as his widow got a Canadian Air Force pension, so I suspect that he either flew with the Royal Flying Corp or the Canadian equivalent - Alan Johnston
********************


The information on the photo is "Killed in Action 2nd July 1916" and on the back it says "Mrs. Shaw, 28 St. Leonard Street", the street directories tell me that William is still alive through to 1936 and the Census lists a mother, father and son at that address so I'm assuming this is Andrew Shaw, son of William and Isobel/Isabella Shaw
28 St. Leonard Street, Belfast
from the street directories

1901
not listed in St. Leonard Street

1907 to 1936
St. Leonard Street
28. Shaw, William, labourer

1939 to 1941
St. Leonard Street
28. Shaw, Isobel

in 1942 no's 20 to 60 are vacant, bombed? all are occupied in 1941

from the Census
1901 - 109 St. Leonard Street
Shaw Isabella 24 Female Head of Family Church of Ireland Co Down - Read and write - Married
Shaw Andrew 4 Male Son Church of Ireland Co Down Scholar Cannot read - Not Married

1911 - 28 St. Leonard Street
Shaw William John 38 Male Head of Family Presbyterian Co Down General Labourer Read and write English Married
Shaw Isabella 38 Female Wife Presbyterian Co Down - Read and write English Married
Shaw Andrew 14 Male Son Presbyterian Belfast Apprentice Tailor Read and write English Single - - - -
I can't find him in CWGC, the ages don't match
********************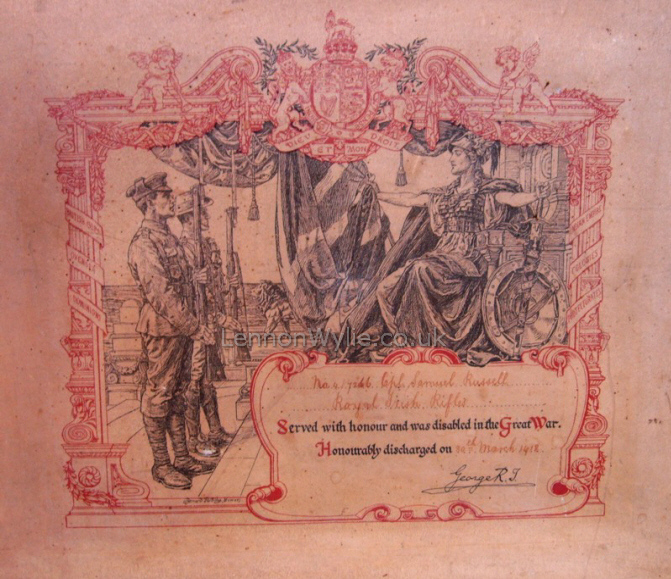 No. 4/7266 Cpl. Samuel Russell - Royal Irish Rifles
Served with honour and was disabled in the Great War. Honourably discharged on 30th March 1918
Medal Index Card
extra information sent to me by Steve :o)
No. 4/7266 Cpl. Samuel Russell - Royal Irish Rifles - What you have there is a King's Scroll which was issued with some, but not all of the Silver War Badges. - Officially called... KING'S HONOURABLE DISCHARGE CERTIFICATE


http://blencowesww1.blogspot.co.uk/2013/08/the-silver-war-badge.html
Medal Card and Silver War Badge Roll


Samuel enlisted 24th August 1914 he entered France 1st August 1915 he was discharged because of wounds 30th March 1918
thank you Steve :o)
********************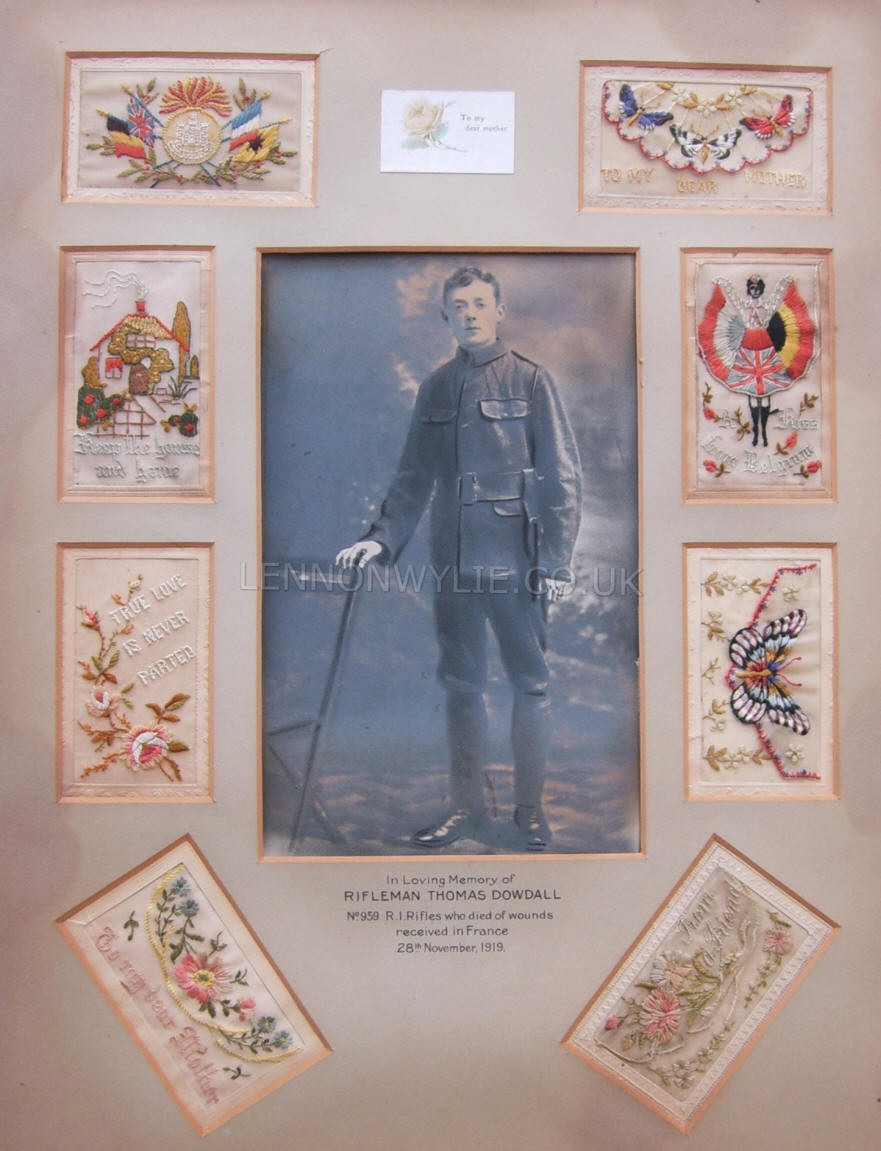 In Loving Memory of Rifleman Thomas Dowdall No. 959 R.I.Rifles who died of wounds received in France
28th November 1919
********************


Bird, Pte. Francis, 14022. 11th Bn. Royal Inniskilling Fusiliers. 1st July 1916. Age 19. Son of Francis Bird,
of Sandhill, Derrygonnelly, Enniskillen, Co. Fermanagh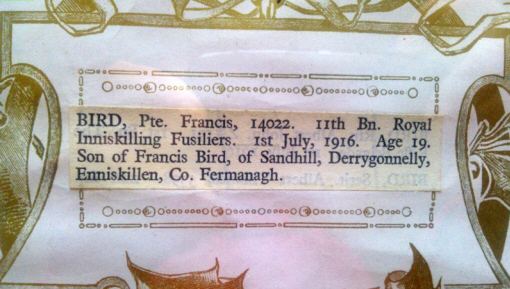 ********************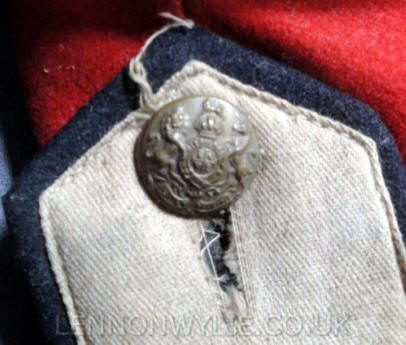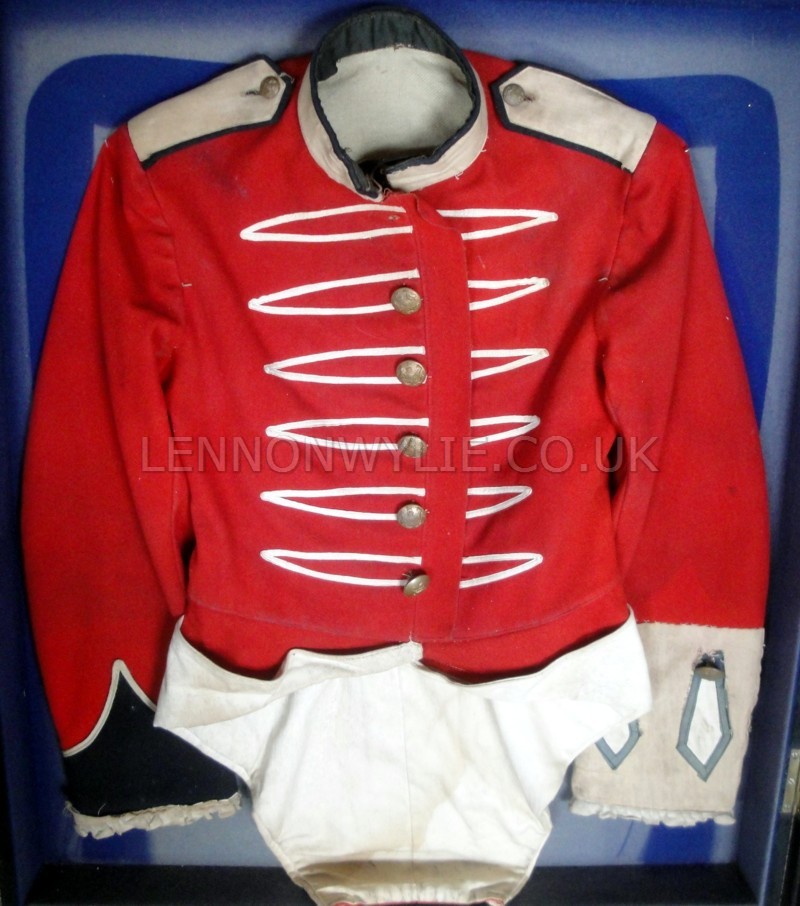 Mackie family (engineering) Springfield Road, Belfast
********************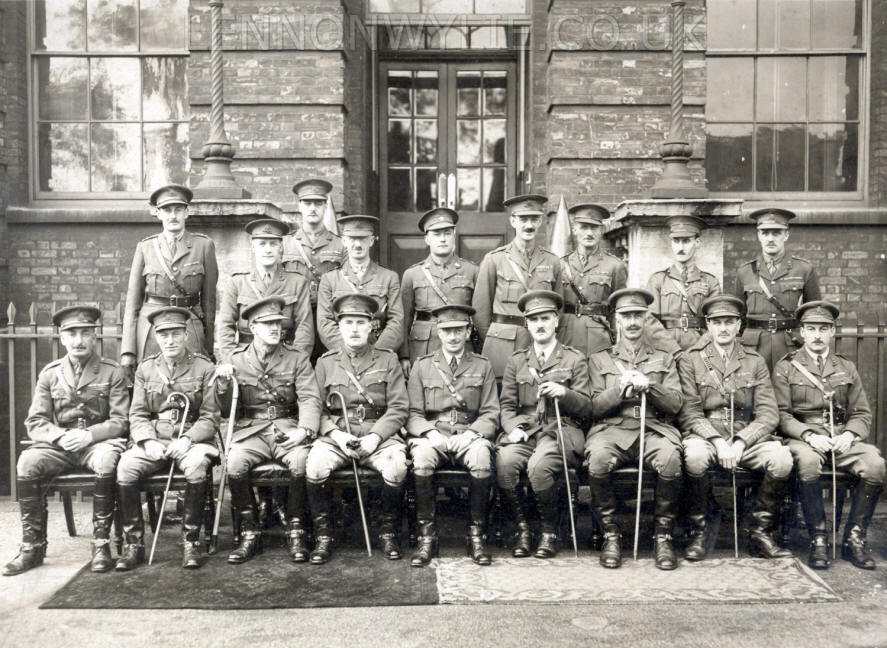 on back: Royal Artillery, Received January 1926, Officers of my son's Battery, ? Moorhead, 29 Mespil Road, Dublin
********************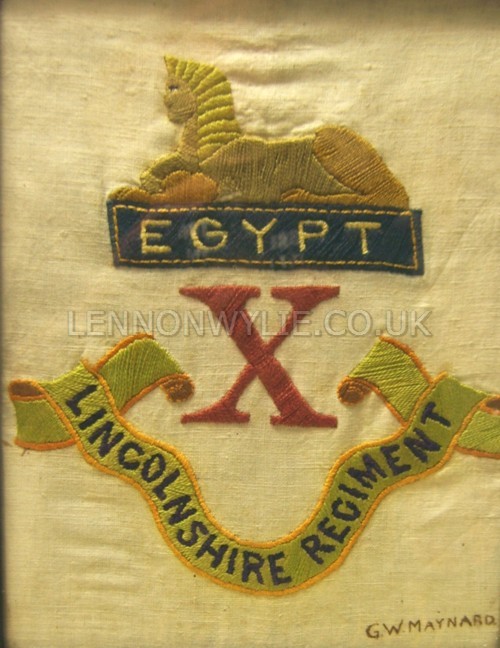 Embroidery - Egypt Lincolnshire Regiment G. W. Maynard
********************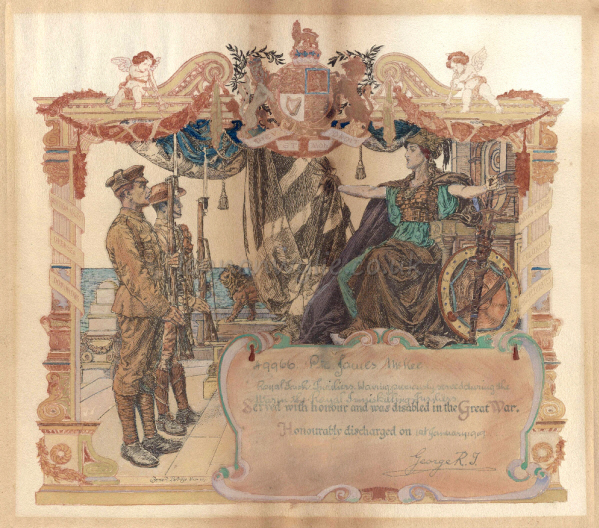 James McKee
40066 Pte. James McKee, Royal Irish Fusiliers
Having previously served during the War in the Royal Inniskilling Fusiliers.
Served with honour and was disabled in the Great War.
Honourably discharged on 1st January 1919
********************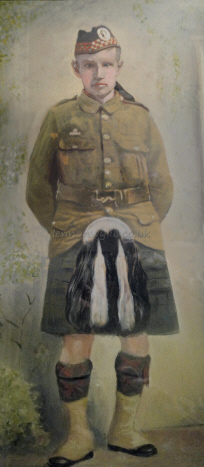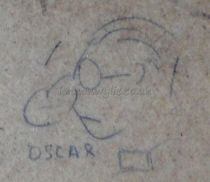 Pte. Edwin Parker
4242 Pte. E. Parker Sea. Highrs. (Seaforth Highlanders)
a doodle on the back of the photo 'Oscar'
********************
********************
********************




********************
further information
A

Lambeg

cane ?, because of the curve ? :):), that's a good piece of creative thinking :):), but no, it's not a Lambeg cane, but it does have one thing in common with a Lambeg cane, they're both usually made from malacca aka rattan bamboo.

It should be straight, it's merely become warped with age, but doubtless a restorer could easily straighten it.

No, it's a British Army officer's swagger stick which was owned by an officer in the Worcestershire Regiment,

and it dates from 1923 to 1970.

The Worcestershire Regiment was formed in 1881 from an amalgamation of the 29th (Worcestershire) Regiment of Foot and the 36th (Herefordshire) Regiment of Foot.

The stick is probably worth about £25 to £50 pounds, but even with it's post 1923 date it might be worth a lot more on the American market, because of it's indirect connection with the 29th Regiment of Foot because it was members of the 29th Foot who fired the shots in the Boston Massacre in 1770, the 29th Foot was retitled in 1782 as the 29th (Worcestershire) Regiment of Foot.

The badge of the Worcestershire Regiment was created in 1881 by combining the Order of the Garter Star and the honi sois qui mal y pense motto in the Garter Star scroll from the 29th (Worcestershire) Regiment of Foot with the regimental motto "Firm" and the Royal Lion from the 36th (Herefordshire) Regiment of Foot.

In the 1881 design there was a scroll underneath the badge which contained the word Worcestershire, above that scroll the word Firm was inscribed on a rectangular pedestal which was attached to the bottom point of the Garter Star, the Garter Star and the Garter scroll was circular and the Lion was inside the Garter scroll and was not standing on a pedestal.

In April 1923 Royal permission was granted to change the design of the badge, the circular Star was changed to the elongated star shape of the Garter Star and the Garter scroll became oval in shape, the motto Firm and it's pedestal was moved inside the Garter scroll and the Lion was now depicted standing on the motto pedestal, the scroll containing the word Worcestershire underneath the star was removed.

Your stick has the 1923 design, which was in use until the Worcestershire regiment was amalgamated in 1970.

In 1970 the 1st Bn, the Worcestershire Regiment was amalgamated with the 1st Bn. the Sherwood Foresters (Nottinghamshire and Derbyshire Regiment), to form the 1st Bn. the Worcestershire and Sherwood Foresters Regiment (29th/45th Foot).

In 2004 the 1st Bn. the Worcestershire and Sherwood Foresters Regiment (29th/45th Foot) was amalgamated with the Cheshire Regiment and the Staffordshire Regiment and the 1st Bn. the Worcestershire and Sherwood Foresters Regiment became the 2nd Bn. the Mercian Regiment (Worcesters and Sherwood Foresters), from 2008 2nd Bn. the Mercian Regiment (Worcesters and Sherwood Foresters), became based in Palace Barracks near Hollywood in Belfast, and so your stick has almost returned to it's original regiment.

There is a possible candidate for who the original owner of the stick might possibly have been, and I emphasise might and possibly :):), and he did have an Irish military connection.

General Sir George Alexander Weir KCB, CMG, DSO (1st December 1876 - 15 November 1951).

In June 1915, he was appointed as C.O. of the 2nd Battalion Royal Irish Rifles, he was Honorary Colonel of the 8th Bn. the Worcestershire Regiment (Territorial Army) from June 1938 to December 1946.

I wonder if perhaps he might have presented his stick to the Royal Irish Rifles as a memento. ?