'Unknown Questions' click below each section for answers
BANGOR BELFAST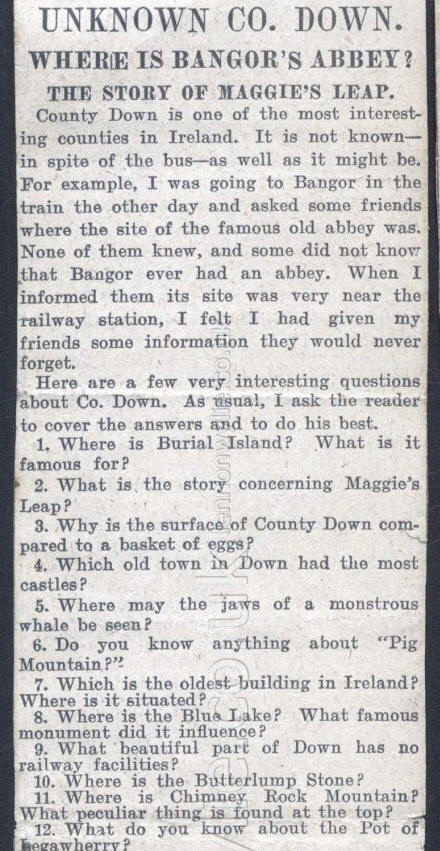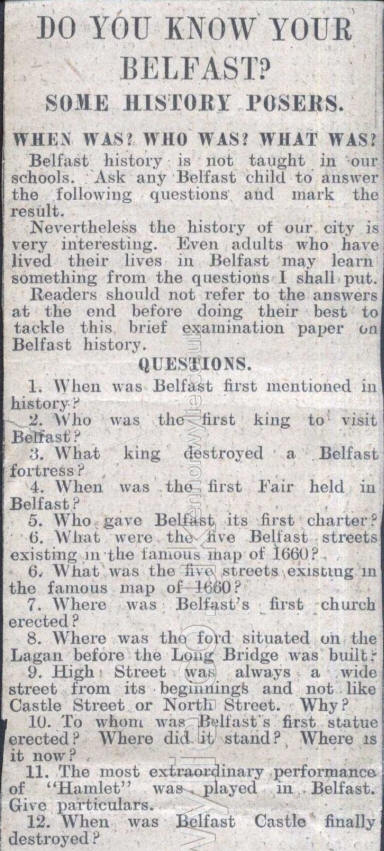 ANSWERS click to enlarge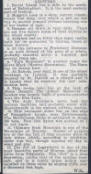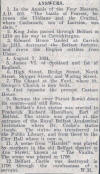 LOCAL KNOWLEDGE CO. DERRY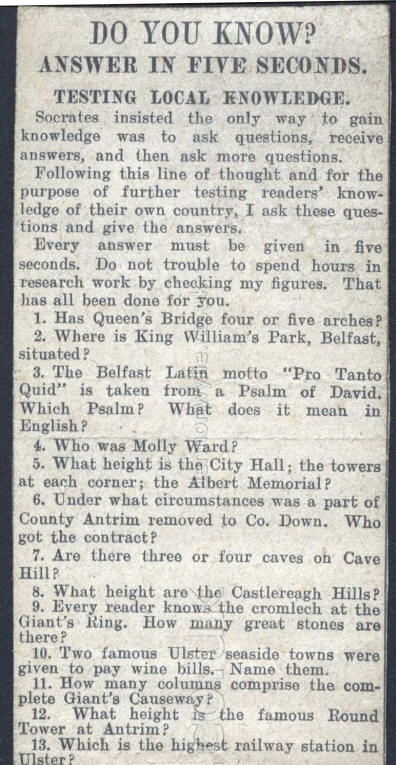 ANSWERS click to enlarge



CO ARMAGH ULSTER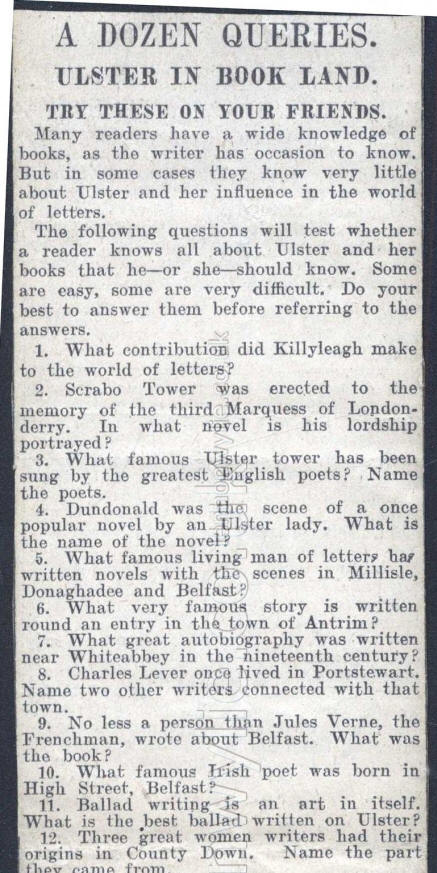 ANSWERS click to enlarge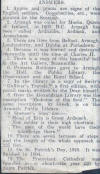 CO ANTRIM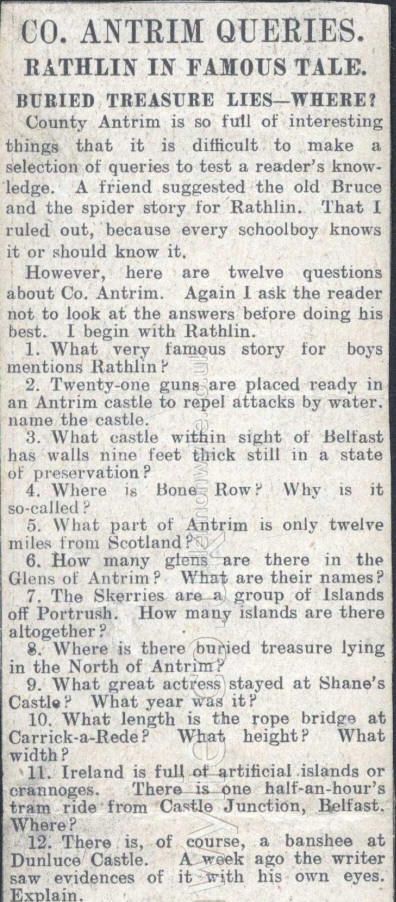 ANSWERS click to enlarge
~~~~~~~~~~~~~~~~~~~~~~~~~~
FUNNIES?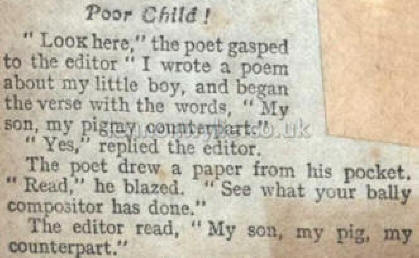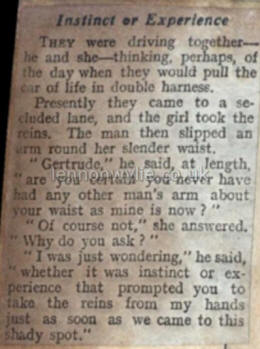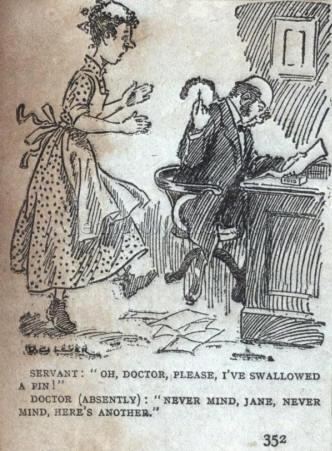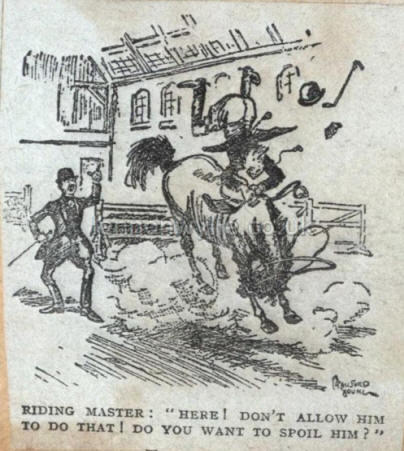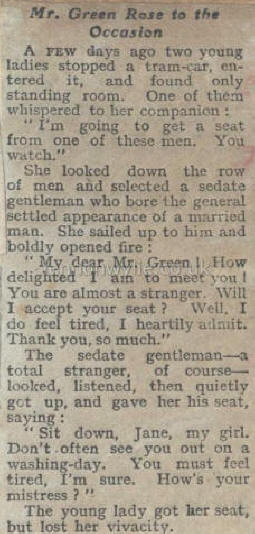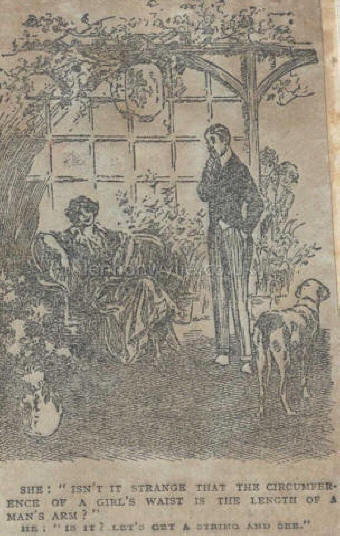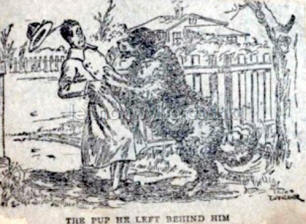 The Pup he left behind him
~~~~~~~~~~~~~~~~~~~~~~~~~~
Births, Deaths, Marriages
MARRIAGES
Campion - Ryan - December 26, 1918, at Holy Rosary Church, Belfast, by the Rev. Father Crickard P.P., V.F., William, the second son of Patrick Campion; Belfast, to Agatha, youngest daughter of P. Ryan, 58 Agincourt Avenue, Belfast (Nuptial Mass)
Ginniff - Watt - June 5, 1918, at Great Victoria Street Baptist Church, Belfast, by Pastor H. Turner, John, eldest son of Mr. and Mrs. Ginniff, "Mossvale," Ballyvarley, Banbridge, to Margaret, second daughter of the late Mr. Andrew Watt, Cookstown, and Mrs. Watt, 51 Balfour Avenue, Belfast
Mackie-Hayes - September 15, at the Crescent Presbyterian Church, by the Rev. John McIlveen, B.A., Andrew, youngest son of Mr. Alexander Mackie, Rickamore, Templepatrick, to Matilda Jane (Cissie), second daughter of Mr. Robert Hayes, Belfast, and granddaughter of the late Mr. Robert Hayes, Hillhouse Farm, Holywood
Marshall-Crawford - October 26, at the Donegall Square Wesleyan Methodist Church, Belfast, by the Rev. Wm. Guard Price, Samuel John, son of Mr. William Marshall, to Agnes, daughter of Mr. Edward Crawford, both of Belfast
BIRTHS
Taylor - Low Fell, 13 or 15 Beaconsfield Road, June 14th, to Mr. and Mrs. W. Taylor (nee Mary Walker), a daughter (no date but other clippings on same page all 1920's)
Yeates - August 18, 1923, at 112 Ormeau Road, Belfast, to Mr. and Mrs. Hugh Yeates - twin daughters

BAPTIZED
Beattie - May 17th, John, son of John Beattie, 28 Wesley Street
Beatty - August 28, Matilda Jane Beatty, 12 Zetland Street
Beattie - 17 (date unclear) Wm. Theseus Beattie, 42 Balfour Avenue
DEATHS
If you and I should say good-by, O friend of many years, Grief's sanctity too deep would be, For words or tears!
The knell that rings, the sob that springs, From our riven heart, When memories march in long defile, Would find expression in a smile - If we should part!
Alderdice - March 9, 1919, at her residence, 53 Balfour Avenue, Belfast, Margaret, the beloved wife of James Alderdice (late of Lurgan). Interred in City Cemetery
Angus - May 6, 1920, at his residence, Portavo, Donaghadee, William Angus. The remains of my beloved brother will be removed from his late residence for interment in Bangor New Cemetery on Saturday 8th inst. John Angus, 136 Hillmount Street, Belfast; Dearly and much loved Uncle of Sarah and William Angus Campbell and Nellie Angus.
Armstrong - February 15, 1919, (suddenly), at the Royal Victoria Hospital, Belfast, Annie Florence (Florrie), dearly-beloved wife of William Watson Armstrong. Funeral from her residence, 41 Fernwood Street, Interred in City Cemetery. Deeply regretted by her sorrowing Grandfather and Grandmother, also Uncles and Aunts, 53 Balfour Avenue; also her sorrowing Brothers and Sisters, Jim, Bob, Maggie, May, and Jennie Crozier
Baird - Boys of the Belfast Boy Scouts' Association, 7th Belfast Troop Boy Scouts and Brother Scouts are requested to attend the funeral of their late Brother, Scout William Baird, at the Union Infirmary, Lisburn Road. R. G. Sloane
Baxter - February 10, 1920, at her father's residence, 187 Sandy Row, Esther, beloved wife of Robert Baxter. Interred at Dundonald Cemetery. Deeply regretted by her Husband Robert Baxter; Daughter of Thomas and Rachel Mawhirt, also her Brothers and Sisters
Beattie - November 14, 1915, Rifleman Samuel Beattie, D Company, 8th Batt. Royal Irish Rifles (Ulster Division) (East Belfast Volunteers), of 50 Shaftesbury Avenue, Belfast, killed in action in France, dearly-beloved husband of Minnie Beattie, 20 Mornington Street, Belfast. Deeply regretted by his sorrowing wife and child; The Officers and Members of Bakers' L.O.L. No. 245 deeply regret the loss of our esteemed Member, John Currie, W.M. & William J. Gordon, Secretary; Beloved Son of James and Jane Beattie, 5 Shaftesbury Avenue, Belfast (see photo and newspaper article)
Beattie - December 28, 1933, at her residence, 50 Shaftesbury Avenue, Jane, beloved wife of James Beattie. Interred in City Cemetery
Blakely - June 30, 1948 (suddenly), Jane, (Jean) (Jeanie) dearly-beloved only daughter of Alfred and the late Fanny Blakely, 1 Killeaton Cottage, Wright's Road, Dunmurry. Funeral from her cousin's residence, 2 Fair's Row, Stewartstown Road, Dunmurry to Derriaghy Churchyard. Deeply regretted by her sorrowing Father; also Robert and Sarah McClelland and Family; also Aunts, Uncles, and Relatives - Sadly missed by her chums at Collin Glen - Directors and Staff of the Producers Bacon Co. (Collin Glen), Ltd., Dunmurry, regret the death of their esteemed employee and express their sincere sympathy, W. G. Gubbins, Manager - Collin Glen Social Club, David Gibson, Chairman
Cooke - July 25, 1924 (suddenly), James Cyril Cregan, the third son of William and Helena A. Cooke, and grandson of the late Thomas Lowry (Builder). The remains of our dearly-loved son will be removed from his parents' residence, 10 Lomond Avenue, Strandtown, on Monday, 28th July, 1924, at 2.30 p.m., for interment in Dundonald Cemetery. Friends will please accept this (the only) intimation
A loving son and brother, true and kind, Missed by those he left behind.
Forget him, no, we never will, As years roll on we love him still.
Deeply regretted by his sorrowing Father and Mother William and Helena A. Cooke, Also his brothers (Howard, Norman, and Stanley)
Cousins - February 13, 1924 (accidentally drowned), at Ghent, Belgium, Wilfrid Taylor Cousins, 35 Portallo Street, Belfast. Interred in family burying ground, Donaghadee, Margaret Cousins; Elder son of William Cousins, 13 New Street, Donaghadee
Craig - September 24, 1918, at her residence, 21 Elm Street, Agnes Craig (see newspaper article)
Dickson/Dixon - June 10, 1922 (result of an accident), John Alexander, youngest and dearly-loved son of John and Isabella Dixon, 167 Ormeau Road; Ballynafeigh Guiding Star L.O.L. 597. Dickson - The Officers and Members of above Lodge and other Brethren are requested to attend the funeral of the son of their highly-esteemed Brother, James Dickson. F. Robinson, W.M. & J. Patterson, Secretary (see Newspaper Article)
Dowling - June 24, 1928, at her residence, 6 Oban Street, Mary Dowling. Interred in Lisburn Cemetery. Deeply regretted by her loving Daughter and Son-in-Law William & Margaret Coleshill, 27 Napier Street, Belfast; Son and Daughter-in-Law James and Cassie Dowling
Elder - July 3, 1918 (suddenly), at the Hospital, Lisburn Road, Samuel, the dearly-beloved husband of Annie Elder. Interred in City Cemetery. Deeply regretted by his sorrowing Wife and Family Annie Elder; Central Fire Station, Chichester Street, Belfast; The Salvation Army, M'Tier Street, Salvationists, Bandsmen, and friends are requested to attend the funeral of their late Comrade, Br. Samuel Elder, Capt. Seal and Lieut. Day, C.O. & S Williamson, C.S.M.; Municipal Employees Association, Belfast Branches.
Ellison - March 16th, 1919, at his father's residence, 65 McClure Street, Belfast, Robert James, eldest and beloved son of Robert and the late Mary S. Ellison. Interred in the family burying-ground, Second Saintfield. Robert Ellison
Greer - June 1, 1934, at 124 Dover Street, Rose, relict of William Greer (nee Davey) - R.I.P. Mary Milligan, also Kathleen, John and Annie Milligan
Hampton - February 12, 1918, at his residence, 44 Balfour Avenue, Alexander Hampton. Interred in City Cemetery. Son, Alexander Hampton
Hayes - November 19, at Ballymaconaghy, Newtownbreda, Belfast, Hugh, husband of Margaret Hayes
Hayes - May 15, 1927, at her residence, Ballymaconaghy, Cregagh, Margaret, widow of the late Hugh Hayes. Deeply regretted by Thomas Hayes
Hayes - March 27, 1915, at her residence, 68 Balfour Avenue, Belfast, Gertrude (Gerty), third and beloved daughter of Robert and Lizzie Hayes. Interred in City Cemetery. Robert and Lizzie Hayes
Hayes - April 18, 1915, at his residence, 68 Balfour Avenue, Belfast, Robert, the beloved husband of Lizzie Hayes. Interred in the City Cemetery. Lizzie Hayes
Hayes - July 19, 1915, at Hill House, Holywood, Jane Verner Hayes, widow of the late Robert Hayes. Interred in family burying-ground, Holywood. William V. Hayes
Hayes - December 14, at No. 1? Holmes Street, and Bruce Street, suddenly, Robert Hayes, eldest son of the late Robert Hayes, of Hillhouse Farm, Holywood, for over 36 years in the employment of W. R. Hill, Engraver, Queen Street. Interred in the City Cemetery. A loving husband and a fond father. Deeply regretted by a loving wife and sorrowing children. M. J. Hayes
Hayes - July 27th, at his residence Hill House, Holywood, Robert, aged 65 years, beloved husband of Jane Hayes, Interred in Holywood Burying-ground
Hayes - November 25, 1915, at Hill House, Holywood, Jane Verner, beloved daughter of William and Lydia Hayes. Funeral to Holywood Cemetery. William Hayes
Hayes - May 2nd, at 1 Holmes Street, Matilda Jane, relict of the late Robert Hayes. Interred in the City Cemetery. Robert & Mary Hayes
Hayes - November 23, 1933 (suddenly), at the residence of her son, 16 Castlereagh Parade, Theresa, widow of John Hayes (late of Holywood, Co. Down). Interred in the family burying-ground, Holywood. Norman Hayes
Heggan - April 5, 1922 (killed in motor accident), William Heggan ("Billy"), 50 Manor Street, Donaghadee. Interred in Donaghadee Burying Ground. Inserted by his loving Uncle and Aunt and Family. Daniel and Annie Ferguson (Newspaper Story)
Hughes - May 5, 1925, (suicide) at his residence, 108 Donnybrook Street, Horace Winton Hughes, beloved Husband of Edith Hughes. His remains will be removed for interment in Carnmoney Cemetery at 1 p.m., on to-morrow (Thursday) (see newspaper article)
Humble - February 7, 1925, Rebecca, the dearly-beloved wife of James Humble, 144 Agincourt Avenue, Belfast. Deeply regretted by her sorrowing Husband and Son
Jamison - December 26th, 1925, at her residence, 7 Tierney Street, Belfast, Louisa Jamison. Interred in Dundonald Cemetery. Deeply regretted by her Son and Daughters, also Edward Adams.
Johnston - August 24, 1928, suddenly at the Royal Victoria Hospital, Joseph, dearly beloved husband of Elizabeth Johnston. Residence 8 Bentinck Street. Interred City Cemetery. Deeply regretted by his sorrowing Wife and Family, Elizabeth Johnston; Cooke's Defenders L.O.L. 609, Robert Carson, W.M. & Hugh Radcliffe, Secretary; Boiler Makers and Iron and Steel Shipbuilders - Belfast branch No. 3, J. Biggar, President & N. McKelvie, Secretary
Jordan - November 4, 1918, at 44 Hardcastle Street (of pneumonia), Willie, the youngest and dearly-beloved son of Wm. and Sarah Jane Jordan. Interred in Parish Churchyard, Downpatrick. Wm. and Sarah Jane Jordan. Dearly-beloved brother of Johnston (on active service) and Louisa M. J. Jordan. Nephew of John Johnston. Dearly-beloved Nephew of David H. and Susan Johnston, 10 Tate's Avenue, Belfast. The Officers and Members of William III Temperance L.O.L. 369 are requested to attend the funeral of their late Brother wm. Jordan (D.M. elect.), R. J. McCance, W.M. & A. H. McCance, Secretary. Queen Victoria Masonic Lodge No. 294. Eugene Courtenay, W.M. & James A. Bleakley, P.M., Secretary
Jordan - April 20, at 5 Gosford Street, Nellie, dearly-beloved infant daughter of James G. and Margaret Jordan
Jordan - August 3, 1933, at the Infirmary, Lisburn Road, Belfast, Matilda Jane (Cissie), dearly beloved wife of Harry Jordan. Residence 21 Erin Street. Interred in City Cemetery, Harry Jordan; Sisters Lily and Gretta
Kearney - March 13, 1927, at his residence, 1 Princess Gardens, Donaghadee, William, dearly loved husband of Agnes Kearney
Kerr - August 24, 1928, at her residence, 9 (paper ripped, no more info)
Lane - May 30, Lance-Corporal S. Lane, Irish Guards, died in France of wounds received in action. 11 Coolderry Street, Belfast (photo)
Lavelle - May 24, 1918, at the residence of her mother, 5? Cooke Street, Florence (Florrie), youngest and beloved daughter of Mary and the late Charles Lavelle - R.I.P. Interred in Milltown Cemetery. Deeply regretted by her sorrowing Mother, Brother and Sister
Maddison - March 12, 1930, at 2 Fitzroy Avenue, Roland J. G., the beloved husband of Isabella Maddison. Interred in City Cemetery. Sadly missed by his sorrowing Wife Isabella Maddison
Marshall - 16 August 1917, Lance-Corporal Fred. W. Marshall, Royal Inniskilling Fusiliers, 46 Fifth Street, Belfast, Wife G. Marshall, Lisbellaw, Co. Fermanagh (another listing says 66 Selby Street, Belfast) (photo below)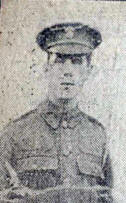 Marshall - February 28, 1931, at Ardiles, Chichester Park, Belfast, T. E. Crawford, dearly-loved son of S. J. and Agnes Marshall
Marshall - April 24, at 35 Ponsonby Avenue, Belfast, Wesley Dinsdale, youngest and dearly-beloved child of S. J. and Agnes Marshall, aged 10 months. Interred in Mallusk Burying-ground
Marshall - June 18th, at Toronto, Canada, Charles Marshall, L.P.S.I., fifth son of the late William Marshall, Belfast (newspaper article)
Marshall - August 26, at 10 Ball's Buildings, Lawrence Street, Mary, relict of the late William Marshall. Interred in the City Cemetery
Marshall - March 25, at 44 Hamilton Street, Belfast, Frederick Alexander, youngest son of William Marshall, aged 11 years. Interred in the Borough Cemetery
Marshall - May 24, at the residence of his father, 39 Hamilton Street, Belfast, Thomas, fifth son of Wm. Marshall, ages 22 years. Interred in the Borough Cemetery
Marshall - David, 20 years (see newspaper article)
Martin - (not a death notice) In the Goods of Hugh Martin, late of Linenhall Street, and Newtownards, Carrier, Deceased. Solicitor, Newtownards T. C. G. Mackintosh
McCrudden - February 27, 1919, at his residence, 132 Balfour Avenue, John, the beloved husband of Mary McCrudden. Interred in City Cemetery. Deeply regretted by his sorrowing Wife and Daughters. also listed as McCudden, second son of the late John and Sophia McCudden, Ballynafeigh. Interred in City Cemetery. Deeply regretted by his Sisters, Mrs. J. Woods and Mrs. T. G. Brittain.
McCullen - January 13, 1924, at his residence, 6 Balfour Avenue, Robert McCullen. Interred in Saintfield Churchyard. Deeply regretted by his sorrowing Daughter and Son-in-Law Margaret and Samuel Cairns
McKee - June 6, 1924, at her parents' residence, 41 Balfour Avenue, Hannah, the youngest and dearly-beloved daughter of John and Eliza McKee. Interred in the City Cemetery. Deeply regretted by her sorrowing Father and Mother, Brothers and Sisters
McNamara - October 4, 1919, at his daughter's residence, 25 Napier Street, John McNamara (late Old Belfast Street Tramway Co.). Interred City Cemetery. Inserted by his loving Son and Daughter-in-Law Hugh and Lizzie McNamara, 14 Moore's Place; Son and Daughter-in-Law Walter and Mina McNamara, 9 Temple Street; Daughter Agnes Moorehead; Son Richard J. McNamara. (Newspaper Tribute)
Meehan - March 4, 1924, at the Infirmary, Lisburn Road, Kathleen, the beloved daughter of Patrick and Jane Meehan (Whiteabbey) Deeply regretted Patrick and Jane Meehan
Mitchell - November 28, 1919, at his fathers residence, 175 Albertbridge Road, David Millar Mitchell, ages 11 months. Interred Duneane Presbyterian Churchyard
Mitchell - November 28, 1919, at Railway Street, Antrim, Bob Mitchell. Interred New Cemetery, Antrim
Murray - February 22, 1924, at the Royal Victoria Hospital, Belfast, Robert (Rab) Murray. Residence, 8 Dromara Street, Interred in City Cemetery (see newspaper article)
Nicholl - June 13, 1917, at her father's residence, 52 Balfour Avenue, Margaret, the dearly-beloved daughter of George and Sarah Nicholl. Interred in City Cemetery
Nicholl - November 8, 1920, at her parents' residence, 52 Balfour Avenue, Florence (Florrie), the youngest and dearly-beloved daughter of George and Sarah Nicholl. Interred City Cemetery; Inserted by her loving Sister and Brother-in-Law Lily and William Hayes, 6 Powerscourt Street
Patterson - December 17, 1923, at his parents' residence, 46 Balfour Avenue, Andrew, youngest son of David and Mary A. Patterson. Interred in First Saintfield Burying-ground. Inserted by his sorrowing Father, Mother, and Brothers
Preston - December 27, 1915, at her parents' residence, 35 Erin Street, Belfast, Ethel (aged 7 years and 8 months), youngest and dearly-beloved daughter of William and Annie Preston. Interred in Ballylesson Graveyard. Deeply regretted William and Annie Preston
Ryan - June 15, 1918, at Cookstown Hospital, Sergt. Timothy S. Ryan, R.I.C., Stewartstown, the dearly-b3eloved husband of M. Ryan and second son of P. Ryan, 58 Agincourt Avenue, Belfast. R.I.P. Funeral (by motor), arriving at Milltown Cemetery. M. Ryan
Sinclair - April 18, 1919, at her residence, 78 Haypark Avenue, Margaret, widow of the late Johnston Sinclair (formerly of Stranmillis). Interred in the family burying-ground, Dromore. Son James Sinclair. Also her Daughters, Sons-in-Law, and Grand children
Stafford - February 13, 1924, at her residence, 29 Erin Street, Elizabeth, beloved wife of James Stafford. Interred in Newtownbreda Cemetery
Stevenson - November 23, 1917, at his father's residence, 57 Balfour Avenue, Richard (wee Dickie), elder and dearly-beloved son of Richard and the late Mary Stevenson. Funeral to Dromore Cathedral Churchyard. Deeply regretted by his sorrowing Father, Sister? and Brother. Also Aunt. Richard Stevenson
Udemans - On the 27th inst., at 1 Stowe Street, Salt River, Myra Bertha, beloved wife of Edmund Udemans, aged 25 years; deeply mourned.
Udemans - On the 18th instant, at Diakones Hospital, Godfried Daniel, the beloved husband of Rebecca Udemans (nee Watkins), aged 73 years. Deeply mourned by his sorrowing Wife, Sons, Daughters, and Grandchildren. Funeral to-day (Saturday), at 2.45 p.m., from 1 Stowe Street, Salt River, for Maitland No. 1 by rail. Relatives and friends invited kindly to attend; S.A.I.O. Mechanic and Fidelity Society, Members of the Lodge are requested to attend the funeral of the late Bro. Udemans at 2.45 p.m. to-day for Woltemade No. 1. T. P. Beukman, N.G.
Wilson - Wa??ey Colliery, 91 Waggonway Street, died May 1st, Jane, beloved wife of Wm. Wilson. Interred at Heworth
Wright - Gateshead, 31 Southey Street, 10th inst., aged 50 years, Lydia, beloved wife of George Wright. Interment Gateshead Cemetery October 12th.
Yeates - August 30, 1923, at her residence, 112 Ormeau Road, Ida, dearly-beloved wife of Hugh Yeates. Interred in Dundonald Cemetery; Aunt Elizabeth Hunter
In Memory
Beattie - In loving memory of my wife, Annie McKee Rush, who died at Glasgow on 12th November 1918. Inserted by her husband James Beattie
Hayes - In fond and loving memory of my dear husband, Robert Hayes, who died on 18th April, 1915; also my dear daughter Gertie, (Gerty), who died on 27th March, 1915, and were interred in City Cemetery. Lizzie Hayes, 68 Balfour Avenue
Hayes - In sad and loving memory of our dearly-beloved father, Robert Hayes, who died (suddenly) at his residence, Bruce Street, on the 14th December, 1899, and was interred in the City Cemetery. By his loving daughters M. Mackey, L. Beattie, Gretta Hayes, 12 Zetland Street
Humble - In loving memory of my dear wife, Rebecca, who passed away 7th February, 1925, and was interred in the City Cemetery. Ever remembered by her loving Husband and Son. James and J. Humble (Late 144 Agincourt Avenue)
Jordan - In loving memory of our dear sister, Matilda J. (Cissie), who died 3rd August, 1933, at Lisburn Road Hospital, and was interred in City Cemetery, Sadly missed by her sorrowing Sisters, Lillie and Gretta (1934 & 1935)
Kearney - In sad and loving memory of my dear father, John Kearney; also my dear mother, Mary Kearney, who departed this life on 12th March, 1909, and were interred in City Cemetery. Son William Kearney
Marshall - In sad and loving memory of my dear mother, Mrs. Marshall, who died at her late residence, 10 Ball's Buildings, Laurence Street, on the 26th of August, 1895, and was interred in the City Cemetery. Her loving daughter, M. J. Hayes, 44 Auburn Street
Nicholl - In loving and affectionate remembrance of our dear daughter, Margaret, who departed this life on 13th June, 1917, and was interred in City Cemetery. Deeply regretted by her loving Father, Mother and Sisters, 52 Balfour Avenue
Ryan - September 24, 1918, at his father's residence, 58 Agincourt Avenue, William, third son of Patrick Ryan
Stafford - In loving memory of wee Jim, who departed this life on April 5, 1922, and was interred in Dundonald Cemetery; also his mother, Lizzie, died February 13, 1924, and was interred in Newtownbreda Churchyard. Ever remembered by James Stafford, 29 Erin Street, also Mr. and Mrs. Bingham and Family, 69 Apsley Street
Thanks
Hayes - Mr. and Mrs. Robert Hayes and Family desire to return sincere thanks to all the kind friends who sympathised with them in their sad bereavement, and express thanks to the employs of Messrs. McLardy, her playmates, and other kind friends for their beautiful wreaths, floral tributes, etc. Trusting this acknowledgment will be accepted by all. 68 Balfour Avenue, Belfast, 2nd April, 1915
Udemans - Mrs. R. G. Udemans and Family wish to express their most grateful thanks to the doctors, sisters and nurses of the Diakones Hospital, relatives and friends for telegrams, floral tributes and tokens of sympathy in their sad bereavement.
~~~~~~~~~~~~~~~~~
SPORTS CLIPPINGS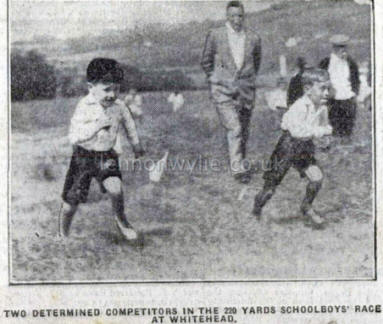 Final of the 220 Yards Race Two determined competitors in the 220 yards
Schoolboys' Race at Whitehead



Left - W. Beattie (with dark jersey) winning the boys' race from A. Cuthbertson
Centre - Second heat of 220 yards flat, Sergeant J. Hayes winning from Special Constable J. Milliken
Right - Josephine Walker (right) winning from Sadie Crosby (Northern Whig)
AT THE FINISH by Elias Lieberman
It is easy enough to make a start, With muscles tense for the deed;
It is easy to run at the crack of a gun, When the legs just ache for speed;
But the test of a man is the finish line; His heart must bear the brunt,
The crucial hurt of the final spurt, To breast the tape in front.


Belfast News-Letter, Monday, July
Left - Masters Beattie and Cuthbertson, who were first and second respectively in the boys' race

In spite of the strength that has ebbed away, Like waters that pass a mill,
Your brawn and nerve must be ready to serve, At the trumpet blast of your will;
You must hurl yourself at the spanning tape, Like a bolt on a storm-lashed sea,
For the prize is the goal of your longing soul - A game man's victory



CLICK to enlarge
C1 Division Sports in Belfast
Athletic and cycling sports were held at the Balmoral show grounds on Saturday under the auspices of the Belfast Division of the C1 Special Constabulary. Nearly all events were confined to members of the constabulary forces.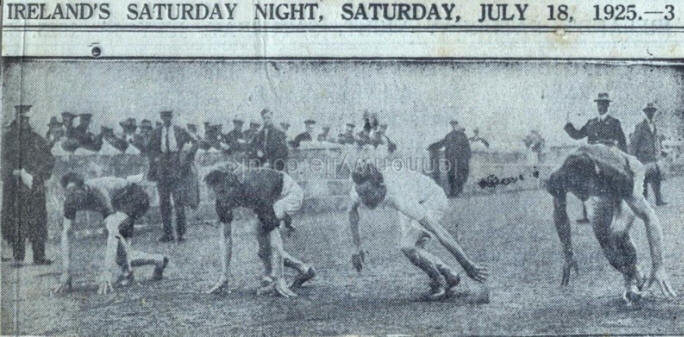 Ireland's Saturday Night, Saturday, July 18, 1925


Belfast News-Letter, Friday, July 30, 1926 - Sports in County Down
Left - Finish of the 440 Yards Handicap at Killough Yesterday; Won by J. P. Clarke, The Ulster Champion.
Right - R. Barrington, Trinity Harriers, Winning the Half-Mile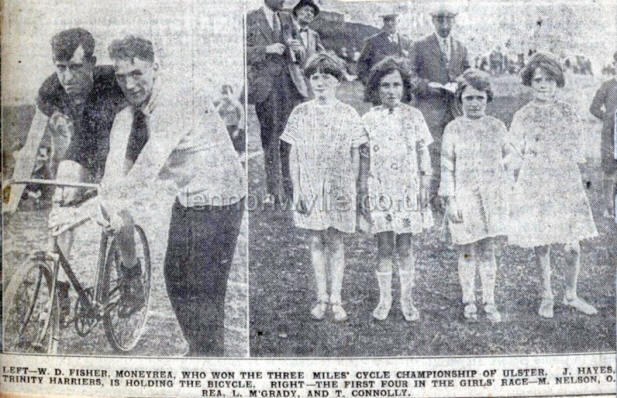 Left - W. D. Fisher, Moneyrea, who won the three miles' cycle championship of Ulster.
J. Hayes, Trinity Harriers, is holding the bicycle.
Right - The First Four in the Girls' Race - M. Nelson, O. Rea, L. McGrady, and T. Connolly
~~~~~~~~~~~~~~~~~~
STORIES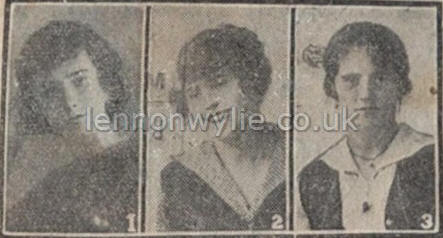 Coliseum Beauty Competition - Photos of winners in the successful Beauty Competition which has been held at the Coliseum this week. (1) Winner, Miss Violet Daly (2) Second, Miss Lily Pelan (3) Third, Miss Annie McKee


25 Years Sea Service. Cruiser Theseus, recently returned from the Black Sea, was paid off at Sheerness yesterday for sale after 25 years' service.
The Prince Buys Shorthorns. Purchases on behalf of the Prince of Wales were made at Perth shorthorn sale. The animals are for shipment to his Canadian estate.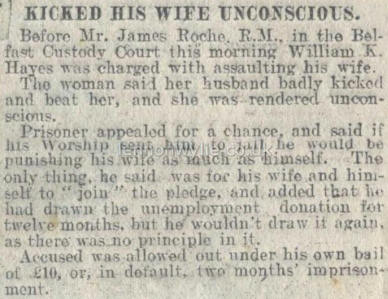 Kicked His Wife Unconscious. Before Mr. James Roche, R.M., in the Belfast Custody Court this morning, William K. Hayes was charged with assaulting his wife. The woman said her husband badly kicked and beat her, and she was rendered unconscious. Prisoner appealed for a chance, and said if his Worship sent him to jail he would be punishing his wife as much as himself. The only thing, he said, was for his wife and himself to "join" the pledge, and added that he had drawn the unemployment donation for twelve months, but he wouldn't draw it again, as there was no principle in it. Accused was allowed out under his own bail of £10, or, in default, two months' imprisonment.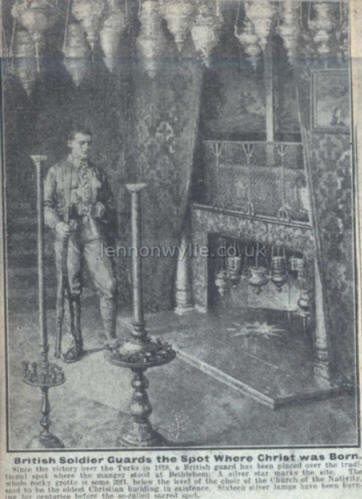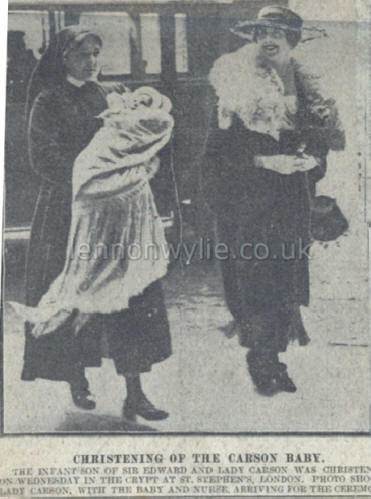 British Soldier Guards the Spot where Christ was Born Christening of the Carson Baby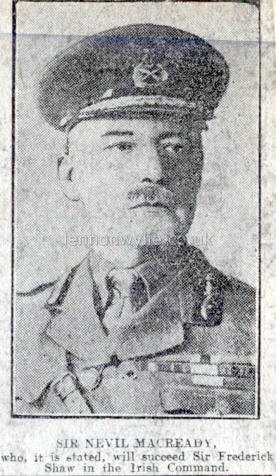 Mr. Robert Mulvenny, law clerk Sir Nevil Macready
who, it is stated, will succeed Sir Frederick
Shaw in the Irish Command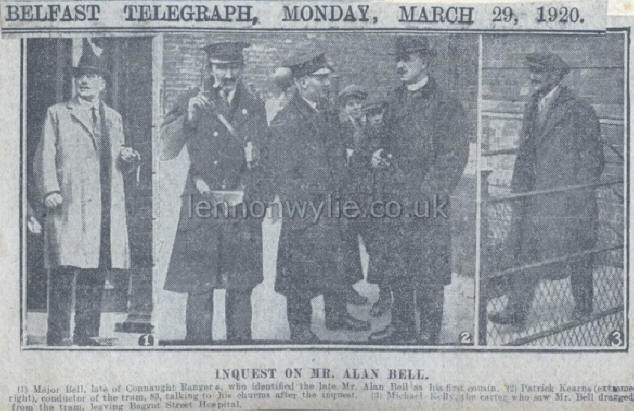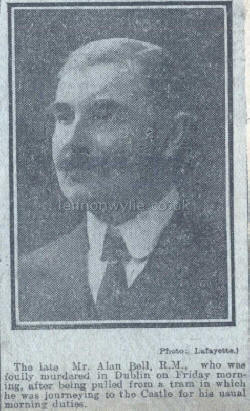 Belfast Telegraph Monday March 29th, 1920
Inquest on Mr. Alan Bell (1) Major Bell, late of Connaught Rangers, who identified the late Mr. Alan Bell as his first cousin. (2) Patrick Kearns (extreme right), conductor of the tram, 83, talking to his chums after the inquest. (3) Michael Kelly, the carter, who saw Mr. Bell dragged from the tram, leaving Baggot Street Hospital.
The late Mr. Alan Bell, R.M., who was foully murdered in Dublin on Friday morning, after being pulled from a tram in which he was journeying to the Castle for his usual morning duties.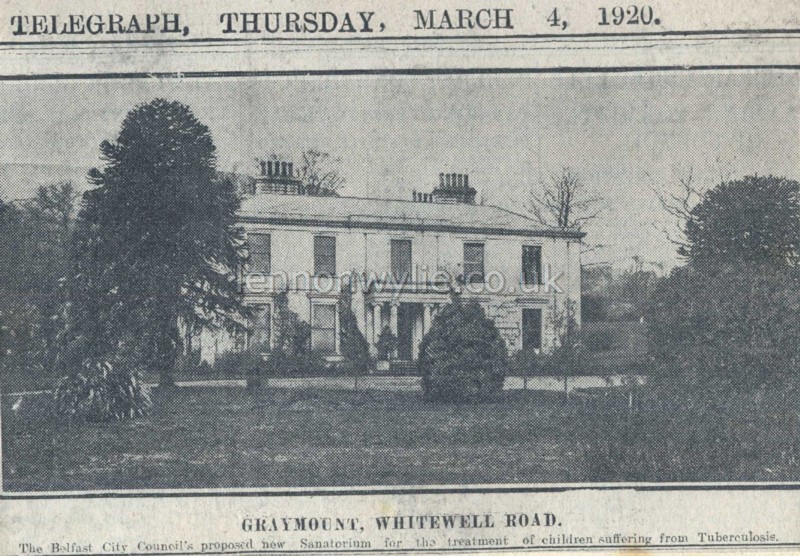 Telegraph, Thursday, March 4, 1920 - Graymount, Whitewell Road. The Belfast City Council's proposed new Sanatorium for the treatment of children suffering from Tuberculosis.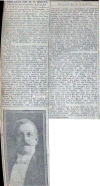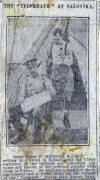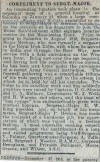 1 2 3 & 4 5 6
1- Belfast Telegraph, Monday, April 12, 1920 - Death Of Lord Primate of All Ireland (Most Rev. John Baptist Crozier, D.D.)
2- Belfast Diamond Wedding - Mr. and Mrs. Gardiner, 31 Walnut Street, Belfast, who celebrated their diamond wedding on Sunday. Married 28th March, 1860.
The Late Mr. H. T. Downs, Popular Hippodrome Manager, Belfast
3 & 4 - The "Telegraph" at Salonika - Sergt.-Major P. Meehan, R.A.M.C., writing to a friend in Belfast, says the Ulster regiments in the Balkans are upholding the name and honour of the province equally with those in France. He encloses a snapshot showing himself and a friend enjoying the perusal of the "Telegraph" during their dinner hour.
5 - Charlie Chaplin Drafted
6 - Price of Babies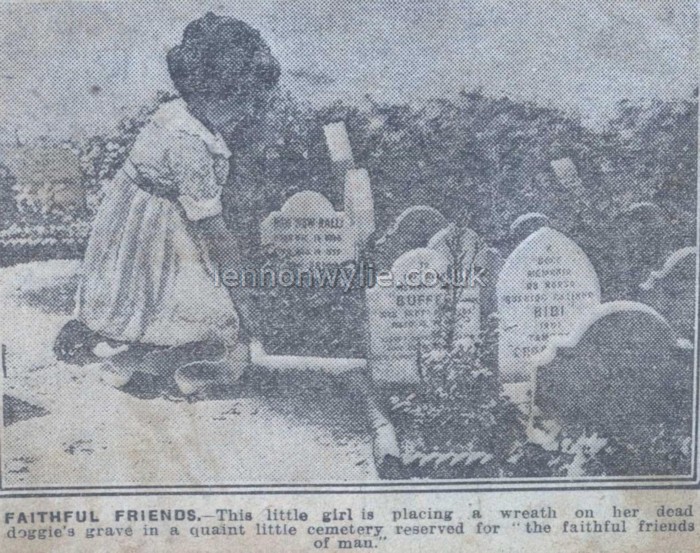 Faithful Friends - This little girl is placing a wreath on her dead doggie's grave in a quaint little cemetery, reserved for "the faithful friends of man."


Belfast Telegraph, Monday, April 12, 1920. Sinn Fein Strike at Mountjoy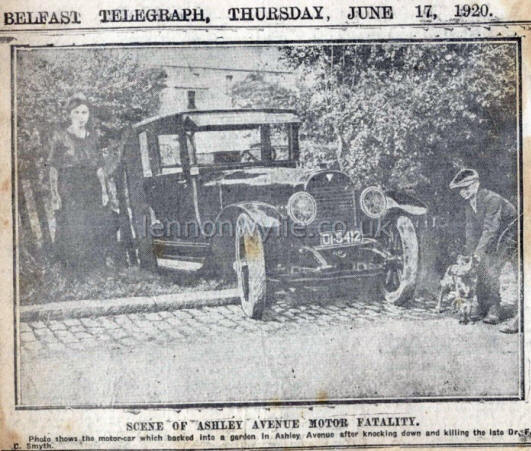 CLICK to enlarge
Belfast Telegraph, Thursday, June 17, 1920. Scene of Ashley Avenue Motor Fatality - Photo shows the motor-car which backed into a garden in Ashley Avenue after knocking down and killing the late Dr. F. C. Smyth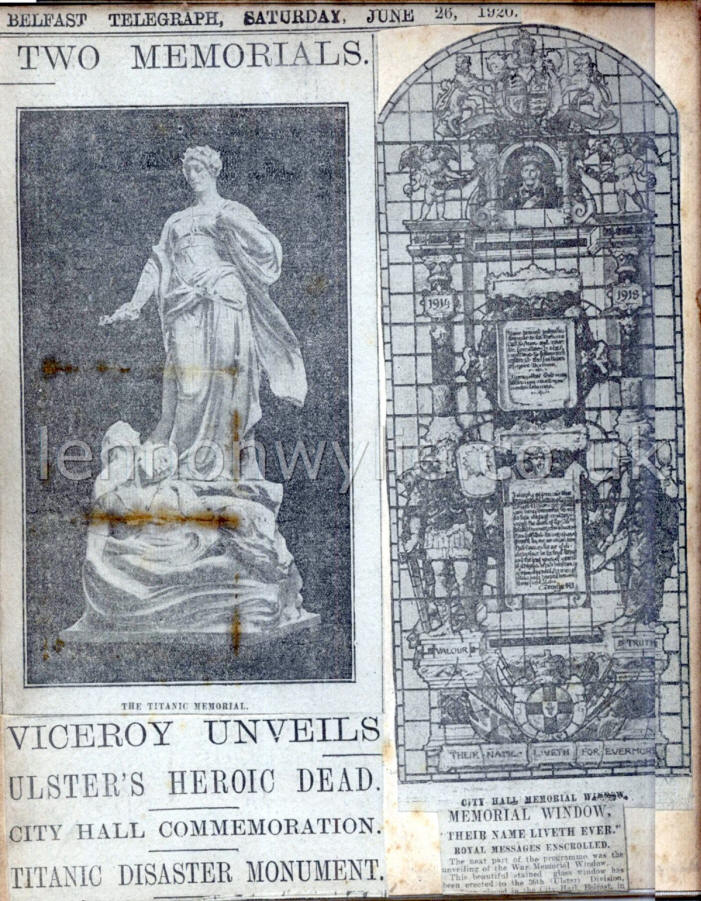 Titanic Disaster Monument & City Hall Memorial Window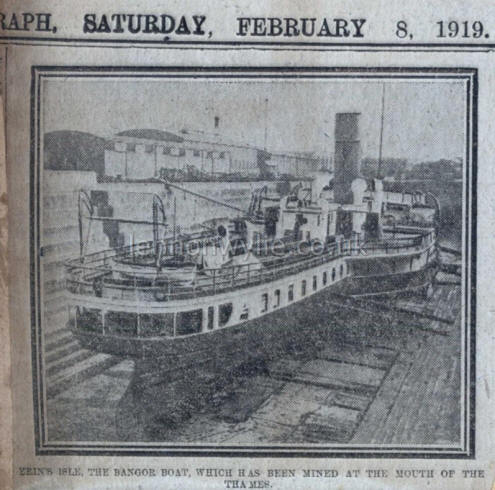 Belfast Telegraph, Saturday, February 8, 1919 - Erin's Isle, The Bangor Boat, which has been mined at the mouth of the Thames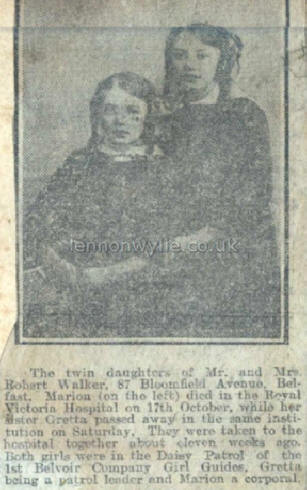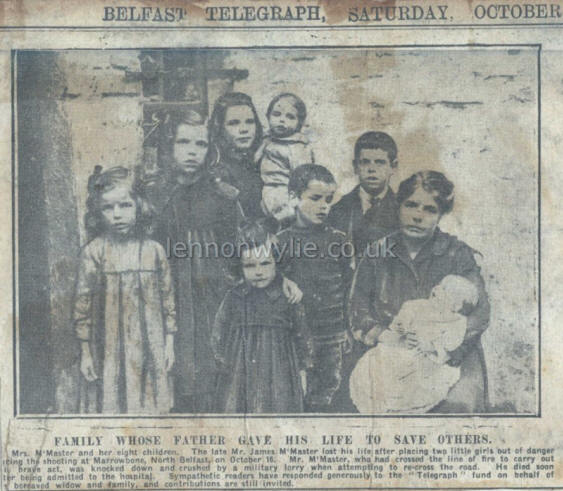 1 2
1 - The twin daughters of Mr. and Mrs. Robert Walker, 87 Bloomfield Avenue, Belfast. Marion (on the left) died in the Royal Victoria Hospital on 17th October, while her sister Gretta passed away in the same institution on Saturday. They were taken to the hospital together about eleven weeks ago. Both girls were in the Daisy Patrol of the 1st Belvoir Company Girl Guides, Gretta being a patrol leader and Marion a corporal.
2 - Family Whose Father Gave His Life to Save Others - Mrs. McMaster and her eight children. The late Mr. James McMaster lost his life after placing two little girls out of danger during the shooting at Marrowbone, North Belfast, on October 16.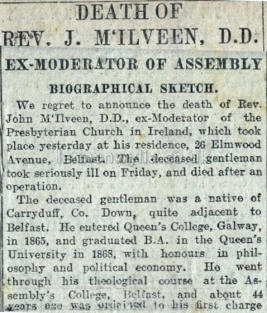 Death of Rev. J. McIlveen, D.D. David Marshall New Rector of Knockbreda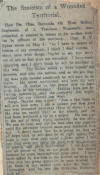 The Stoicism of a Wounded Territorial
How Pte. Chas. Reynolds, 4th West Riding Regiment, of 1 Tree-Lane, Wainstalls, was wounded, is related in letters to his mother, written by officers of the company. Capt. E. E. Sykes wrote on May 4: "As I have to censor all letters of my company, I think I shall enclose a short note with Sergt. Naylor to sat how sorry we all are to find your son wounded. I have made inquiries, and I don't think he will be disabled in any way. The bullet seems to have missed the arteries, and also the nerves, and so we are hoping that with careful treatment he will soon be all right. He never murmured, and bore up very bravely. It makes us feel proud that we have such lads in the company. Halifax boys are behaving splendidly, and the company was highly praised by our Colonel last week" Sergt. Naylor also writes: "Just a few lines to tell you how sorry I am to inform you that your son was wounded yesterday (May 3) about 1 p.m. He was on sentry duty in the trench, and he had been bothered a lot by a sniper. He was just in the act of firing when, unluckily, he was shot. We ran to him, and did the best that was possible until the stretcher bearers came and rendered first aid. I don't know how he is going on, but we all hope that he will soon be all right again. Perhaps it may ease your mind a little when I tell you that your son stood the pain with the stoutest of hearts, and never murmured. I am sure we are all proud of him at the pluck he has shown because he must have suffered great pain. I have been asked by the lads in the section to write and offer you my great sympathy in your trouble. He has been in my section ever since we went to Doncaster, and he was the universal favourite with all"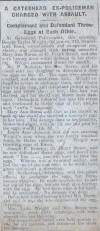 A Gateshead Ex-Policeman Charged with Assault - Complainant and Defendant Throw Eggs at Each Other
At Gateshead Police Court, this morning, George Taylor Wright, 66, grocer, 313 Sunderland Road, ex-policeman and ex-special constable, was charged with having assaulted Mary Ann Burns, of 45 Frank Street, and also with having done wilful damage to her clothing. Wright summoned Burns for assault. Mr. P. Bennett, for Mrs. Burns, said his client sent her daughter to defendant's shop for eggs on Dec. 21. The eggs were supplied cracked, and she sent the, back. Wright refused to accept or exchange them, and witness went to the shop, and defendant picked up the eggs and threw them at her. Her hair was matted, and her shawl and blouse were damaged. Defendant followed her into the street and continued to throw eggs at her, and he used "awful" language. Mary Ann Burns said that as she turned to pick up the shawl she received a shower of eggs in her face. The damage done to her pinafore, blouse and shawl, with 2s. 3d. she had paid for the eggs, was £1 12s. 8d. Emily Jane Johnston said she was entering Wright's shop when she was nearly knocked down by Burns running out. Wright was throwing eggs at Burns. Joseph P. Brierley, 29 Henry Street, said he saw defendant throw eggs, and heard him shout "You ___, you will have to take the eggs." Witness was a wounded soldier, and had the use of one arm only, or he would have given defendant a thrashing. Mr. Sutherland, defending, said defendant offered to exchange the eggs, but Burns became abusive. He made towards her to put her out of the shop, but she kept up a barrage with the eggs. He had three eggs in his hand, and he retaliated. No damage was done. Defendant denied having kicked Mrs. Burns, and said it was she who commenced the egg throwing. Mrs. Lydia Wright said Mrs. Burns was hysterical, used dirty language, and commenced the egg-throwing. The magistrate bound over both parties in 40s. for six months, and dismissed the claim for damages



R. G. Knowles Dead - A World-Famed Comedian - Fatal End to Operation
Very keen regret will be felt all over the world, and not least in Belfast, where he was so highly popular, at the death of that great comedian and lecturer, Mr. R. G. Knowles. The melancholy event, which has deprived humanity of one of its most artistic and cultured entertainers, took place on Wednesday evening at the Memorial Hospital, New York, after he had undergone a critical operation to the throat. The last appearance of Mr. Knowles in this city was at the Hippodrome in the week commencing 19th August last. So far as the audiences were concerned they observed no change in him. He was the same brisk, merry, and pungent "R.G.," and crowded houses were attracted twice nightly to see and hear the great humorist. To his intimate friends, however, he confided his anxiety concerning a growth in the throat, which had baffled the experts he had consulted, and from which he feared grave consequences might ensue. At the same time, he was far from being despondent; he took a philosophic and optimistic view of life; and, beyond a casual reference to his ailment, he was the same master of infinite jest, and related many a witty story in his own inimitable style. He was very enthusiastic about the winning of the war, and was full of a big scheme which he had developed for an inter-Allies' memorial in France and Belgium to be known as "The World's Highway." His later appearances had been at the Hippodrome, but in June, 1902, and August, 1903, he filled highly-successful engagements at the Belfast Empire. On his last visit he was the guest of the Rotary Club at luncheon, the members of the French Mission to Great Britain being present on the occasion. Speaking of the entry of America into the war, he said, with great eloquence:- "The Young men of the West are marching into the Rising Sun, to join hands with the Wise Men of the East. It is a new adventure to them; but their aim is high and their cause is just. They are to be your comrades in war; why cannot they be your companions in peace and your friends in the hour of trial and distress? There is only one way in which that can be accomplished - you must go boldly before the world and declare your intentions. There must be no more secret treaties, for, if you intend to be honest, you don't need to keep it a secret." It was generally believed that "Dick" Knowles was an American, but, as a matter of fact, he was born on Canada, where the earlier years of his life were spent. His first appearance on any stage was made forty years ago at Chicago - he was a young man of twenty at the time - and his debut in England was at the London Trocadero, on June 15, 1891. A comedian of the "breathless" order, he soon established a reputation both as a singer and a raconteur, and it was not long before he "topped the bill." In the late nineties, when Harry Lauder was still comparatively unknown and Eugene Stratton was delighting London audiences with his coon songs, R. G. Knowles was one of the most powerful "draws" at the leading London houses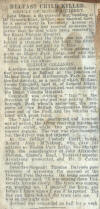 Belfast Child Killed - Result of Motor Accident
John Dixon, a six-year-old boy, residing at 167 Ormeau Road, Belfast, was knocked down by a motor lorry in University Avenue on Saturday evening and received so severe injuries that he died while being removed to the Royal Victoria Hospital. It is stated that the little one ran from behind a tramcar into the lorry, the driver of which could not pull up in time.
Robert John McNabney, whose address is given as Bladen Park Lodge, and who was driving the motor, has been arrested in connection with the affair.
SERIOUS COLLISION
A serious motor collision occurred on Saturday evening in Belfast at the junction of Malone Road and Marlborough Park ( a residential district), as a result of which William James Campbell, aged 21, of Leopold Street, received internal injuries and was removed to the Royal Victoria Hospital. Campbell was driving a "taxi" in the direction of the city and was passing Marlborough Park when a motor-van, the property of the Belfast Co-operative Society, came out of the Park and the vehicles collided with great force. The "taxi" was overturned and knocked out of action, the driver receiving injuries as already stated, while two passengers had narrow escapes. The van was also damaged, but the driver was not injured.
At the Belfast Custody Court to-day, Robert John McNabney, who gave his address as Bladon Park Lodge, was charged with the manslaughter of John Alexander Dickson, Queen's Road. District-Inspector Armstrong prosecuted, and Mr. D. Cotton defended. Detective-Sergeant Thomas Burrows gave evidence of arresting the accused at the Donegal Pass Barracks. On being cautioned the prisoner said, "I was coming down University Avenue slowly. The tram was coming up, meeting me. I sounded the horn, and before I knew where I was it happened. The boy ran from behind the tram into me. I was on my right side." Accused was remanded on bail for a week.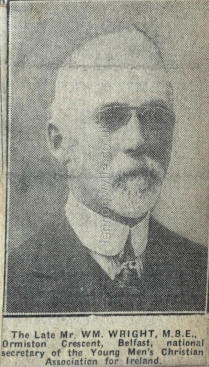 The late Mr. Wm. Wright, M.B.E., Ormiston Crescent, Belfast, national secretary of the Young Men's Christian Association for Ireland



CLICK to enlarge
Death of Ulster General - Sir William Hacket Pain
Belfast Telegraph, Thursday, February 14, 1924


Belfast Telegraph, Tuesday, September 12, 1922
The Late Rev. R. B. Cooke, of All Saints, Belfast


Blackguardly Belfast Outrage - Tombstones Smashed - Wholesale Destruction - Bad Work on Good Friday
The City Cemetery, Belfast, was the scene of an extraordinary series of outrages on Friday night. Close on sixty tombstones or crosses were pushed down deliberately, and of these thirty-two were broken by the fall. Complete mystery surrounds this most reprehensible piece of blackguardism, which will create the utmost indignation in Belfast. The toll of the outrages is as follows:-
Fourteen tombstones broken
Sixteen crosses broken
Fourteen tombstones pushed down
Nine crosses pushed down
Two urns knocked off
Two angels' figures broken
It has been definitely ascertained that no fewer than fifty-nine graves were damaged. It is assumed that a party of men crossed into the cemetery after dark, and worked their way through the peaceful plot, pushing down the stones as they proceeded. There was apparently no detailed plan of operation, as the tombstones were wrecked without discrimination. The miscreants were apparently unarmed with anything in the nature of heavy instruments. They invariably pushed the tombstone or cross off its base, with the result that it fell in on top of the grave. In some instances the stone cracked in two with the fall, but in others the monument was buried a couple of inches in the ground, damaging the flowers decorating the graves. It was disgraceful the manner in which the graves were trampled upon by the criminals in their efforts to dislodge the stones. Flowers were crushed into the ground, and wreaths smashed, the glass being scattered about in unseemly fashion. It is obvious that many other stones had resisted the efforts of the miscreants to dislodge them. Many beautiful stones and crosses suffered as a result of the visitation. One tombstone, which was broken in two by the fall, was incrusted with moss, while the ivy growing round it was an indication of its venerable age. Not the least disgraceful feature was the knocking off of beautiful irons and pillars, splinters of which were lying scattered about. During a tour of the cemetery, a "Telegraph" representative noticed that a beautiful little marble ornament, a replica of an open Bible, erected to the memory of Rifleman F. Curry, was torn up; while the marble top of a tribute to John C. Adams, a driver in 26th Battery R.F.A., who was killed in Flanders, was also damaged. These apparently were the only tributes to war heroes damaged, but many of the other stones belonged to honoured families in Belfast.
What was the motive of this sacrilege was the question visitors to the Cemetery were asking to-day, but no one could supply the answer. Mr. McCann, the superintendent, told a "Telegraph" representative he heard a strange noise last night, but was unaware of the outrages until this morning. District-Inspector Williams and party of police visited the graveyard to-day.
DETAILS OF THE DAMAGE
The names of the owners of the graves with the damage done is detailed hereafter:
John Lee, Vermont Street - stone down
Violet Millar, Shankill Road - stone broken
Alexander Close, Wilton Street - stone broken
W. J. Alexander, Woodstock Road - stone broken (unclear)
William Holmes, 12 Duncairn Street - cross broken
Susan Anderson, 4 Walnut Place - stone broken
John Harvey, Glenravel Street - cross broken
Robert Morrow, Oldpark Road - cross broken
James Young, 106 Bridge End - stone broken
Letitia Bingham, The Lodge, Mountpottinger - cross broken
Sarah Gardner, Camden Street - cross down
James McFarland, 5 Wilmont Terrace - cross down
James Davidson, Hawthornden, Knock - cross broken
F. B. Newitt, San Souci Park - cross down
Ellen W. Gordon, Whiterock - stone down
W. Freeman, Salisbury Avenue - urn off
S. Mercer, 17 Malcolm Street - stone broken
Thomas Sharp, 21 Lavinia Street - stone broken
John Millar, Ballysillan - stone broken
Henry Ross, 63 Lavinia Street - stone broken
S. M. Irwin, 39 Pacific Avenue - cross broken
Geo. Rees, Stratheden Street - stone broken
Joseph Sholdis, 2 Shankill Road - stone broken
Wm. Adams, 53 Swift Street - cross broken
Ellen Shaw, Marlborough Park - stone down
S. Adams, 132 Inverness Street - stone broken
Geo. Whiteside, 17 Lee Street - head block down
A. Wilcox, 6 Curtis Street - cross down
James Ireland, 12 Ashley Avenue - stone down
A. L. Ireland, 49 Ulsterville Avenue - stone down
John McI. Milligan, Greenwood, Strandtown - cross broken
S. McMinn, Dundonald - stone down
Lizzie Woods, 27 Stratheden Street - cross down
Jas. Cochrane, 170 Caulfield Terrace - cross down
H. Walsh, 57 Distillery Street - stone down
Alex. Francey, 38 York Road - stone down
John Bradshaw, Lawnbrook Avenue - 4 corner pillars off
John Bradshaw, 42 Emerson Street - stone down
Mrs. Newham, 40 Lothair Avenue - stone down
Thomas Anderson, 43a High Street - angel figures broken
Sarah Peacock, 2 Sussex Place - angel figures broken
Eliza Brown, 5 Colinview, Albert Bridge Road - 2 crosses down
Wilhelmina Treddenick, 7 Fisherwick Place - cross broken
Samuel Baird, Powerscourt Street - cross broken
James Ireland, St. Mary's Place - cross broken
W. J. Cathcart, Mervue Street - stone broken
S. G. Fenton, Windsor - cross broken
Hugh Clawson, 68 Joy Street - stone down
W. Baxter, 12 May Street - stone broken
Mrs. Lowson, Chichester Park - cross down
Alex. McKibbin, 58 Great Victoria Street - cross broken
E. Wisnom, 54 Eia Street - cross broken
David Hoy, Sommerhill, Stranmillis - cross broken
Lizzie Oldham, 67 Dublin Road - stone down
William Thompson, no address - urn off and corner blocks
Sarah Green, 9 Brookmount Street - stone down
Claude Wallace, Antrim Road - cross broken
William Steenson, Ormeau Road - stone down
James Curry, James' Street - Mark down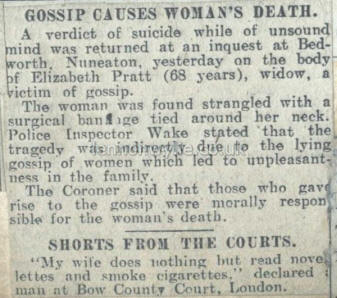 Gossip Causes Woman's Death
A verdict of suicide while of unsound mind was returned at an inquest at Bedworth, Nuneaton, yesterday on the body of Elizabeth Pratt (68 years), widow, a victim of gossip. The woman was found strangled with a surgical bandage tied around her neck. Police Inspector Wake stated that the tragedy was indirectly due to the lying gossip of women which led to unpleasantness in the family. The Coroner said that those who gave rise to the gossip were morally responsible for the woman's death
Shorts From the Courts
"My wife does nothing but read novel lettes and smoke cigarettes." declared a man at Bow County Court, London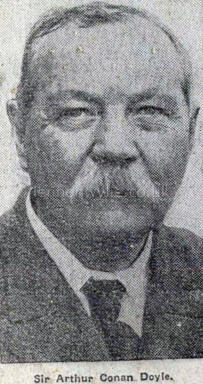 Sir Arthur Conan Doyle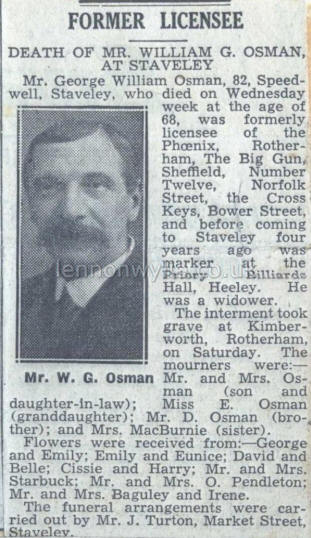 Former Licensee - Death of Mr. William G. Osman, at Staveley



Stormberg Anniversary - The Lord Major, Accompanied by Colonel H. R. Charley, C.B.E., Inspecting the Parade of Veterans of the Royal Irish Rifles at the City Hall, Belfast



The War Office Way - Remarkable Inquest Evidence - Melancholy Belfast Case
"Plenty knocking about"
"The War Department does not pay much attention to coroners," remarked Dr. James Graham, the Belfast Coroner, at the adjourned inquest on Horace W. Hughes (41), of Donnybrook Street, the ex-soldier who was found dead in his home last week with his head in a gas oven. The proceedings terminated in a verdict of "suicide during temporary insanity." Mrs. Hughes, widow of deceased, had declared that although her husband's case had been marked "urgent" there was delay in admitting him to hospital by the Pensions Ministry, and it was to enable the officials to make an explanation that the coroner adjourned the enquiry on Friday last. Dr. Garnell, medical adviser to the Ministry, said he examined the deceased when application was make for disability treatment. He found him just a "typical anxiety case" of neurasthenia, and did not elicit any marked symptoms. The Coroner - Did you find any signs that the man would be likely to commit suicide? - No, no indications of that. Answering Sergeant Taylor, who represented the police, Dr. Garnell said there were plenty of cases of men "knocking about" the streets suffering just as deceased was suffering. Mr. Rowan, of the Ministry of Labour, stated that each person underwent a preliminary examination by specialists before finally going before the Medical Board for admission to hospital. In this case it was considered that there was no probability of the man's claim for disability treatment succeeding. They had to send to the Record Office in London for his Army records, as this matter was an Imperial service, and not under the Ulster Government. Mrs. Hughes - Why wasn't he told the result of the examination? - He was told by the doctor that they would do all they could for him, and would hear in a day or two. Mr. Rowan - The preliminary examination is a temporary measure. The actual decision is governed by the Board and we only try to anticipate the Board's decision in providing treatment. We have then to award the Board's decision. STRONG HOPES WERE HELD OUT. Mrs. Hughes - We ought to have been told that he would not be admitted so that we could have provided other treatment. Strong hopes were held out that he would be admitted. That was why he waited and became depressed. Mr. Hanna, father-in-law of the deceased, said it was strange that the regulations would not admit sending word to a man with 21 years' war service, who was wounded two days after Mons and kept a prisoner in Germany for 3½ years. The Widow - I think we have a very strong complaint to make that no word of any sort was sent either declining or accepting the application. Mr. Rowan - The actual medical examination had not taken place. That was only the preliminary. It was not the place of the Ministry to tell individuals that they cannot accept him. The report was made to the Board. Mrs. Hughes, replying to Sergeant Taylor, said deceased even went to a private neurasthenic hospital, but the doctor there simply recommended physical treatment first before he would admit him. Sergeant Taylor - The Ministry were up against the regulation and could do nothing. The Coroner - This is a very lamentable case. No matter what the regulations were this unfortunate man, who served so (bit of newspaper missing) Government there was no doubt the regulations would not be so stringent. He thought the Department should show some practical sympathy in his case. Dr. Garnell, he thought, had always been sympathetic in every way to all soldiers. The widow here asked - Why didn't the doctors tell my husband he would not be admitted? The Coroner - You can't tell a man he will only live a month or so. Doctors cannot always tell their patients the truth. THE FAULT OF THE SYSTEM Mr. Hanna, remarking that it was the fault of the system, said he thought the men who were interviewing patients ought to be able to give their verdict at once. He asked the coroner if he could make any recommendation to the authorities for favourable consideration of the widow, and ask them to relax these regulations so that an urgent case could be admitted to hospital here at once. The Coroner - I can do nothing. The War Office would probably not even read my letter. They have no respect for coroners, and they pay no attention to them. I an very, very sorry for the unfortunate widow.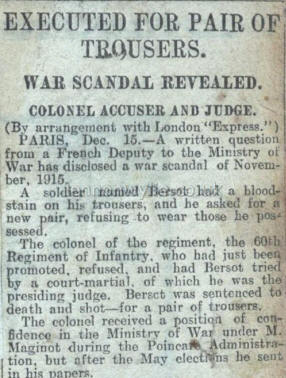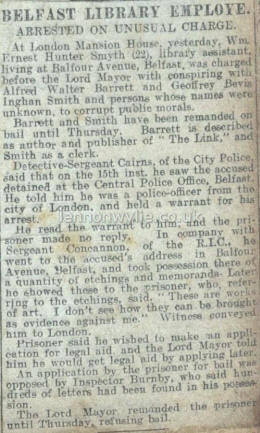 1 2
1) EXECUTED FOR PAIR OF TROUSERS - War Scandal Revealed - Colonel Accuser and Judge
(By arrangement with London "Express.")
Paris, Dec. 15 - A written question from a French Deputy to the Ministry of War has disclosed a war scandal of November 1915. A soldier named Bersot had a blood-stain on his trousers, and he asked for a new pair, refusing to wear those he possessed. The colonel of the regiment, the 60th Regiment of Infantry, who had just been promoted, refused, and had Bersot tried by a court-martial, of which he was the presiding judge. Bersot was sentenced to death and shot - for a pair of trousers. The colonel received a position of confidence in the Ministry of War under M. Maginot during the Poincare Administration, but after the May elections he sent in his papers.
2) BELFAST LIBRARY EMPLOYEE - Arrested on unusual charge
At London Mansion House, yesterday, Wm. Ernest Hunter Smyth (22), library assistant, living at Balfour Avenue, Belfast, was charged before the Lord Mayor with conspiring with Alfred Walter Barrett and Geoffrey Bevis Inghan Smith and persons whose names were unknown, to corrupt public morals. Barrett and Smith have been remanded on bail until Thursday. Barrett is described as author and publisher of "The Link," and Smith as a clerk. Detective Sergeant Cairns, of the City Police, said that on the 15th inst. he saw the accused detained at the Central Police Office, Belfast. He told him he was a police officer from the city of London, and held a warrant for his arrest. He read the warrant to him, and the prisoner made no reply. In company with Sergeant Concannon, of the R.I.C., he went to the accused's address in Balfour Avenue, Belfast, and took possession there of a quantity of etchings and memoranda. Later he showed these to the prisoner, who, referring to the etchings, said, "These are works of art. I don't see how they can be brought as evidence against me." Witness conveyed him to London. Prisoner said he wished to make an application for legal aid, and the Lord Mayor told him he would get legal aid by applying later. An application by the prisoner for bail was opposed by Inspector Burnby, who said hundreds of letters had been found in his possession. The Lord Mayor remanded the prisoner until Thursday, refusing bail.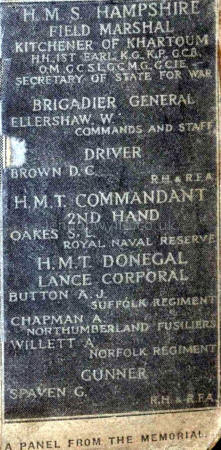 A Panel From the Memorial (Hollybrook Memorial)
H.M.S. Hampshire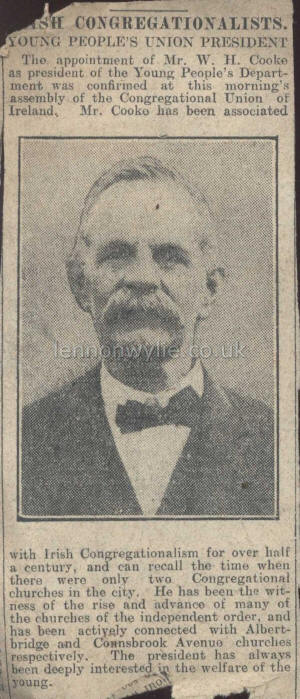 IRISH CONGREGATIONALISTS - Young People's Union President
The appointment of Mr. W. H. Cooke as president of the Young People's Department was confirmed at this morning's assembly of the Congregational Union of Ireland. Mr. Cooke has been associated with Irish Congregationalism for over half a century, and can recall the time when there were only two Congregational churches in the city. He has been the witness of the rise and advance of many of the churches of the independent order, and has been actively connected with Albertbridge and Connsbrook Avenue churches respectively. The president has always been deeply interested in the welfare of the young.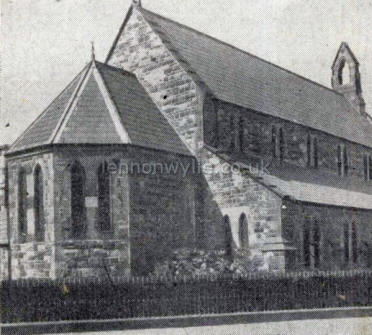 St. John's, Laganbank Road, Belfast, in which closing services will be held on Sunday 20-9-42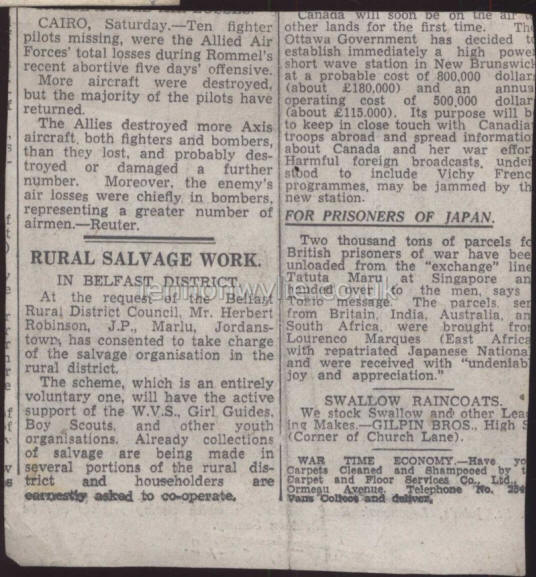 CAIRO, Saturday, Ten fighter pilots missing
RURAL SAVAGE WORK - In Belfast District
FOR PRISONERS OF JAPAN
Two thousand tons of parcels for British prisoners of war have been unloaded from the "exchange" line Tatuta Maru at Singapore and handed over to the men, says Tokyo message. The parcels sent from Britain, India, Australia, and South Africa, were brought from Lourenco Marques (East Africa) with repatriated Japanese Nationals and were received with "undeniable joy and appreciation."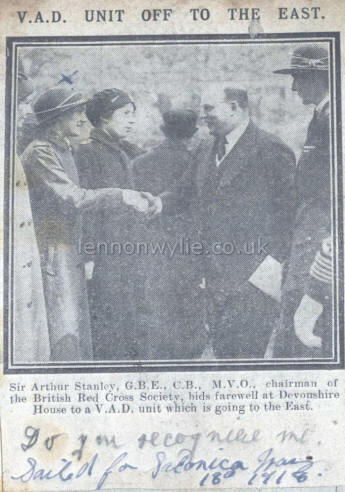 V.A.D. Unit off to the East
Sir Arthur Stanley, G.B.E., C.B., M.V.O., chairman of the British Red Cross Society, bids farewell at Devonshire House to a V.A.D. unit which is going to the East (Do you recognise me. Sailed for Salonica May 18th 1916)
POEMS

The Turn of the Lane by Lina Jephson
There's a dear little house, At the turn of the lane, With chimneys all twisted and tall,
With old leaded windows, And quaint gilded vane, And tiny doors set in the wall;
It's smothered in roses, the sweetest I know, I see them, I dream them, wherever I go.
There's a dear little maid, At the turn of the lane, And when I get home from the sea,
In the rose-haunted cottage, With quaint gilded vane, Dear Heaven, how happy we'll be!
My Queen of the roses, the sweetest I know,
I see her, I dream her, wherever I go.
A Farewell to the Horse Trams
Royal Avenue, Belfast, Dec. 5, 1905
I sing a farewell to the Trams, Farewell to the Horses too,
Whose weary feet, Have paced the street - To them a long adieu.
Farewell to the slow, slow rides, One had time to admire the view,
And the motion seemed sweet, (Though not very fleet), When one had nought else to do.
Farewell to the frequent halts, When each, at his own sweet will,
Could stop a car, Near, or afar, On street, or slope, or hill.
Farewell to the ceaseless tramp! We never shall hear it more,
Farewell to the Trams, And, oh! may the D___'s, Be fewer than those of yore!
The Sailor Man - M. A. Dewolfe Howe, in "Life"
I like the look of khaki and the cut of Army wear,
And the men of mettle sporting it at home and over there;
But there's something at the heart-strings that tautens when I meet,
A blue-clad sailor-man adrift, on short leave from the Fleet
From flapping togs his sea-legs win some tinge of old romance,
That's proper to the keeper of the paths that lead to France;
For what were all the soldiers worth that ever tossed a gun,
Without the ships and sailor-men to pit them 'gainst the Hun!
There's sunlight now and steady ground beneath the sailor tread,
And every pleasure beckons him and every snare is spread,
Speed well this visitor, whose home 'twixt heaving decks is set,
Whose playmates are the darkness, and the bitter cold, and wet!
His comrade, these ? his foe is ours, the foe of law and right,
The stealthy, murderous German "fish" that prowls and kills by night;
And none may sink him where he swims, flouting God's age-built plan,
None but the guardian of us all, the rolling sailor-man.
His hands are often cruel cold; his heart is oftener warm,
For in its depths he knows 'tis he that shields the world from harm;
Because I know it, too, my heart beats warmer when I meet,
A blue-clad sailor-man adrift, on shore leave from the Fleet
The Soldier's Farewell sent by Henry Moore, Kilkeel (written at the time of the Civil War in America)
'Twas just before the last fierce charge, Two soldiers drew the rein,
With a touch of the hand and a parting word, They might never meet again.
One had blue eyes and clustering curls, Eighteen but a month ago,
Red and rosy were his cheeks, He was only a boy you know.
The other was dark and stern and proud, His faith in the world was dim;
He only trusted the more in her, Who was all the world to him.
They had rode together for many a raid, And marched for many a mile;
But never till now did they met their foe, With a calm and pleasant smile.
It was then they looked in each others eyes, With such a ghastly gloom,
The tall dark man was the first to speak, "Charlie, my hour is come,
We may ride up the hill, But you'll ride back alone;
Promise a little trouble to take, Comrade when I am gone"
"I have a face upon my breast, I'll carry into the fight,
With soft blue eyes and clustering curls, and a smile like the morning light -
Like the morning light were her smiles to me, Which gladdened my lonely life,
And little did I care for the frowns of this world, When she promised to be my wife"
"Write to her, Charlie, when I'm gone, Send back this dear, fond face;
Tell her, oh! tell her, how I died, And where's my resting-place.
Tell her I will wait for her, In the border land between,
The Heaven and earth until she comes, It will not be long, I ween"
Tears filled the blue eyes of the boy, His voice was low and faint;
"I'll do your bidding, comrade, if I ride back again.
"But if you ride back and I be gone, You'll do as much for me,
My mother at home must hear the news, Write to her tenderly.
One after another of those she loved, She buried both husband and sons;
I was the last to my country called, She kissed and sent me on.
She is praying at home, like a weary saint, Her face is white with woe;
And her heart will be broken when I am gone, I shall see her soon I know"
Then orders came to charge, In an instant hand to hand,
We answered yea, and on we went, A brave devoted band.
Until we came to the cant of the hill, Where they volleyed with shot and shell;
And poured torrents of death into our ranks, And cheered us as we fell.
Then we turned with a horrible dying yell, For the heights we could not gain,
And the few whom doom and death had spared, Rode slowly back again.
But among the dead and the dying, Lay the boy with the curly hair;
And the tall, dark man that rode by his side Lay dying beside him there.
There is none to write to the blue-eyed girl, These words her lover said,
And the mother who waits for her boy at home, Can only hear he's dead.
She can never hear the last fond words, He thought would soften her pain,
Until she crosses the river of death, And stands by his side again.
"Curly" Andrew Todd. Barrack Street, Lisburn
Poor "Curly's" life had not been sweet, He was an orphan lad,
He had a mass of curling hair, His face was pale and sad.
One of those "wanted nowhere" blokes, Alas, he seemed to be,
One of those human derelicts, Who drift on life's rough sea.
But though, like something out of place, When e'er my tale is told,
You'll own within his breast there beat, A heart of purest gold.
War was declared: more men were sought, To meet the human wall,
And soon our humble friend was found, Responding to the call.
We next find "Curly" out in France, Part of a little band,
Who, though outnumbered three to one, Had made a gallant stand.
Those British fought. The German dead, Were piled up like a stack,
But numbers told - the little band, At last was driven back.
'Twas when for shelter to a wood, The British did retire,
That one - a youth of tender years, Fell in the line of fire.
A war-worn figure darted back, The British held their breath,
Naught that was human could exist, Within that zone of death.
The would-be saviour reached his goal, Then tottered to the ground,
Another victim those foul fiends, In human shape has found.
Soon reinforcements came along, The Huns were put to flight,
Then came the task of sorting out, Those wounded in the night.
They found poor "Curly's" riddled form, Curled up upon the field,
His body to his wounded pal, Had acted as a shield.
A peaceful look was on his face, A look so sweet and mild,
It seemed just like the slumbering face, Of some contented child.
Beyond the rugged hills of time, Far from a world of care,
Where bugles never call to arms, "Curly" was wanted there.
Tommy's Rest - From one of the Lurgan lads, Driver John McQuade, R.F.A., Salonika Army
When our lads are in the line, There is very little doubt,
That the order of the day, Is to lay the foeman out;
But it's quite a different story, When our turn comes to rest,
Then behold us in our glory, All at out athletic best.
For we wrestle, box, and run, And play all British games,
That will help to beat the Hun, By developing our frames.
Each Tommy is a sportsman true, Whose very occupation,
Demands that every minute free, Be spent in recreation.
'Twas sport that won us Waterloo; Wellington told us so;
And still to-day in every "do", It keeps us on the go.
For if we lads weren't fit - Can you imagine such?-
I'm pretty sure our little bit, Would not amount to much.
So let us lads carry on, With ardour undiminished,
Until the job we're now upon, Has been completely finished.
And then we can with surety say, When games and rifles cease,
King Sport again has won the day, And brought the world to Peace.
When Danger is Nigh - Mick Nolan, H.M.T. Lord Antrim
Onward, onward, our good ship sails, The sea is calm, and a bright blue sky;
Our thoughts fly back to those at home, For well we know there's danger nigh.
It's not the darking storm we fear, Nor yet the ice and fog,
But a devil lurks beneath the waves, A German, murdering dog.
We care not for the howling gales, Nor the angry, storm tossed sea;
The wind may rear, the ship may roll, But we're as happy as can be.
The look-out's in his lofty nest, He'll watch with straining eye,
For periscopes, or floating mines, Well he knows there's danger nigh.
The captain stands upon the bridge, And directs the helmsman,
Upon the poop, beside his gun, The gunner takes his stand.
The engineer far down below, See to his engines turning,
The grimy stoker keeps up steam, And the roaring furnace burning.
The wireless man is at his post, Ready to send the S.O.S.,
An every day occurrence, With ships in dire distress.
His helmet strapped upon his head, He trains both ear and eye;
The proper man at the proper place, When danger hovers nigh.
Now the ship lies safe at anchor, As peaceful as the dove;
We know the Hand that guided us, Was the Admiral's up above.
He has brought us safe to harbour, Beneath His watchful eye -
'Tis He whom all men look to, When danger hovers nigh.
"The Child's Thanks" - J. K., Belfast
I thank you, mister soldier, For what you've done for me,
You left your home and friends, I know, To go across the sea.
All day you tramp in mud and mire, The rain beats on your head,
That I may stay here nice and warm, Within my cosy bed.
The sunshine's bright in Ireland, The grass is green and sweet;
There is no war in our town, All's quiet in our street.
And just because you went away, To make all wars cease,
All the little children play, In quiet and in peace.
I am only just a little girl, There's one thing I can do,
Each night before I go to bed, I'll always pray for you.
That God will keep me good, Bless home and friends and then,
Bless and keep the soldier man, And send him safe home again.
The Gunner's Smile
The gunner smiled as his breachblock closed, His arms was steady, his grip was tight;
The gunner smiled, and his face beamed bright, In the twilight flush of an autumn night,
Silent columns of moving men, Moved to a point in a neighbouring glen,
And the gunner smiled.
The gunner smiled as his gun spoke loud, With deafening crush and darkening cloud;
The gunner smiled as the darkness fell, Smiled at the wreck of shot and shell.
The gunner smiled with firm, fixed eye, On the field of death, where brave men die.
Then he sank down slowly beside his gun, And smiled, though his course was nearly run;
Though his heart beat faint in his wounded breast, The gunner smiled as he went out west.
A Study in Starlight (Original) Randal McDonnell
The long, wide sweep of silver sand, The moaning of the harbour bar,
The shadows on the moon blanched land, The trembling harbour lights afar;
And you a statue, young and fair, Wrapped in the silence of the clustering stars,
The dreamy moonlight playing in your hair, And all glory of the skies,
Paling before your eyes!
Do yo7u remember how, You came with outstretched hands,
Calling to me across the waste of sands - You, my Beloved now!
With silver notes that ever nearer, nearer, Fell on the air in accents clearer,
Than lute or flute or rich melodious song - Ah! can such happiness as ours,
Be happiness for long?
Will it fade, my love, my queen - A shifting shadow on a screen -
A happiness that burns serene, Across the starry Past;
Nevermore those footsteps nearing, Or to know at your appearing,
Life and light and sense of hearing, Swallowed up in joy at last!
Back from the City's sordid strife, Back to the bogland's calm!
To hear the dear old Gaelic tongue, With all its ancient charm -
To sit around the peat fire's blaze, To feel the old soft rain -
Sure it was worth the going, dear, Just to come back again!
Lines Written on First Smoking An Ancient Pipe Dug Up In Oxford - A. J. B. in "Spectator"
Two hundred years since any lips of man, Set round this hollow stem have drawn delight,
Since breathed in azure mist the light smoke ran, With dainty power to cheer through sense and sight,
The wan wits of some unremembered wight - Some scholar weary with his world of books,
Some yeoman waxen wise with lenten ale, Some lover musing on his lady's looks,
Or dreamer steering fancies dreamy-pale, Through seas of time and thought beyond his wonted sail.
So long, earth mingled deep in kindred earth, Entombed but undecaying hath it lain,
Unchanging through the change of death and birth, Or changing but to lose its gathered stain,
Through cleansing power of kindly mould and rain; While overhead each year new dust was sown,
To hide the sunken relic deeper still, Till children's children into grandsires grown,
Though holy great in lordship, strong of will, Passed viewless underground, unknowing good or ill.
There lie they; but their flesh is longtime gone, Their bones are longtime crumbled quite away,
Their wrack that thundered and their suns that shone, Their loves and lives long rested, seen to-day,
Dim dreams forgotten in the morning fray, Two hundred years! Yet thus I cross a new curb,
The long dark seasons that between do toll, By kindling once again the scented herb,
And breathing from this little censer-bowl, Light clouds of thought that veil the olden owner's soul.
Cobble stones of London, on which such thousands tread,
Wet with the blood of wounded hearts and tears by misery shed,
No print of holy footsteps your dusty pavements show,
Where Want and Greed and Vice and Woe in long procession go.
following on from above articles.....
Beattie - Rifleman Samuel Beattie, 8th Battalion Royal Irish Rifles (East Belfast Volunteers), whose death in action is announced in our obituary column this morning, was the third son of Mr. James Beattie, 50 Shaftesbury Avenue, Belfast, and was 27 years of age. His parents have received information that he was killed on 14th ult. Deceased was a member of the East Belfast Regiment, U.V.F., and prior to enlisting was a baker in the employment of Mr. J. McWatters, Cromac Street. His brother, James, is a prisoner of war in Germany, having been captured at the Battle of Mons, while serving with the King's Own Scottish Borderers, and a second brother is in the Navy.

Craig - Agnes

Heggan - 1922 Fatal Motor Accident, Donaghadee Man The Victim. Through the overturning of a motor-car, which he was driving at about 11.35 on Wednesday night, William Higgins (Heggan), of Mann (Manor) Street, Donaghadee, was pinned to the ground and killed. It seemed the deceased had been engaged to drive a party on that day and while returning home the car came in contact with the kerbstone about a mile from Donaghadee. The vehicle then swerved to the opposite side of the road where it mounted a bank and coming off this it ran up on a bank on the opposite side of the road. Here it overturned, pinning the driver underneath. At an inquest held on Thursday, by Dr. Wallace, Coroner for North Down, the jury returned a verdict of accidental death.
Lane, Lance Corporal S.

Marshall - Belfastman's Death in Toronto. The news has been cabled to Belfast from Toronto of the death of Mr. Charles Marshall, L.P.S.I., who went out to that city in November last. The intimation has come as an unexpected blow to his relatives and friends. The deceased was son of the late Mr. Wm. Marshall, of Belfast. Up till the time of his departure to Canada last year his business career was spent in Belfast, first as an apprentice with Messrs. Grattan & Co., Ltd., and afterwards as traveller for Messrs. Wm. Doig & Co., Castle Street. The late gentleman was a member of St. George's Church, the choir of which he assisted in his earlier years. Mr. Marshall was very popular in Belfast, where the news of his demise has been received with very deep regret.
McNamara - [Drove the old Malone 'Bus. The Late Mr. John McNamara. By the death of Mr. John McNamara, there has been removed a man whose memory of the city's growth bridged a space of over half a century. The late Mr. McNamara, who was over 70 years of age, was a native of Saintfield, but came to Belfast when quite young. He was a driver in the old 'bus service which plied between the centre of the city and Malone prior to the advent of the old Belfast Tramways Company, when the latter opened up Mr. McNamara joined "the service," and was in charge of the company's stables from 1872 till 1903, when he retired owing to ill-health, being succeeded by his son, Richard, who is now a depot foreman in the employment of the City Corporation. The family has, therefore, the distinction of an unbroken connection with three passenger transport services in Belfast. The late Mr. McNamara was of a quiet and retiring disposition, but was held in high esteem by those who knew his excellent qualities. The sympathy of a wide circle of friends will be extended the stricken family in their heavy bereavement.]