Death Pennies
Earnest Edward Smith - Joseph McKibben - Kennedy Wilkinson - William Boyle - Robert Beech - Norman Giles Patton
Daniel Robertson Knox - Harold Flockton - Hugh Weir - Robert McIntyre - John McCourt - John McIntosh
James McCartney - John Hamilton Sinclair - Charles Symington - Harry Channing - James Rochester
Thomas George Dixon -
see also McCormack



ERNEST EDWARD SMITH

JOSEPH McKIBBEN

KENNEDY WILKINSON

WILLIAM BOYLE
The Commemorative Penny or Roudel below is commonly known to be fake, I'm told it was possibly made as an extra for an extended family as the original Death Pennies were only issued one per family, I personally think it is still a great work of art and worthy of a place on my site and that Col. John Robert Beech is still worth mentioning over and over again, as are all the Fallen of WW1 and WW2 - Mary


COL. ROBERT BEECH
C.M.G. D.S.O. Commanding 2/1 Scottish Horse - Died August 1916
A. Drury R.A.
Thank you to Jim McKinty who managed to find this man on
the date of death differs 6th November 1915
Medals Index Card - Glen Lyon War Memorial
Thank you also to Phil Batt for his help in researching John Robert Beech
further information suggest this to be a fake and there are many more of them out there :(

NORMAN GILES PATTON
Sub-Lieutenant NORMAN GILES PATON
H.M.M.L. No. 403., Royal Naval Volunteer Reserve
who died age 32 on 22 August 1918, Son of John and Maggie Paton, of Ardmore, Bangor, Co. Down. Native of Belfast.

DANIEL ROBERTSON KNOX
Private DANIEL ROBERTSON KNOX 911323,
46th Bn., Canadian Infantry who died on 21st August 1917 Age 31
Son of William and Helen Knox, of 23 Ann Street, Tillicoultry, Scotland
Remembered with Honour Vimy Memorial

HAROLD FLOCKTON
further information
Rank: Private; Service No:276148; Date of Death; K.I.A. 11/08/1918; Age; 22Regiment/Service; Royal Scots 5th/6th Bn. Grave Reference: V. C. 3. Cemetery: BOUCHOIR NEW BRITISH CEMETERY Additional Information: Son of William and Edith Flockton; husband of Ivy Flockton, of 20, Milner Terrace, Hunslet, Leeds.

HUGH WEIR
further information
also see below for his medals
Rank: Private; Service No: S/40159; Date of Death: 21/03/1918 Age: 25
Regiment/Service: Argyll and Sutherland Highlanders 1st/8th Bn.
Panel Reference Panel 77 and 78.; Memorial POZIERES MEMORIAL
Additional Information: Son of Hugh and May Weir, of Straid, Gracehill, Co. Antrim.; WO 372/21/72595 Description: Medal card of Weir, Hugh
Corps Regiment No Rank; Argyll and Sutherland Highlanders 2956 Private
Argyll and Sutherland Highlanders S/40159 Private
HUGH WEIRS MEDALS
initials on silver pencil - A.H.W.


ROBERT McINTYRE
Rank: Private
Service No: S/20131
Date of Death:18/10/1916 Age: 35
Regiment/Service: Cameron Highlanders 5th Bn.
Panel Reference: Pier and Face 15 B.
Memorial: THIEPVAL MEMORIAL
Additional Information: Son of Annie McIntyre, and the late William McIntyre; husband of Eugenie McIntyre, of 4, Moore St., Ravenhill Rd., Belfast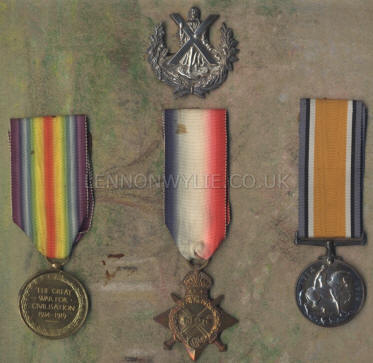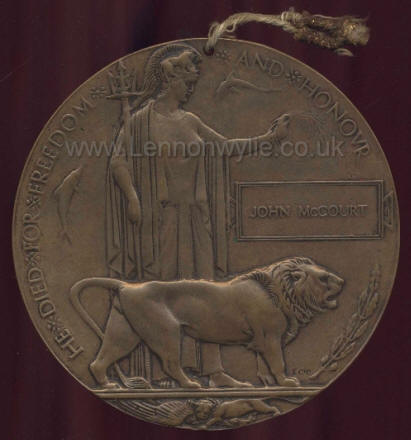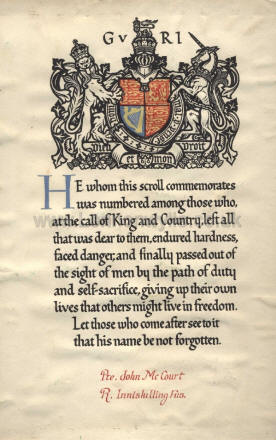 John McCourt Pte. John McCourt, R. Inniskilling Fus.


John McIntosh - 101590 DVR. J. McIntosh R.A.



7252 Pte. J. McCartney R.I.R. R.I.F.


John Hamilton Sinclair
this death penny came with this lot but I can't find any connection so it may have been put with that collection in error
further information, again very kindly supplied by Nigel Henderson


Charles Symington
Rifleman Symington, Charles, Service Number 11234 Died 11/08/1915 Aged 30 6th Bn. Royal Irish Rifles
Brother of Mrs. Margaret Hughes, 55 Rockville Street, Belfast
also with this penny some photos
and this list


Harry Channing
Pte. Harry Channing, 20440 7th Bn. Somerset Light Infantry. 30th November 1917
Cambrai Memorial, Louverval Panel 4 Stone M.


James Rochester
23rd June 1918
Rifleman James Rochester, Royal Irish Rifles
184 Ravenhill Avenue, Belfast
more info.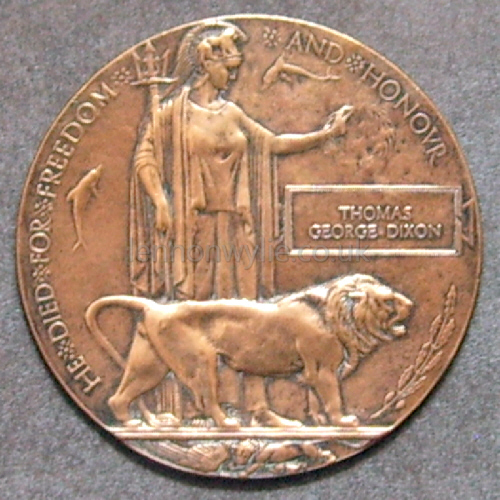 Thomas George Dixon
(there is a Thomas George Dixon in the Robert Thompson books, not sure if its the same one)







~~~~~~~~~~~~~~~~~~~~~~~~~~~~~~~~~~~~~~~~~~~~~~~~~~~~~~~~~~~~~
Further Information - thank you to Nigel Henderson
HAROLD FLOCKTON - Theatre of War - Western European Theatre - Comments - Formerly 29449, W. Yorks Regt. - I have a lot more information on Harold courtesy of Nigel Henderson at Great War Ulster Newspaper Archive
HUGH WEIR - 1911 Census
Residents of a house 8 in Straid (Cloghogue, Antrim)
Weir Hugh 50 Male Head of Family Church of Ireland Co Antrim Farm Servant Read and write - Married - - - -
Weir Mary Ellen 46 Female Wife Church of Ireland Co Antrim - Read and write - Married - 25 9 8
Weir Hugh 18 Male Son Church of Ireland Co Antrim Farm Servant Read and write - Single - - - -
Weir Alexander 15 Male Son Church of Ireland Co Antrim Farm Servant Read and write - Single - - - -
Weir Matthew Boyd 13 Male Son Church of Ireland Co Antrim Scholar Read and write - Single - - - -
Weir Henry 10 Male Son Church of Ireland Co Antrim Scholar Read and write - Single - - - -
Weir Samuel 5 Male Son Church of Ireland - - Cannot read
~~~~~~~~~~~~~~~~~~~~~~~~~~~~~~~~~~~~~~~~~~~~~~~~~~~~~~~~~~~~~~
JOHN HAMILTON SINCLAIR
'This is probably Captain John Hamilton Sinclair, Argyll and Sutherland Highlanders, of 'Rosslyn' in Lisburn who was educated at Campbell College.' There is a clipping from the Ireland's Saturday Night of ISN 25th November, available from Nigel Henderson at Great War Ulster Newspaper Archive
~~~~~~~~~~~~~~~~~~~~~~~~~~~~~~~~~~~~~~~~~~~~~~~~~~~~~~~~~~~~~~
Charles Simmington


Index No. M.R. 4 Helles Memorial Part X. Sweeney to Symonds
~~~~~~~~~~~~~~~~~~~~~~~~~~~~~~~~~~~~~~~~~~~~~~~~~~~~~~~~~~~~~~
James Rochester

1 2 3 4 5 6 7
1) O.H.M.S. 83 Cas. B. Mr. James Rochester, 184 Ravenhill Avenue, Belfast 19 May 1920 Infantry Record Office, Island Bridge, Dublin War Office N.P.S.
2) He whom this scroll commemorates was numbered among those who, at the call of King and Country, left all that was dear to them, endured hardness, faced danger, and finally passed out of the sight of men by the path of duty and self-sacrifice, giving up their own lives that others might live in freedom. Let those who come after see to it that his name be not forgotten. Rifleman James Rochester, Royal Irish Rifles.
3) Imperial War Graves Commission, 82 Baker Street - Sir, I am directed to acknowledge receipt of the Cemetery Register form which you were so good as to complete and return to this office accompanied by a letter in respect of your son, the late 19/309 Private James Rochester, 12th Bn. Royal Irish Rifles, who died on the 23rd June 1918, and is buried in P.O.W. Cemetery, Stendal, Germany. The burial place of your son, as shown on the report in this office is as follows:- Plot A. Row 2. Grave 223. Trusting this is the information you require, I am, Sir, Your obedient Servant, R. ? For Vice-Chairman I.W.G.C. 6th August 1921 - J. Rochester Esq., 184 Ravenhill Avenue, Belfast, Ireland
4) Infantry Record Office, Island Bridge, Dublin 15 Mar 1922 - I am directed to transmit to you the accompanying British War Medal, Victory Medal, which would have been conferred upon the late No. 309 Rfm. J. Rochester, Royal Irish Rifles had he lived, in memory of his services with the British Forces during the Great war. In forwarding the Decoration In am commanded by the King to assure you of His Majesty's high appreciation of the services rendered. I am to request that you will be so good as to acknowledge the receipt of the Decoration on the attached form. I am, Your obedient Servant, R. G. Hy.? ? Colonel O. i/c Infantry Records, Dublin
5) 19-309 110 B. War and Victory. Pte. J. Rochester, R.Ir.Rif.
6) James Rochester B. Apr/May/Jun 1895 1901 Census March 9 Portallo Street, Ormeau:
James 29 B. England Engine Fitter at Worl?
Elizabeth 30 B. England
James 6 B. Belfast
Florence - B. Belfast
1911 Census April 184 Ravenhill Avenue, Ormeau:
James 39 Methodist
Elizabeth 39 Methodist
James 16 Methodist
Florence 11 Methodist
Ulster Covenant not found at wither address
Rifleman James Rochester 19/309 12th Bn. Royal Irish Rifles (control Antrim)
Died 23 June 1918 aged 23 Son of James & Elizabeth Rochester, 184 Ravenhill Avenue, Belfast.
Native of Gateshead. Buried in Berlin South Western Stahnsdorf
Initially enlisted into 19th (Reserve) Bn. Royal Irish Rifles which was formed from 14th (YCV) Bn. R.I.R. & 15th (N. Belfast) Depot Coys. in Oct. 1915
Entitled to British War Medal & British Victoria Medal
P.O.W. Germany War Gratuity £14.0.0 & credit £20.4.8 to James
Headstone: "Away from Earthly Friends But Safe in Our Fathers Home"
7) Medal
~~~~~~~~~~~~~~~~~~~~~~~~~~~~~~~~~~~~~~~~~~~~~~~~~~~~~~~~~~~~~~